Which Movies Are Expected To Be the Top-Grossing Films of 2022?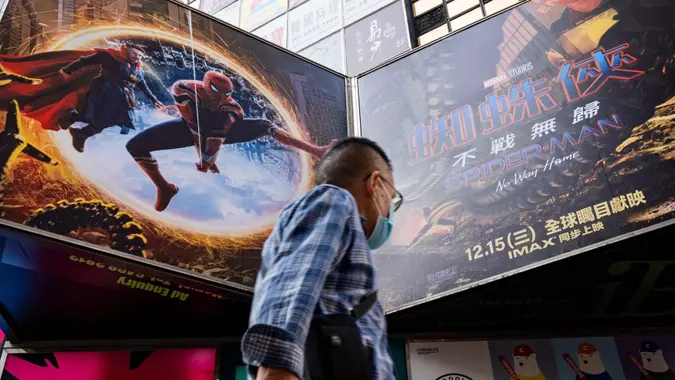 Budrul Chukrut/SOPA Images/Shutterstock / Budrul Chukrut/SOPA Images/Shutterstock
We're not even a full two months in and 2022 is already shaping up to be a big money-making year for movies. "Spider-Man: No Way Home" is making a huge splash across the country. The latest "Scream" is attracting crowds excited for the newest addition to the franchise since "Scream 4" 11 years ago. Plus, there's still so many big movies yet to come.
Check out the biggest movies of 2022 so far, plus experts' top picks for the rest of the year.
Top Movies So Far in 2022
Spider Man: No Way Home
2022 Gross Amount: $199,985,636
The latest Spider-Man film starring Tom Holland and Zendaya was released Dec. 17, 2021 and  is currently the highest grossing film of 2022. It made $260,138,569 its opening weekend and is the biggest day at the domestic box office for Sony Pictures Movies on record. Opening weekend sales were also the biggest at the domestic box office for live action movies. You can stream it right now on Amazon.
Scream
2022 Gross Amount: $77,554,931
Proof that nostalgia always sells in the fifth installment in the "Scream" franchise. Released Jan. 14, 2022, the film stars Melissa Barrera and Kyle Gallner with cameos from actors in earlier "Scream" movies like Neve Campbell and Skeet Ulrich. "Scream" made $30,018,805 its opening weekend. In addition to seeing it in the theater, it's currently available for streaming on Amazon. 
Sing 2
2022 Gross Amount: $71,855,600
Sequel to 2016's "Sing," this film is an animated jukebox musical starring a slew of heavy hitters including Matthew McConaughey, Reese Witherspoon and Scarlett Johansson. "Sing 2" was released Dec. 22, 2021 and brought in $22,326,230 on opening weekend. You can currently stream it on Amazon.
Uncharted
2022 Gross Amount: $55,540,831
"Uncharted" came out Feb. 18, 2022 and is inspired by the video game series of the same name. It's a big year for Tom Holland, as this film stars him and Mark Wahlberg. The movie made $44,010,155 its opening weekend, accounting for 79% of its total earnings. 
Make Your Money Work for You
Jackass Forever
2022 Gross Amount: $48,081,866
The Jackass boys are back. "Jackass Forever" was released Feb. 4, 2022 and is the first "Jackass" film since 2010. Based on the MTV series "Jackass" that aired from 2000-2002, the franchise has three other films. "Jackass Forever' promises all the gross, yet weirdly impressive pranks and stunts that fans have loved for more than 20 years. 
Top Grossing Films Predictions for 2022 
Avatar 2
Release Date: Dec. 16, 2022
The long-anticipated sequel to "Avatar"–the highest grossing movie of all time, earning $2.802 billion — is finally making its debut in the last month of this year. This is one of four "Avatar" films to come, and is expected to rock the box office just like 2009's "Avatar."
The Batman
Release Date: March 4, 2022
"The Batman" reboot starring Zoe Kravitz and Robert Pattinson has a ton of buzz surrounding its spring release. The film was originally set to be released in June of 2021, but was delayed due to the pandemic. This film is set to launch two sequels and two spinoff series for HBO Max in the Batman shared universe.
Doctor Strange in the Multiverse of Madness
Release Date: May 6, 2022
The sequel to 2016's "Doctor Strange" stars Benedict Cumberbatch as Dr. Steven Strange and Elizabeth Olsen as Wanda Maximoff. Popularity of the 2021 series "WandaVision," which Olsen starred in as the same character, is drumming up a lot of excitement for the upcoming Doctor Strange film.
Black Panther: Wakanda Forever
Release Date: Nov. 10, 2022
Make Your Money Work for You
The first "Black Panther" came out in 2019, and starred the late Chadwick Boseman with a powerful and unforgettable performance. This sequel elected to not recast Boseman's character T'Challa, and will instead focus on storylines surrounding Lupita Nyong'o's character Nakia and Danai Gurira's character Okoye, along with other recurring characters. 
Jurassic World: Dominion
Release Date: June 10, 2022
The sixth installment in the "Jurassic Park" franchise, "Jurassic World: Dominion" is the sequel to 2018's "Jurassic World: Fallen Kingdom," and the third film in the "Jurassic World" trilogy. Though "Jurassic World: Fallen Kingdom" made less than "Jurassic World," experts have high hope for "Dominion." The film stars Chris Pratt, Bryce Dallas Howard, Laura Dern and Sam Neill. 
More From GOBankingRates
Editorial Note: All of the released movies' information was gotten from The Numbers on Feb. 23, 2022.