5 Tips for Saving Money on Your Children's Sports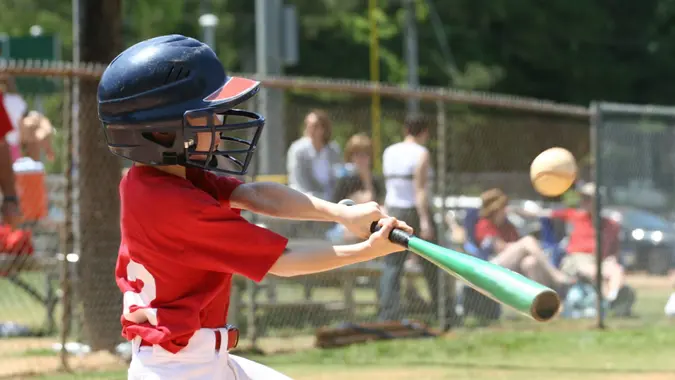 RBFried / Getty Images
Youth sports is a multi-billion dollar industry that caters to millions of kids across the country. A 1999 study estimated that it was a $19.2 billion market in the U.S., projected to skyrocket to $77.6 billion by 2026.
See: 10 Best New Items Coming to Dollar Tree in 2023
Learn: 3 Ways Smart People Save Money When Filing Their Taxes
It is not only local Little League teams and American Youth Soccer Organization (AYSO) programs that are capitalizing on the growing demand. Travel ball, club teams and specialized camps have all claimed a piece of the pie. 
If you have ventured into this never-ending world of practices, games, gear and snacks, then you know the cost of youth sports can be exorbitant. The fees alone for some organizations are outrageous. Luckily, there are a few tried-and-true tricks that may help you save money.
Get the Early Bird Discount
Many organizations such as AYSO, Little League, and Friday Night Lights offer an early bird discount if you register before a certain date. Signing up early not only will help you save a few dollars, but it may also help ensure that your kid gets placed on a team.
Make Your Money Work for You
When programs have too many signups and not enough volunteers, they often end up placing kids on a waitlist. Priority is given to those who signed up early (and to parents who volunteer).
Go Used
If you plan to buy all of the gear that you need for a particular sport brand new, be prepared for sticker shock. A bat for Little League can cost you over $300. Soccer cleats will run you around $35 to $50. Competition gymnastics or cheer gear can add another several hundred dollars to your bill.
While some things should always be bought new (mouthguards, slider shorts, leotards, etc.), other items can easily be purchased gently used. You will be lucky to get a season out of cleats and specialty shoes. Do not be shy about taking hand-me-downs, shopping consignment or going to a sports-specific resale shop like Play It Again Sports.
Take Our Poll: What Are Your Financial Priorities in 2023?
Find Discounts
In addition to buying used instead of new, you can also look for discounts. Many organizations team up with major retailers like Dick's Sporting Goods to offer a discount to families right before the start of a season.
Make Your Money Work for You
Stock up on whatever you'll need and make sure you check on the store's return policy in case anything doesn't fit or isn't the right color.
Pay for the Year
Club organizations can cost you thousands of dollars each year. Many people opt to spread out the payment over several months, but it might be worth paying it all upfront if you can swing it. Some clubs will offer you a discount for paying for the year or season all at once.
The same is true for activities like martial arts, dance and gymnastics studios. They may offer discounts if you sign up for a block of classes instead of paying as you go.
Sign Up Through the City
Finally, if your kid is really young or hasn't shown an interest in a specific sport yet, you can always look for beginner classes through the city. Many cities offer inexpensive sports classes after school and during the summer.
Make Your Money Work for You
These classes are often half (or less) of what you would pay some of the bigger organizations and will offer your kiddo a taste of the sport without the crazy financial commitment.
More From GOBankingRates
Make Your Money Work for You