5 Most Popular Fall Foods at Costco To Buy Now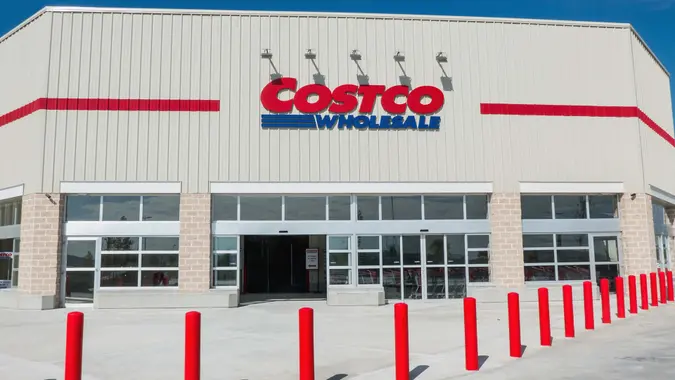 Alfonso de Tomas / Shutterstock.com
With autumn in full swing, it's time to start focusing on cozy fall days and all the delicious food that comes along with it, like all the holiday goodies and treats your family loves to have this time of year.
Explore: Advice: 
While you probably won't want to buy all of your food in bulk this fall, there are a few food items available at Costco that you should be sure to pick up on your next trip.
Creepy Crawly Gummies
The Passionate Penny Pincher said it best about Costco deals: "Just like any grocery store, you really do save more at Costco when you're willing to shop their monthly sales ad (which is really just their coupon book that runs each month)." With Halloween just around the corner, best to stock up on some sweets for all the trick-or-treaters who will be knocking on your door.
Welch's Halloween Fruit Snacks
Candy is delish, but perhaps you might need a slightly healthier option to send with your kids' lunches or have as an after school snack. Eat This, Not That found that you can pick up one box of Welch's Halloween Fruit Snacks for $13.99 that contains 160 fun size packages.
Waterloo Sparkling Water
Price: $9.29 for a 24 pack
You can never go wrong with having enough water in your house. According to the Passionate Penny Pincher, "Costco has a great everyday low price on [water bottles]," making it one of the essential items to keep on your list as the hot days continue to extend into the fall. 
Make Your Money Work for You
Roasted Vegetable Cauliflower Crust Pizza
Price: $10.49 for a 2 pack
Looking for a tasty, gluten-free meal for your family? Take it from @costcodeals on Instagram: "Roasted Vegetable Cauliflower Crust Pizza is our favorite Pizza that we always have stocked in our freezer! It's on sale for $3.40 off, [so it's] now only $10.49 in this month's October savings book…Our kiddos even love this pizza and there are veggies on it!! Big win for mom and dad."
Kirkland's Signature Pumpkin Pie
Whether you plan on hosting a big get-together with family and friends or are just jonesing for more pumpkin in your life, you really can't go wrong with stocking up on these pies. And as the Instagram account @CostcoSisters discovered, these Kirkland pies are now a dollar cheaper than they were last year.
More From GOBankingRates
Gabrielle Olya contributed to the reporting for this article.