7 Best Deals at Sprouts Farmers Market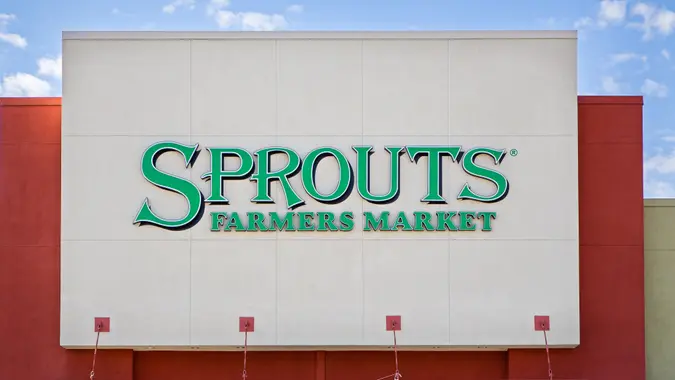 Ken Wolter / Shutterstock.com
Sprouts is a grocery store designed to replicate the farmers market feel, where shoppers can discover a multitude of health-conscious and organic brands that may not be stocked at the average store.
Read: 11 Grocery Items To Buy at Dollar Tree
More: If Your Credit Score Is Under 600, Make These 3 Moves ASAP
With the inflation situation in 2023, it's understandable that "organic" and "health-conscious" could sound like one bad word: "expensive." While there is a negative connotation with high-end groceries, shopping at Sprouts can actually reduce your spending on certain products. If you shop with a strategy and keep up with weekly and monthly deals, you can allow yourself to explore Sprouts' aisles and find healthy products that fit into your budget.
Not sure where to start? Check out these seven great deals to save money on your grocery shopping.
Produce
With a name like Sprouts, you've got to check the produce aisle first – and you'll most likely find some great deals. Sprouts is known for having some of the freshest seasonal produce on the market. Luckily, prime produce at Sprouts does not come with a heavy price tag. 
Make Your Money Work for You
Sprouts has considerably low prices on apples, pears, berries and citrus. Their pink lady apples at a better price than the three-pound bag option at Target or the four-pound bag option at Costco. Even traditionally pricier items, like the two-pound package of Mighties Kiwis or a container of blackberries, are competitively priced.
Before you go, check Sprouts' Deals of the Month to deduce which produce you'll want to stock up on.
Take Our Poll: How Big of a Sign-Up Bonus Would It Take for You To Change Banks?
Tortilla Chips
Like many competing grocers, Sprouts has its own store brand of pantry items and household essentials, which provides more affordable options in the chip aisle. If you're looking for a new favorite tortilla chip, Sprouts could be your next go-to.
Eight-ounce bags of Sprouts White Corn Tortilla Chips and Sprouts Blue Corn Tortilla Chips are about $3 each, which is competitive with other chips in the pantry aisle. They're also organic, and have majorly positive reviews online. 
Make Your Money Work for You
Add those chips to the cart and you'll have enough left over to snag a few reasonably priced avocados for some guacamole! 
Spices
Exploring new recipes comes at a price, and that price is usually hiked up in the spice aisle. But Sprouts' bulk spices section makes it easier to stop over-buying the specialty spices you want to try. There is a hidden beauty of the bulk bins: You can buy a spice in the exact quantity you need. 
So yes, get that organic whole fenugreek seed you've wanted to try. Add a pinch of organic hibiscus flowers for your signature cocktail's garnish. By buying in smaller quantities from the bulk aisle, you can still add a little spice for a lower price.
MUSH Overnight Oats
While the name "MUSH" may not sound super appealing, it may be worth a try at the Sprouts price. 
Make Your Money Work for You
Overnight oats are a quick and nutritious way to start a day on the go. That might be why MUSH overnight oats have gained popularity with health-conscious consumers and started cropping up at grocers like Target and Whole Foods.
At 20-30 cents less per container than Target or Whole Foods, the price of MUSH at Sprouts has them beat.
With a variety of flavors available like peanut butter chocolate, wild blueberry and apple cinnamon, Sprouts could make MUSH part of your morning routine. 
Earth's Best Snacks
The Earth's Best brand has a snack selection that is not only full of nutritional options for your child – it's also backed by some of their favorite characters from where the air is sweet. The Sesame Street Snacks from Earth's Best offer organic snacks like fruit bars, corn puffs, veggie straws and smoothie pouches. Sprouts has some sensational deals on this line of snacks. 
Plus, Sunny Days Snack Bars are 50 cents to a whole dollar less at Sprouts than at Target or Whole Foods.
Greek Yogurt
Whether it's in your smoothie, on your breakfast bowl or a substitute for your sour cream (look it up), Greek yogurt has become a healthy staple that can add a source of protein to your meal and support your gut health.
Sprouts stocks popular Greek yogurt brands like The Greek Gods, Fage and Chobani, but their store brand is one to beat. The Sprouts 32-ounce tubs of whole, low-fat and non-fat Greek yogurt are less than Whole Foods' 365 brand equivalent.
Items like these may not be automatically marked down from Sprouts' monthly deals, so keep an eye on the Sprouts website and app for coupons to clip.
Alternative Frozen Desserts
With Sprouts' wide selection of alternative desserts in the freezer aisle, you can always make room for dessert. And make room in the cart for some deals. 
Must Love is a brand of plant-based treats available at Sprouts, from pints of non-dairy "nice" cream made with bananas or oat milk, to strawberry marshmallow frozen dessert sandwiches.
Tru Fru is another frozen dessert with no dairy involved – just fruit frozen fresh and dipped in dark chocolate. What's not to love? Sprouts has pints of the chocolate-dipped frozen raspberries and blueberries in stock.
Sprouts' own store-brand alternative desserts make for some great options as well. Sprouts coconut milk non-dairy desserts are highly reviewed, and come in a variety of flavors like caramel sea salt, mint chocolate chip and classic vanilla. Because going non-dairy doesn't mean you have to skip out on dessert.
More From GOBankingRates
Make Your Money Work for You