Amazon Fresh Offers $50 Thanksgiving Dinner — Here's the Catch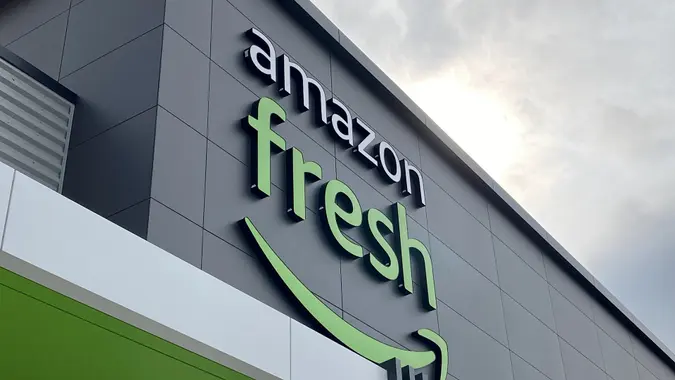 OntheRunPhoto / iStock.com
As Thanksgiving approaches, inflation will likely make you think more carefully about how much you spend on your family's dinner. To offer some relief, Amazon Fresh has announced a Thanksgiving meal deal that it says will allow you to feed five people for just $50. Running through Nov. 30, the deal is based on buying an eight-to-10-pound Butterball turkey for $0.49 per pound along with these eight low-cost items:
Cornbread stuffing
Turkey gravy
Cranberry sauce
Green beans
Russet potatoes
Sweet rolls
Breyers ice cream
Amazon Fresh pie
While this offer can sound good if you're on a tight budget, you should be prepared for some catches if you decide to take advantage.
Watch the Fine Print
First, the promotional turkey price applies only to in-person purchases at Amazon Fresh locations, which are mostly located in states on the the East and West Coasts. You can check Amazon's site for store hours and addresses. Plus, you must spend at least $50 on your purchase (pre-tax and not including gift cards and alcohol), and you're limited to buying three turkeys.
If you want to order your turkey online or you don't reach the minimum in-store purchase amount, Amazon will charge you $0.99 per pound. This will increase your Thanksgiving dinner costs somewhat.
Since the other items you buy can vary by price, keep in mind your exact order amount might not be exactly $50. You may also want to plan ahead and buy early in case the turkeys go out of stock.
Make Your Money Work for You
Find More Ways To Save
To further save on your Thanksgiving dinner, you could take advantage of an additional 10% discount that Amazon will offer on select food items. You'll need a Prime membership to qualify. Plus, you'll be able to buy a spiral-cut bone-in half ham for just $2.49 per pound beginning on Nov. 16.
Before taking Amazon up on these offers, it's worth doing the math and checking the food prices of other retailers. For example, Target's Thanksgiving meal deal feeds four costs only $25 and features a $10 upgrade option. You can also use coupons for Thanksgiving staples and check savings apps for extra deals. Keep in mind you might save by shopping at multiple places.
Plan Ahead for Other Holiday Deals
It's a good time to start thinking about saving on your other holiday purchases as well. Between Nov. 17 and 27, Amazon will offer its popular Black Friday deals. You can also keep an eye out for Cyber Monday sales. The retailer recommends setting up Alexa deal notifications to stay updated.
More From GOBankingRates
Make Your Money Work for You