Food Stamps: 5 Apps That Accept SNAP/EBT Payments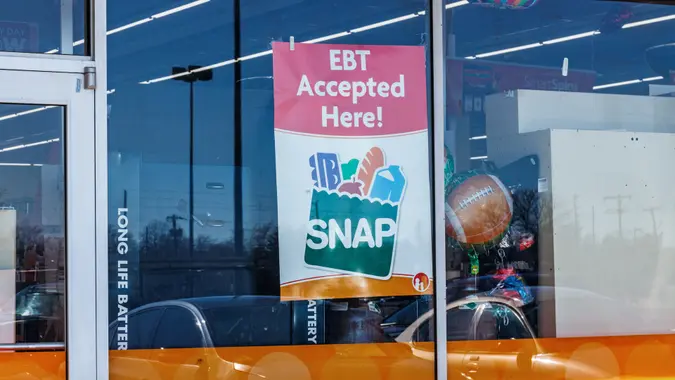 jetcityimage / Getty Images
If you're one of the millions of Americans who rely on the Supplemental Nutrition Assistance Program (SNAP) or the Electronic Benefits Transfer (EBT) program to buy groceries, you might be wondering which apps can help you get your food delivered or picked up conveniently and affordably.
You'll be glad to know there are several popular apps that now accept SNAP/EBT payments, as well as some that offer discounts or free services for eligible customers. 
Here are some of the most popular apps that accept SNAP/EBT payments in 2023. Here's more on SNAP benefits as well.
Amazon 
You can use your SNAP/EBT card to pay for eligible food items on Amazon Fresh and Amazon.com. With a wide range of products and convenient delivery options, Amazon Fresh is a popular choice for many SNAP recipients. Amazon began accepting SNAP and EBT for online shopping in 2019 in a few select markets, and it slowly expanded its availability nationwide.
You also can get an Amazon Prime membership at the discounted rate of $6.99 per month (regularly $14.99), which gives you access to free two-hour delivery, streaming services and more.
Food Stamps 2023: When SNAP Benefits Will Hit Accounts in All 50 States
Walmart 
One of the most convenient and affordable options is Walmart, which accepts EBT payments at all locations that sell food and grocery items. Walmart started accepting SNAP online purchases in 2020, and now EBT cardholders in 48 states can pay for Walmart delivery and pickup orders online (customers in Alaska and Montana must pay with their benefits when they pick up). 
Make Your Money Work for You
You can use your EBT card only for SNAP-eligible items such as fruits, vegetables, meats, dairy products, breads and cereals. You cannot use your EBT card to pay for delivery fees, taxes or tips. 
Target
Since 2022, Target customers have been able to enjoy the convenience of using their EBT card to purchase SNAP-eligible items not only in store but also through Target.com and the Target app. SNAP recipients can take advantage of Target's order pickup option; they can conveniently select their desired items online and have them ready for pickup at their local Target stores. Target also offers same-day delivery through its partnership with Shipt.
Only eligible food items can be bought using your SNAP/EBT benefits. Delivery fees, taxes and tips not cannot be paid with EBT.
Instacart
Instacart has gained immense popularity as a leading grocery delivery app that collaborates with numerous supermarkets and stores, providing a seamless experience of having groceries delivered right to your doorstep. It enables users to shop from their favorite local stores and choose from a wide range of products, then sit back and relax while a reliable Instacart shopper handpicks your items and delivers them straight to your home. You also can choose to pick them up at the store.
Instacart began accepting SNAP/EBT in November 2020. Instacart has announced that the delivery and pickup fees on all eligible EBT SNAP orders of $35 or more have been waived through Dec. 31, 2023.
DoorDash
DoorDash is a food delivery app that allows users to order from restaurants for delivery or pickup. While DoorDash primarily delivers prepared meals, which are not covered by SNAP/EBT, DoorDash recently started accepting SNAP/EBT payments.
Make Your Money Work for You
DoorDash customers using SNAP or EBT can only use their benefits to order groceries. The following stores are available to order from: ALDI, Albertsons, Safeway, Meijer, and 7-Eleven. 
The acceptance of SNAP/EBT payments by these popular apps has undoubtedly made a positive impact on the lives of individuals relying on these programs. It has enhanced accessibility, expanded choices and simplified the shopping experience for SNAP recipients across the country.
We can expect even more apps and platforms to integrate SNAP/EBT payment options, further empowering individuals and families who depend on these crucial assistance programs.
More From GOBankingRates