10 Best Food Items To Buy at Dollar Tree in January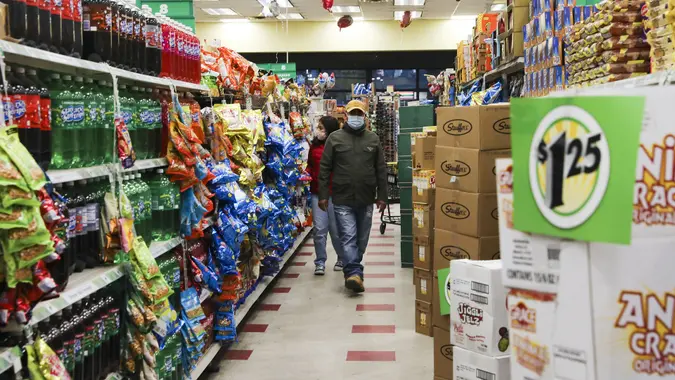 Xinhua / Shutterstock.com
Baby, it's cold outside. January has arrived, meaning it's time to cozy up indoors with your favorite comfort foods — and Dollar Tree has you covered.
See the List: GOBankingRates' Best Banks of 2023
Learn: 3 Ways Smart People Save Money When Filing Their Taxes
More: 10 Best New Items Coming to Dollar Tree in 2023
The discount store offers deep deals on cold weather staples, so you can fully stock your pantry. This is important because you don't want to have to go outside more than necessary in freezing temperatures.
Ready to make your shopping list? Here are 10 food items to buy at Dollar Tree this month.
Entenmann's Original Hot Chocolate K-Pods, 3-Count
When the weather outside is frightful, there's nothing better than warming up with a delicious cup of hot cocoa. You'll get three Keurig pods with this pack of Entenmann's Original Hot Chocolate, leaving you two cups to share or extras for another chilly day. Priced at just 42 cents per pod, this budget-friendly drink is affordable enough to enjoy every day.
Make Your Money Work for You
Take Our Poll: What Are Your Financial Priorities in 2023?
Southgate Chili With Beans
A winter weather staple, a hot bowl of chili on a cold day will warm the soul. However, you don't always have the time or energy to make it from scratch. Thankfully, all you have to do is open up a can of Southgate Chili With Beans and feast on this easy lunch or dinner. At this price, you'll want to consider stocking up.
Healthy Choice Chicken Noodle Soup
Cold and flu season is officially in full swing, so it's always wise to have chicken soup on hand. Keep at least a few cans of Healthy Choice Chicken Noodle Soup in your panty to ensure you don't have to run out to the store if you or a family member comes down with the sickness of the season.
Kraft Mac & Cheese Dinners
The ultimate comfort food, everyone loves macaroni and cheese. Whether you need an easy dinner after a busy day at work or a lunch with substance for the kids, you can't go wrong with Kraft Mac & Cheese Dinners. You'll likely want to buy at least a few of these 7.25-ounce boxes, because your whole family will be clambering for them.
Make Your Money Work for You
Betty Crocker Mug Treats
It really doesn't get cozier than cake in a mug. Available in both rainbow chip cake and hot fudge brownie, these 3.2-ounce single-serving Betty Crocker Mug Treats really hit the spot. Ready in about a minute, you'll get all the benefits of a traditional cake, without actually having to make it or clean more than one dish.
Ralston Foods Fruit & Cream Variety Pack Instant Oatmeal Packets, 6-Count
When waking up on a cold winter morning, nothing hits the spot more than a warm bowl of oatmeal. Each box of Ralston Foods Fruit & Cream Variety Pack Instant Oatmeal contains six packets — three strawberries and cream and three peaches and cream. Priced at just 21 cents per packet, this is an affordable way to have a wholesome breakfast.
S'mores Ingredients
Another great purchase at Dollar Tree is ingredients to make s'mores.
Jet-Puffed Mini Marshmallows, 10-Ounce Bag
You can't have s'mores without marshmallows. This 10-ounce bag of Jet-Puffed Mini Marshmallows is such a pantry staple, you'll definitely want to buy a few. You might also want to put them in hot chocolate and other seasonal desserts.
Make Your Money Work for You
Hershey's Milk Chocolate Packages, 5-Count
Ideal for s'mores, this five-count bag of Hershey's Milk Chocolate will make several of these desserts. Of course, you can also use these chocolate bars for baking or an afternoon snack, making them a must-buy item.
Honey Maid Graham Crackers
The backbone of every s'more, each box of these Honey Maid Graham Crackers contains six packages, with two crackers each. This makes it easy to serve s'mores to a smaller group because you don't have to open a large package and risk part of it going stale. Beyond this classic dessert, graham crackers are also a delicious snack in their own right, which is why you need them in your pantry at all times this winter.
Do note, when shopping online, Dollar Tree has minimum purchase requirements for many items, so it might be best to shop at your local store if you're not looking to buy so much.
More From GOBankingRates
Make Your Money Work for You