How To Check Your Starbucks Gift Card Balance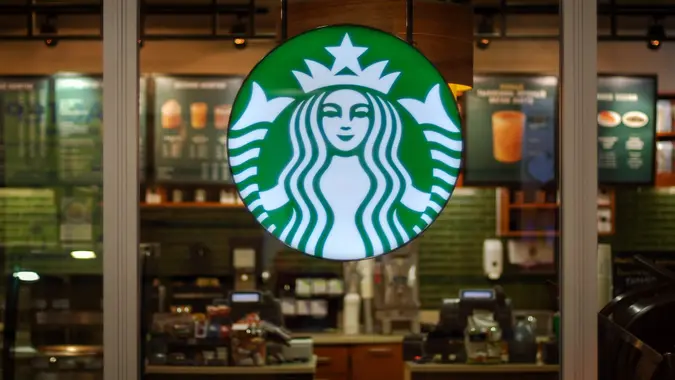 Nadya So / iStock.com
Starbucks' flagship store in Seattle's Pike Place Market opened in 1971. Since then, it has grown to nearly 35,000 locations worldwide. In some cities, it seems like there's a Starbucks on every corner.
See: If Your Credit Score Is Under 740, Make These 4 Moves Now
Since Starbucks is known for serving some of the best coffee on the market, it's no wonder a Starbucks gift card is a popular gift option for the holidays and other occasions throughout the year. But what do coffee lovers do if they have a Starbucks gift card and don't know how much money's on it? Here's how to conveniently check how much money is left on a Starbucks gift card.
How To Check the Balance on Your Starbucks Gift Card
You can check your Starbucks gift card balance via the company's website or mobile app or by phone. Here are the details on each option.
Starbucks Gift Card Page
Go to the Gift Cards page on Starbucks.com.
Select the "Check balance" button.
Enter the card number and security code.
Starbucks Rewards Page
Go to the Rewards page on Starbucks.com to sign in to your account.
Navigate to "Card management" and select a card to check the balance.
Make Your Money Work for You
Starbucks Mobile App for iPhone or Android
Select the "Scan" tab to see the balance on each card linked to your Starbucks Rewards account.
Check Your Balance by Phone
You can also check your Starbucks gift card balance over the phone by calling 800-782-7282.
How To Set Up Automatic Reloads to a Starbucks Gift Card
When your Starbucks gift card runs out of money, it doesn't have to become another plastic resident of the local landfill. You can select the balance amount that triggers automatic reloads, so you can keep using your card as much as you'd like. The easiest way to do so is by using the Starbucks app. Here's how:
Open the app and log in. 
Tap the face icon in the upper right corner.
Select "Starbucks card & payment."
Tap the card you want to reload automatically.
Select the "Turn On" option to take advantage of the automatic reload feature.
Where To Buy a Starbucks Gift Card
Physical Starbucks gift cards are available at Starbucks locations and can also be purchased at Target, Amazon.com, Albertsons and Safeway, among other retailers.
It's also worth mentioning that there are limits to how much money gift cards can hold. You can typically load your Starbucks gift card for as little as $5, but you cannot have a card balance that exceeds $500 at any time. Moreover, you cannot purchase more than $10,000 in gift cards from the company per day.
Make Your Money Work for You
Starbucks also offers e-gift cards on its website. You can choose from several different e-gift card designs and preset denominations of $10, $25, $50 and $100. Alternatively, you can enter a custom dollar amount.
Good To Know

One of the best ways to save money on Starbucks purchases is to find and buy discounted Starbucks gift cards. Some warehouse clubs sell large packs of gift cards online, and some websites focus specifically on offering discounted gift cards. 
How To Take Advantage of the Starbucks Rewards Program
Coffee lovers who want the most out of their Starbucks experience can sign up for the Starbucks Rewards program. The program offers deals that can help reduce the cost of a daily cup of joe and make a gift card balance go a bit further. 
Starbucks rewards customers for their loyalty with Stars for every dollar spent in its stores. When you rack up enough Stars, you can cash them in for great rewards like free food and drinks.
You can sign up for the rewards program on the company's website by navigating to the Rewards page, clicking the "Join now" button in the upper right corner and following the instructions.
When you make purchases at Starbucks as a member of the rewards program, you can ensure you'll get your Stars by using your Starbucks Card or by paying directly through the app. You can also get your rewards with cash, credit and debit payments by letting the cashier know you're a Starbucks Rewards member.
Make Your Money Work for You
Take Advantage of Free Refills
When you are a Starbucks Rewards member and use your card to make a purchase, you can receive free refills of brewed drinks, including coffee and tea, during the same store visit. To be eligible, scan the member barcode in the mobile app before you make your purchase, and scan it again when you request a refill. Alternatively, you can use your Starbucks Card to pay, and scan the same card again when you request your refill. Using your card to get a free refill is a great way to get the most out of your Starbucks gift card.
FAQ on Starbucks Gift Cards
Here are answers to some of the most common questions about Starbucks gift cards.
Do Starbucks gift cards have fees?

There are no activation fees, service charges or other fees associated with Starbucks gift cards.

How do I check my Starbucks gift card balance without redeeming it?

You can check your Starbucks gift card balance over the phone or via the Starbucks website or mobile app by following the steps above.

Where is the security code on a Starbucks gift card?

The security code on a physical Starbucks gift card is on the back of the card. Remove the scratch-off coating to reveal the code. On an e-gift card, the security code can be found below the card number.

 What can I use a Starbucks gift card for?

You can use Starbucks gift cards to purchase food, beverages and other items at participating Starbucks locations. You can also use them to pay for items online.
Daria Uhlig and Miriam Caldwell contributed to the reporting for this article.
Editorial Note: This content is not provided by any entity covered in this article. Any opinions, analyses, reviews, ratings or recommendations expressed in this article are those of the author alone and have not been reviewed, approved or otherwise endorsed by any entity named in this article.
Make Your Money Work for You