10 Costco Bakery Items You Need To Party on a Budget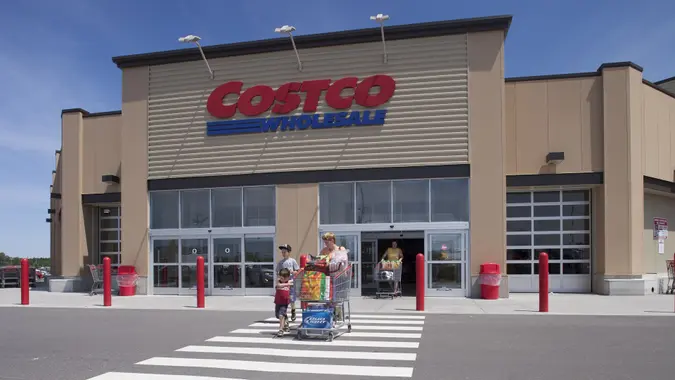 YvanDube / iStock.com
Costco members can attest that buying in bulk is often just better, but what about baked goods? Costco has more than just deals on big-ticket items. Whether it is the holiday season, a birthday celebration or just a Tuesday pick-me-up, Costco has you covered when it comes to all things baked.
See: 3 Easy Tips to Turn Your Credit Woes into Wows
Stepping into the bakery at Costco is equivalent to getting the golden ticket as an adult. From sheet cakes to seasonal pies and breakfast delicacies to favorite treats, if you are having a gathering, save some money by buying these baked goods from the Costco bakery.
10 Best Costco Bakery Items — That Won't Break Your Budget
Bagels – $7.99
Croissants – $4.99
Cheesecake – $16.99
Cookies -$8.99
Danishes – $9.99
Donuts – $6.99
Muffins – $8.99
Pies – $5.99-$6.99
Rosemary Parmesan Bread – $6.99
Sheet Cakes – $18.99
1. Bagels 
Price: $7.99
Quantity: 12 bagels
Price per bagel: $0.67
If you are not in the New York City area or don't have a quality bakery near you, Costco has your bagel needs covered. Properly made by water-boiling to give them the expected firm texture outside as well as the chewy consistency inside, these breakfast staples come in five different flavors.
Plain
Everything
Cinnamon raisin
Sesame
Parmesan
Make Your Money Work for You
You can mix and match flavors without paying more by choosing two flavors instead of one at the same price. Flavor selection and stock will vary from location to location, but it's always good to pick up a dozen bagels to get you through the week. To help them last longer, any you don't eat straight away, you can pop in the freezer, and then just thaw and toast them the next time you get a bagel craving.
If you are feeling magnanimous, you could also be a hero and pick up a dozen for your coworkers and spread some kindness, deliciousness and cream cheese.
2. Croissants
Price: $4.99
Quantity: 12
Price per croissant: $0.42
Nothing harkens to sitting in a Paris cafe quite like a buttery and oh-so-flaky croissant. You practically cannot order one unless your other hand is holding a cafe au lait. If you're not in France and still want this tasty pastry, Costco is a great option. Croissants are ideal for breakfast gatherings, bridal shower brunches or after dinner with some cocoa. At just $0.50 a piece, they are one of the best-priced items in the Costco bakery.
Make Your Money Work for You
3. Cheesecake 
Price: $16.99 in-store
Quantity: One 10-inch cheesecake (serves 16)
Price per slice: $1.06
What is better than eating cheese? The answer is eating cheese for dessert. Costco's Kirkland Signature Bakery Fresh Plain Cheesecake is a great way to do just that. Costco carries a variety of sizes and flavors that will affect the cost, but the plain is classic for a reason. You can pick it up for your next party and add your own favorite toppings while still staying within your budget. This cheesecake is not available online, so be sure to grab one at your local Costco.
4. Chocolate Chunk Cookies 
Price: $8.99
Quantity: 24 cookies
Price per cookie: $0.37
Costco has a variety of cookies available, but when it comes down to brass tax, the chocolate chunk is by far the favored flavor. It is classic for a reason. This is not to say you shouldn't try the double nut or oatmeal raisin cookies, but if you are bringing cookies as your passing dish, the chocolate chunk is a surefire hit. Variety packs of all three flavors are also available for $8.99, so there is no need to make hard decisions.
Make Your Money Work for You
5. Danishes 
Price: $9.99
Quantity: 8 danishes
Price per danish: $1.25
Costco has no shortage of options for those who love danishes. The $9.99 price point is for two 4-packs, as this is how they are grouped for pricing, which allows you to mix and match which flavors to get. Costco has a variety of delicious danish flavors including, but not limited to, the following:
All butter danish
Almond cream danish
Cream cheese danish
Cherry danish
Lemon cream danish
6. Donuts 
Price: $6.99
Quantity: 12 donuts
Price per donut: $0.58
Homer Simpson would dream about walking down the donut aisle of Costco. At only $6.99 for a dozen, these glazed old-fashioned beauties are delicious and come in at a cheaper price than competitors such as Krispy Kreme or Dunkin'. Breakfasts for big groups are now covered and will come in well within your budget. 
7. Muffins 
Price: $8.99
Quantity: 12 muffins
Price per muffin: $0.75
Muffins are simply a lovely way to have cupcakes for breakfast, and at Costco, you can do so affordably. They sell them in units of two 6-packs, which is nice because you can mix and match your flavor options. Costco muffins come in many delectable varieties.
Blueberry muffins
Chocolate muffins
Banana chocolate chip
Chocolate chip
8. Pumpkin Pie
Price: $5.99-$6.99 depending on location
Quantity: One 4-pound pie (serves 12)
Price per slice: $0.50-$0.58
This seasonal favorite has customers flocking to Costco during the holiday season. The Costco Kirkland Signature Pumpkin Pie is a staple on many a Thanksgiving or Christmas table. Though the price does vary by location, it is not by much and still makes this holiday favorite a must-have. Opting for a Costco pie is a tasty way to save some money around the holidays.
9. Rosemary Parmesan Bread
Price: $6.99
Quantity: Two loaves (1 pound each)
Price per loaf: $3.50
The rosemary parmesan bread is a thing of legend among those in the know at Costco. Use it for your daily sandwich, make the whole loaf into garlic bread or cut it up for crostini. Whichever way you slice it, this bread is a fan favorite. Perfect for a family pasta night pairing, or turn it into the base for your slumber party pizzas. This bread is not only tasty but also provides more bang for your buck.
10. Sheet Cakes
Price: $18.99
Quantity: One double-layered full sheet cake (serves 48)
Price per piece: $0.40
Costco had to suspend its sheet cake sales in 2020 due to the COVID-19 pandemic, since people weren't meeting in large enough groups to merit a cake of that size. However, this affordable sweet treat is back and better than ever.
Sure, sheet cake can seem boring, but Costco sheet cake is famous for its fabulous texture in either flavor of chocolate or vanilla. The basic sheet cakes come in different sizes to accommodate your needs and is super affordable. At $0.40 a piece, you cannot afford not to serve this for dessert at your next big bash.
FAQ
Here are the answers to some common questions about the Costco bakery.
Can you order bakery items from Costco?

Yes, you can order cakes at your local Costco warehouse with a notice of 48 hours. You'll be given an order form to fill out. At this time, there are no online cake-ordering options available.

Is Costco selling sheet cakes?

Yes, Costco is selling sheet cakes. It stopped for a while in 2020 due to the pandemic, but now you can once again buy sheet cakes in a variety of sizes in-store.

Does Costco make cakes anymore?

Yes, Costco makes various cakes, including classic sheet cakes, cheesecakes, mini cakes and tuxedo chocolate mousse cakes.

What does Costco sell in its bakery?

Costco sells a wide variety of baked goods in its bakery, including but not limited to the following:
– Bagels
– Bread
– Croissants
– Cheesecake
– Cookies
– Danishes
– Donuts
– Muffins
– Pies
– Sheet Cakes
– Mini cakes
Pricing and availability may vary by location.
Editorial Note: This content is not provided by any entity covered in this article. Any opinions, analyses, reviews, ratings or recommendations expressed in this article are those of the author alone and have not been reviewed, approved or otherwise endorsed by any entity named in this article.
Our in-house research team and on-site financial experts work together to create content that's accurate, impartial, and up to date. We fact-check every single statistic, quote and fact using trusted primary resources to make sure the information we provide is correct. You can learn more about GOBankingRates' processes and standards in our editorial policy.
Make Your Money Work for You