I'm a Dietitian: These Are My 6 Favorite Grocery Deals at Trader Joe's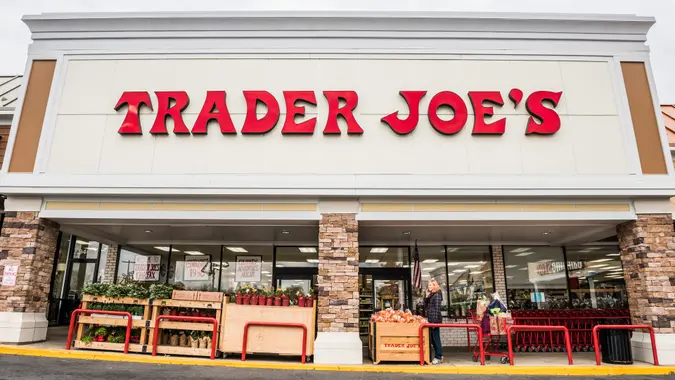 ablokhin / Getty Images
Trader Joe's shoppers appreciate the unique and health-focused products that set Trader Joe's apart from other grocery stores. Known for its quick and easy meal fixes, this supermarket is a go-to for those seeking nutrient-dense foods without breaking the bank or spending hours in the kitchen. To help our readers discover the best nutritious finds at Trader Joe's, GOBankingRates asked dieticians for their top recommendations. 
Now let's dive into their top six favorite Trader Joe's finds that satisfy taste buds and keep your wallet happy. 
Organic Herb Salad Mix
Trader Joe's organic herb salad mix is a fantastic pick, priced at just $2.49. This delightful mix includes 12 different organic greens and three fresh herbs, including red and green leaf, lolla rosa, arugula and more, providing a satisfying crunch. 
"This pre-washed salad mix is a convenient way to add a wider variety of vegetables to your diet," said Stephanie Wells, MS and registered dietician at Thyme to Go Vegan Nutrition Services. "Finding affordable organic produce can be challenging, but this salad mix is priced at only $0.50 an ounce, and the reasonably sized 5-ounce package means you won't be throwing any wilted greens out at the end of the week. Use it as a side salad, a large dinner salad, or in grain bowls for a nutritious packed lunch."
Extra Fine French Green Beans
Need a quick and healthy veggie fix? Trader Joe's extra fine French green beans are a steal at $1.99. These fresh, sweet and tender greens make for an excellent side dish or a speedy addition to your meals. 
Make Your Money Work for You
"Keeping a bag of Trader Joe's frozen French Green Beans on hand in the freezer makes adding a side of vegetables at dinner a no-brainer," Wells said. "They're already trimmed and cooked quickly, making them a nutritious go-to for a quick veggie option. French green beans can be a little pricier than traditional green beans, but these are incredibly affordable at $0.08 per ounce. Try them sauteed in extra-virgin olive oil with a sprinkle of salt, pepper and fresh lemon juice."
Whole Grain Waffles
Trader Joe's whole grain waffles are a breakfast game-changer, priced at $2.69. When you crave a wholesome and delicious morning meal without spending too much time in the kitchen, these waffles come to the rescue. 
"Everyone loves waffles, but most frozen waffles in the grocery store are highly sweetened and made with refined flour," Wells said. "These whole grain waffles, on the other hand, provide 30 grams of whole grains per serving and are made with only 100% whole wheat flour. Another bonus is that they're only lightly sweetened, making them a nutrient-dense way to eat whole grains at breakfast. I love topping them with peanut butter, fresh strawberries and a drizzle of pure maple syrup — or toasting one plain as a snack!"
Cruciferous Crunch Collection
Looking for a nutritious and versatile veggie blend? Trader Joe's cruciferous crunch collection is a winner, priced at $2.69. This bag features a delightful mix of kale, Brussels sprouts, broccoli and green cabbage, offering a satisfying texture and crunch. 
Make Your Money Work for You
"This bag is packed with all sorts of essential minerals and nutrients such as potassium, iron, magnesium, and vitamins A, B and K," said Megan Darlington, a registered dietitian at Test Prep Insight. "Plus, most other grocery stores do not carry this mix in one bag. You'd have to purchase each individually and then mix them together yourself, which would cost a lot more than what Trader Joe's charges. I personally love this bag because of its versatility. You can make salads, coleslaw, stir fry, a simple veggie side, smoothies, etc."
Organic Spaghetti Squash Nets
Gluten-free pasta lovers, Trader Joe's has got you covered. The store's organic spaghetti squash nets are priced at $3.99 and these precooked spaghetti-like nets are perfect for a quick and low-calorie pasta alternative.
"Organic Spaghetti Squash Nests are another product available at Trader Joe's that you likely won't find in other stores," Darlington said. "The box serves around 3 people for less than $4! My kids personally love the little nests. They dress each one up individually with different toppings. From a health standpoint, these are an excellent alternative to pasta if you are looking to stay low-calorie and low-carb. Plus, squash is rich in vitamins, minerals and antioxidants." 
Organic Bananas
Finally, let's not forget the humble yet versatile Trader Joe's organic bananas. At just 25 cents each (even if they're jumbo-sized), these affordable fruits are a must-have in your kitchen. 
"At least once a month, I intentionally shop at Trader Joe's just to stock up on organic bananas for snacking and freezing for later use," said Jackie Newgent, RDN, CDN, plant-forward chef, nutritionist and author of "The Plant-Based Diabetes Cookbook."
Make Your Money Work for You
More From GOBankingRates
Please note that the prices of each item were compiled from TraderJoes.com and may vary based on location.