13 Ways To Save on Dining Out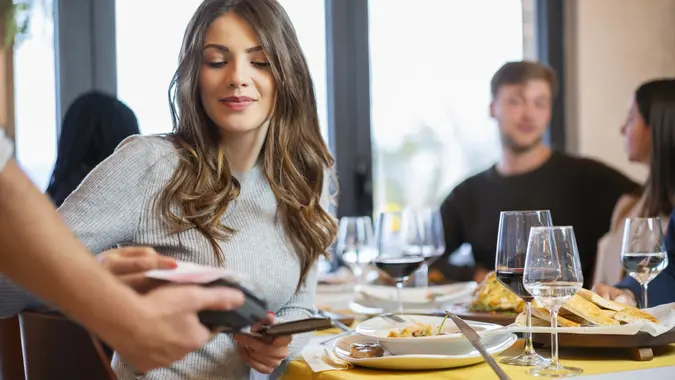 SrdjanPav / iStock.com
If you've been out to eat anytime in the past year, you've probably noticed that the cost of meals — along with the cost of just about everything else — has gone up thanks to inflation. With prices rising all around us, many are ditching dining out altogether. According to a recent Morning Consult survey, more than 80% of U.S. consumers said they are eating out less often than they used to.
Personal finance experts usually eschew eating out, deeming it a hazardous pothole for those on a budget, but there are actually numerous ways to save on the splurge. In fact, sometimes a meal out can be cheaper than cooking your own at home.
"If you're making something you don't normally make, you'll probably have to buy all the ingredients," said Kari Lorz, certified financial education instructor at Money for the Mamas. "You can easily spend $30 for all the basic pantry staples, plus another $30 for meat, vegetables and grains. Bump that by another $10-$15 if you're buying organic. You can easily get a similar meal for less by going out to a restaurant — and you won't have to clean up the kitchen afterward."
This is likely the exception to the rule, however, so what to do when you know that eating out is going to cost more than a meal at home? You explore and implement the many ways to save on dining out.
Make Your Money Work for You
Set a Budget 
"We budget $100 per month on eating out," said Mike Earl, a CFP at The Wealth Group. "We aren't strict about sticking to this budget, although in the first 6 months of 2022, we averaged just $88/month of spending at restaurants. When it's a special treat that happens just a couple times a month, we all savor it much more than if it was a common occurrence." 
Earl recommends making a basic spreadsheet to manually track how much you spend eating out in order to stay within your budget.
Buy Discounted Gift Cards for Restaurants 
"Many people don't realize you can buy discounted gift cards for restaurants online," said Akshay Chaudhary, a self-described foodie and the co-founder of Smartworths. "Want to save even more? Buy discounted gift cards through cashback websites and use a good cashback credit card to knock a higher percentage off the cost of a meal out."
Coupons, Coupons, Coupons 
"You can find restaurant coupons from several different sources, including via snail mail, loyalty programs, and restaurants' websites and apps," said Katie Roberts, consumer analyst with DealNews.com. "Check to see if you have a coupon to use before dining out at a restaurant, or you could just visit restaurants you have coupons for. Read the terms of the coupon before you go to the restaurant, so you know which items are eligible for it and whether an expiration date applies."
Join Restaurant Loyalty Programs
"If you frequent a particular restaurant, see if they have a loyalty or rewards program you can join," Roberts said. "These programs are typically free to be a member of and can offer serious perks, like exclusive deals or a free meal on your birthday."
Make Your Money Work for You
Pass on Booze 
"If you're consuming alcohol with your dinner, you've probably noticed that the cost of the booze itself is equal to or greater than the cost of the food when your bill comes," said Matthew Dailly, managing director at Tiger Financial. "Additionally, most restaurant gift cards don't include alcohol. If you're particularly in the mood for a wild night out, simply go to a bar afterward; they'll be cheaper than your typical dining establishment." 
Take Advantage of BYOB Establishments
If you're hell-bent on booze, see whether you can bring your own. 
"Even if there is a small fee, it will always be less expensive than purchasing the beer or wine from the establishment.," said Lyle Solomon, principal attorney at Oak View Law Group. "Additionally, buying alcohol from neighborhood pubs or retail establishments is always cheaper than doing so from a restaurant."
Look for Pre-Theater Discounts 
"Many upscale restaurants provide early bird promotions to patrons who come in before the restaurant gets crowded in the evening," said Jonathan Merry, director at Bankless Times. "These are typically referred to as 'pre-theatre' discounts because the original concept was to stop by for a quick dinner before going to the theater. They give you a few courses at a reduced rate because they anticipate that you'll finish them quickly. Although there is usually not much choice on the menu (three meals with only two alternatives for each course, for example), the costs are typically substantially lower than if one chooses from the regular menu. Keep in mind that pre-theatres are typically not available on weekends."
Sign up for the Birthday Club
"Some restaurants have a birthday club where they give you a discount or coupon on your birthday which will save you money on dining out," said Jacqueline Gilchrist, the founder of Mom Money Map. "Sometimes their birthday club offer is within their rewards program. To check out if they have a birthday club offer, you can Google search the restaurant name and 'birthday.'"
Gilchrist notes that IHOP, Denny's and Baskin Robbins are examples of establishments that offer this perk. 
Do Lunch Instead of Dinner 
"One of the best ways to save on dining out is to go out for lunch instead of dinner," said Nicole Thelin, founder of Low Income Relief. "Many restaurants offer discounts on lunch menus and promotions during lunch hours as it is considered a dead period for them." 
Steer Clear of Specials 
"Avoid specials listed off by your server," said Justine Rosado, co-founder of The Nutrition Queens. "They're almost always overpriced. If something does intrigue you, don't be shy about asking how much the featured appetizer/entree costs."
Dine on National Days
"From National Ice Cream Day to National Chicken Wing Day, there's a day of observance for just about any food you can name," said Chaudhary. "Plan your meals around these offers to take advantage of free appetizers, entrees or desserts. Stay tuned to social media for promotional details."
Investigate Credit Card Offers 
"Check your credit card for special offers," said Eric J. Nisall, accountant and founder of Understand Finances. "For example, American Express has a program called AMEX Offers that gives promotions such as statement credits at certain restaurants (which change each month) which can be up to 25% in savings or Membership Rewards multiples which can then be turned into statement credits or gift cards. Discover also has rotating quarterly 5% bonus cashback categories and 'restaurants' happens to come up regularly there as well."
No Leftovers Left Behind 
Ever think there's not enough food left on your plate to take home? Or that the remains of your meal won't taste good later? Consider getting creative with leftovers in order to maximize value.  
"I have been known to take back extra wings from a meal out and turn it into a full BBQ chicken pasta salad that feeds the whole family the following day," said Bobby Pritchard, owner and grillmaster at Smokey Grill BBQ. "And so for a mere extra few dollars I am able to produce an additional meal."
More From GOBankingRates