7 Dollar Tree Foods You Should Budget Into Your Weekly Shopping List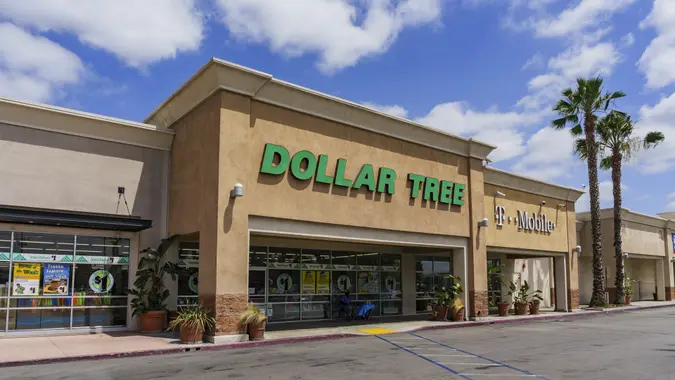 Kit Leong / Shutterstock.com
While everything isn't just $1 at Dollar Tree, you can still find some pretty good deals. And if you haven't tapped the food aisle yet, you might be surprised at what you'll find in the way of grocery items.
However, before you load up your cart, Samantha Landau, consumer expert at TopCashback.com said that you should always check the expiration date on any food you plan to buy from a dollar store. "While you may think you're getting a great deal," she said, "it's important that you know how long the item is going to last before checking out to ensure you'll have time to use it."
Although you might not want to buy these particular food items every single week, you can add them to your weekly shopping list as needed to save a few dollars here and there. 
Before your next grocery run, check out these seven dollar tree foods you should budget into your weekly shopping list. 
Kraft Real Mayo
"Mayonnaise is a kitchen staple with a variety of uses — from sandwiches to baking — making Dollar Tree's price point a good bargain," Landau said. "For $1.25, you're getting 8 ounces of Kraft's Real Mayo. Elsewhere, you can expect to find 15-ounce containers of the same item for over $4.50. When you take into account the cost-per-ounce comparison, you're saving about 15 cents per ounce by shopping at Dollar Tree."
Make Your Money Work for You
Lime Juice
"When you're looking to add a hint of citrus flavor to your favorite dinner recipe, lime juice is a great option," said Landau. "Dollar Tree has an 8-ounce bottle of Leaping Leopard 100% Lime Juice for $1.25, which is about 15 cents per ounce. Other retailers sell 15-ounce bottles of lime juice for around 16 cents per ounce."
Vegetable Oil
"Used in a variety of recipes, vegetable oil is an inexpensive cooking oil that is a great addition to your pantry," Landau said.  "You can score a 16-ounce bottle of Golden Chef Vegetable Oil from Dollar Tree for $1.25. It's hard to beat this price — other stores offer 16-ounce bottles of vegetable oil for over $3."
Top Ramen
"If you're looking for something quick, easy and cheap to eat, this college staple is best purchased at Dollar Tree," Ramhold said. "If you're lucky enough to find a 5-count package in your local store, you can get it for just $1.25, which works out to 25 cents per package and that's far better than what you'll pay elsewhere. And it's available in chicken and beef flavors if you need a little variety."
Take Our Poll: Are You Concerned About the Safety of Your Money in Your Bank Accounts?
Make Your Money Work for You
Pillsbury Cake Mix
Ramhold said that you'd probably only find basic flavors, like chocolate or vanilla if you shop for Pillsbury Cake Mix, but they're only $1.25 as compared to the $1.39 or more you'll spend elsewhere. "You may find better deals at grocery stores during sales, but shopping these items at Dollar Tree when they're not on sale provides a good bargain," said Ramhold. 
Ramhold also gave a tip not to buy Pillsbury frosting at Dollar Tree because of its smaller size than what the grocery store offers — 10 ounces versus 16 ounces — and also the lack of flavors.
Kraft Macaroni and Cheese
"The classic blue box pasta is a safe bet for regular Dollar Tree shoppers, but it can also be found for the same price or cheaper elsewhere," said Ramhold. 
Ramhold advised that you can get this same product at Walmart for $1 per box or slightly less. However, she said if shopping at Dollar Tree is one of the only options you have, this is still an OK item to add to your Dollar Tree shopping list. 
Make Your Money Work for You
Suddenly Salad Mixes
"I don't really think these boxes are enough to feed more than one person unless they're serving as a side item, but $1.25 per box is one of the best deals around," Ramhold said. She advised to be prepared to double or triple the amount you make if you're serving it as a main course. However, you can also choose to serve it as a side. 
You can find Suddenly Salad in both the Classic and Bacon & Ranch varieties at Dollar Tree. 
More From GOBankingRates
Make Your Money Work for You