Don't Buy These 6 Grocery Items at Costco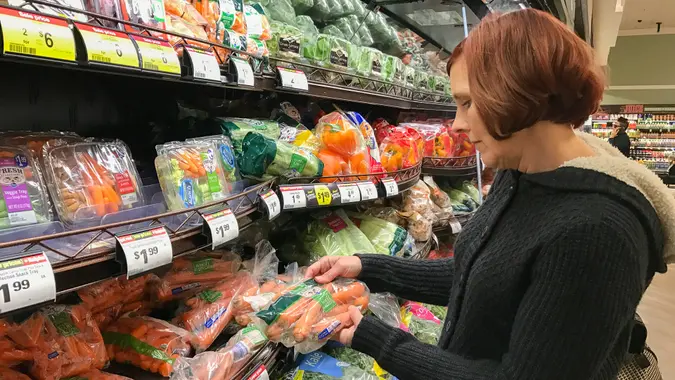 ©GOBankingRates
For many shoppers, being a Costco member is essential for saving money and buying all the groceries needed in one place. However, it may not always be in your wallet's best interest to get everything on your grocery list at Costco. 
What should you reconsider adding to your Costco shopping cart? These are the six grocery items you may want to stop buying at Costco if you want to save money.
Fresh Produce
Unless you have a plan to eat the fresh produce you buy every day or immediately use it all up, Costco shoppers may find the fresh vegetables or fruits they buy will quickly spoil.
What's your best bet for produce that won't quickly expire? Julie Ramhold, consumer analyst at DealNews.com, recommends putting your cash towards bananas, apples or oranges. These can be bought in three-to-four-pound amounts and consumed fast. On the other hand, bigger bulk buys, like a 15-pound bag of potatoes, may be much harder to finish.
Dairy Items
Much like fresh produce, Costco shoppers may find there's not enough time to finish certain dairy products unless they're being consumed daily. 
"At least with produce you can potentially freeze some items for use later or make a loaf of banana bread if you can't eat them fast enough, but once dairy items have expired, those have to be tossed out. If you can't finish them, then you're just throwing money away with the remnants," said Ramhold.
Make Your Money Work for You
Chicken
Aghogho Boccardi, founder and owner of Hope Like A Mother, is a frequent Costco shopper who doesn't think it's worth it to buy chicken at Costco (unless, of course, we're talking about the ready-to-eat rotisserie chicken).
"The cheapest I've seen chicken breast go for at Costco is $3.99 a pound. That's still more expensive than most supermarkets," said Boccardi. "Around me, chicken is usually $1.99 a pound and the most expensive I've seen in supermarkets is $2.99 a pound."
Those with large families might find it's worth it to buy chicken in bulk from Costco, but if you don't have a big family, Boccardi said shoppers will have to freeze the chicken. And from Boccardi's experience, freezing chicken can reduce its quality and taste making it not worth the buy.
Seasonings or Spices 
Be careful when shopping for seasonings or spices at Costco. David Bakke, shopping expert at DollarSanity, said this is only a good idea if you're cooking in bulk for families or seasonal events like Thanksgiving dinner. 
"You simply won't use them before they expire and they do have an eventual expiration date," said Bakke.
Soft Drinks
This is another grocery list staple you may think is more affordable at Costco, but Bakke said it's not cost-effective. The savvier approach is to wait for a soft drink sale at a local Publix or Kroger grocery store chain, depending on where you live.
Nutella
Despite the price for two giant jars of Nutella packaged together being pretty good, Ramhold doesn't buy Nutella at Costco because it's going to be a lot to consume. 
Make Your Money Work for You
"Unless you have a huge baking project or absolutely love the product and can handle eating it on a daily basis, there's a good chance it'll languish in the back of your pantry," said Ramhold. "If it sits there long enough, even if it's still technically safe to eat, the quality and taste may not be the same, which means you'll end up having to throw it out."
More From GOBankingRates