End to Emergency SNAP Benefits Could Signal Future Cuts as Soon as Fall 2023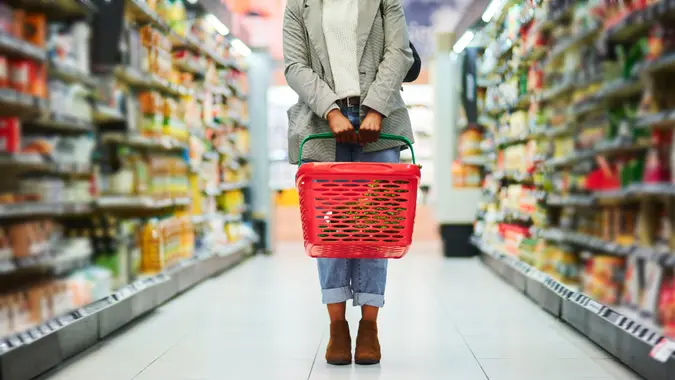 Adene Sanchez / Getty Images
Americans who qualify for Supplemental Nutrition Assistance Program (SNAP) benefits are already reeling from the recent end of emergency SNAP allotments, which boosted average monthly payments by $90 or more to help recipients navigate the COVID-19 pandemic. Now, recipients face the threat of further cuts as some lawmakers eye ways to slash federal spending.
SNAP Benefits: How Long Do They Last?
Find: 3 Signs You're Serious About Raising Your Credit Score
SNAP, formerly known as food stamps, is the food purchasing assistance program overseen by the U.S. Department of Agriculture and administered at the state level. Emergency SNAP allotments ended nationwide on March 1, 2023, though some individual states ended them earlier.
This has led to what some anti-hunger advocates call a "hunger cliff" for millions of SNAP customers who find it hard enough to afford food prices that have soared in double digits over the past year. Many food banks are seeing longer lines and greater demand now than they did during the pandemic, according to Jerry Brown of St. Mary's Food Bank, which operates two Arizona centers.
Make Your Money Work for You
"In 2022, when enhanced SNAP ended [in Arizona] and inflation was up, we were seeing 1,500 families a day, more than during the worst of COVID," Brown told Slate in a recent interview. "And the numbers have not gone down any, not one day since. We thought COVID would be a high-water mark, and we'd be like, 'Hey, remember 2020?' Nobody has to 'remember' 2020 because 2022 was worse."
The situation could worsen even more if Congress decides to cut SNAP funding — and they'll have a chance this fall, when the farm bill comes up for review. As Slate noted, the farm bill is the country's largest agricultural and food policy omnibus and is negotiated every five years.
The last time it was negotiated, in 2018, Republicans attempted to add "stricter work rules" to the program's list of eligibility requirements, per NPR. If these requirements had passed Congress, then-President Donald Trump likely would have signed them into law.
Many Republican lawmakers aim to reduce SNAP funding via similar work requirements this year, per Business Insider, and some are using the current debt-ceiling stalemate as a bargaining chip. SNAP is considered a convenient target for budget cuts now that leading Republicans, including House Speaker Kevin McCarthy (R-Calif.), have said the GOP would not support cuts to Social Security and Medicaid.
Make Your Money Work for You
Take Our Poll: Do You Have a Second Job or Backup Plan in Case You Are Laid Off?
More: Surprising Things You Can Buy With Food Stamps
But as a recent opinion column in The Hill pointed out, no one has promised not to cut SNAP. The program will cost an estimated $153.9 billion in fiscal year 2023 — more than double the annual spending level before COVID-19.
SNAP is now "an inviting target for Republicans," according to the column, which was co-authored by Robert Paarlberg and G. William Hoagland of the Bipartisan Policy Center. Their hope is that SNAP funding does not become a centerpiece of the debt-ceiling negotiations.
"With SNAP in a transition phase as COVID-related benefits expire, the program should not be subject to changes that the president and Speaker negotiate on the fly as part of a debt limit fight," Paarlberg and Hoagland wrote. "Nor is it wise to subject the program to the annual appropriations process, which could become partisan in a divided Congress. The best place to manage SNAP's post-COVID transition is through a legislative process that requires bipartisan cooperation, as the farm bill traditionally does."
Make Your Money Work for You
More From GOBankingRates
Make Your Money Work for You