Food Stamp Fraud: Georgia Gets Approval To Replace Stolen SNAP Benefits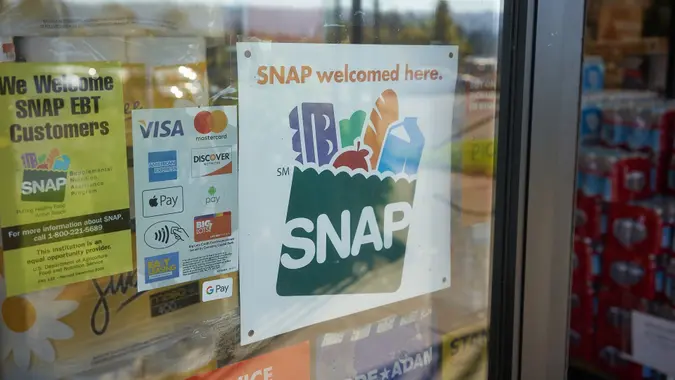 hapabapa / iStock.com
Food stamp recipients in Georgia who have been the victims of fraud will soon get their stolen benefits restored now that the state has received approval from the U.S. government to replace the benefits.
In an announcement last month, the Georgia Department of Human Services' (DHS) Division of Family & Children Services (DFCS) said it received federal approval to replace electronically stolen food stamp benefits for recipients who are victims of card skimming, card cloning and similar fraud.
Food stamps, formally known as Supplemental Nutrition Assistance Program (SNAP) benefits, provide food purchasing assistance to qualifying families. Benefits are now loaded onto Electronic Benefits Transfer (EBT) cards rather than distributed through food stamps — and those cards make it easy for scammers to steal from SNAP recipients.
EBT fraud costs taxpayers up to $4.7 billion a year, according to the U.S. Government Accountability Office, which called it a "criminal epidemic."
The Georgia DHS press release did not mention the extent of the fraud affecting its SNAP recipients, although DHS Commissioner Candice Broce said her team has "worked quickly" to provide relief to victims.
"As we begin to receive and review benefit replacement requests, we will continue to educate our clients on best practices to protect their SNAP benefits, such as shielding the PIN pad, changing their PIN numbers frequently, and checking their EBT accounts regularly," Broce said in a statement.
Make Your Money Work for You
SNAP recipients who believe they are victims of fraud should request a new EBT card and PIN by calling 1-888-421-3281.
In a separate press release, the Georgia DHS said that to request replacement benefits, you must complete and return the Request for Replacement of Stolen Benefits. You can download the form here or visit a local Division of Family & Children Services office to obtain a printed copy.
If you are unable to print a copy at home or visit a local office, you can call 877-423-4746 or your local DFCS office and have the form mailed or emailed to you. In all cases, the recipient should submit their signed affidavit on the DFCS website, drop it off at their local DFCS office, or mail it to their local DFCS office. Office hours and locations are available at dfcs.georgia.gov/locations.
SNAP recipients can request replacement of stolen benefits up to two times a year until Sept. 30, 2024. Anyone who reported the theft of stolen benefits prior to Oct. 18, 2023, has until Nov. 18, 2023, to request a benefit replacement.
Here are some other things to know:
The SNAP benefit theft must have occurred between Oct. 1, 2022, and Sept. 30, 2024.
Households can't receive more than two replacement issuances for stolen benefits in a federal fiscal year.
The household must have reported stolen benefits to the Georgia DHS within 30 days of discovering the theft.
The request must be made by the head of household, an adult household member, or an authorized representative listed on the case.
More From GOBankingRates
Make Your Money Work for You