Food Stamp Struggles: 5 Medical Reasons You May Not Qualify for SNAP as Regulations Face Major Changes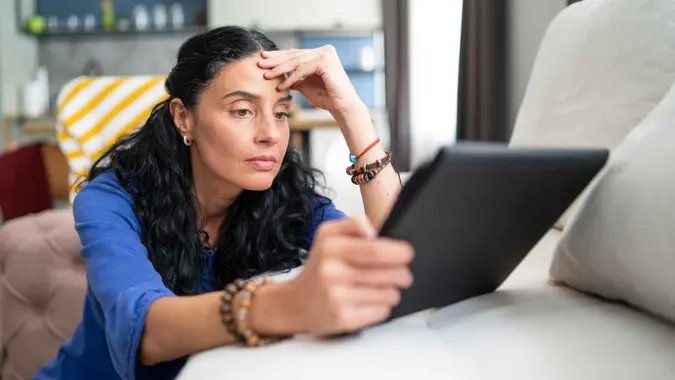 valentinrussanov / Getty Images
New regulations included as part of President Joe Biden's debt-ceiling bill will expand food stamp benefits for some Americans but also make it more difficult for others — especially those with medical issues that prevent them from working enough hours to qualify for benefits.
Food stamps, formally known as Supplemental Nutrition Assistance Program (SNAP) benefits, are available to low-income households to help them purchase food. But many recipients are required to work 20 hours a week to be eligible for SNAP.
New rules agreed on during debt-ceiling negotiations include raising the proof-of-work age range for SNAP to between 18 and 54 years old from 18 to 49 previously. This means hundreds of thousands of SNAP beneficiaries will now have to meet work requirements that they didn't have to meet before.
The bill also includes provisions that could widen the roster of SNAP beneficiaries to include more homeless people, veterans and young people 18 to 24 years old who aged out of foster care.
But much of the attention has focused on new work requirements aimed at older SNAP customers. In a recent analysis, the Center on Budget and Policy Priorities (CBPP) said the bill would "put almost 750,000 older adults ages 50 to 54 at risk of losing food assistance" through an expansion of the "existing, failed" SNAP work-reporting requirement.
"Some of the people who would lose SNAP would be working but could struggle to consistently meet the 20-hour requirement or to provide documentation of their hours," according to the CBPP.
Make Your Money Work for You
The situation could be especially challenging for people who have health/medical issues that prevent them from working. Similarly, the new rule could hurt recipients who must care for others with health issues. In these cases, they might not be able to work the minimum hours to receive food stamps.
Here are five medical reasons you might not qualify for food stamps because you can't meet the work requirement.
Health Issues for Recipient
This is a problem for SNAP applicants of all ages, but it escalates as you get older. According to a 2018 study from the Brookings Institute, just more than half of younger SNAP recipients and 87% of older SNAP participants who would be exposed to work requirements and didn't have jobs said the reason they were not working was due to health or disability. 
Health Issues for Family Members
Some SNAP applicants might be healthy enough to work themselves, but are tasked with providing at-home care for family members or others who have a medical condition. This is especially true for SNAP recipients 50 and older who have elderly parents to care for.
"There are all kinds of circumstances that mean that, at a given moment, someone might not be able to work or work a prescribed number of hours," CBPP President Sharon Parrott told NPR in a recent interview, adding that one of the reasons is having to care for a family member with a medical issue.
Medical Problems Related to Age
The prevalence of health conditions "rapidly increases" for low-income adults starting in their 40s, according to the CBPP, and nearly half of low-income adults ages 50 to 54 report a health barrier to work. A "large share" of people on SNAP between the ages of 50 and 54 are in poor health, Parrott said.
Make Your Money Work for You
Medical Problems Related to Poverty
The share of older adults with incomes below twice the poverty line who have health conditions is "three times higher" than the share of those with incomes above that level, according to the CBPP. This means lower-income older adults, including those 50 to 54, might not be able to work enough hours to qualify for SNAP because of medical conditions brought on by poverty.
High Denial Rates for Disability Benefits
Qualifying for disability benefits is one of the most common reasons that someone is exempt from the work-reporting requirement, according to the CBPP. However, high denial rates and long wait times for disability benefits have made them "increasingly difficult to access."
SNAP has been "an important lifeline" for low-income older adults with significant health barriers to employment but who also can't get disability benefits, the CBPP said. These adults "may soon lose access to SNAP as well, if they are not determined to be otherwise exempt from the expanded work-reporting requirement.
More From GOBankingRates