Food Stamps: 19 Biggest Retailers Accepting SNAP Payments in October 2023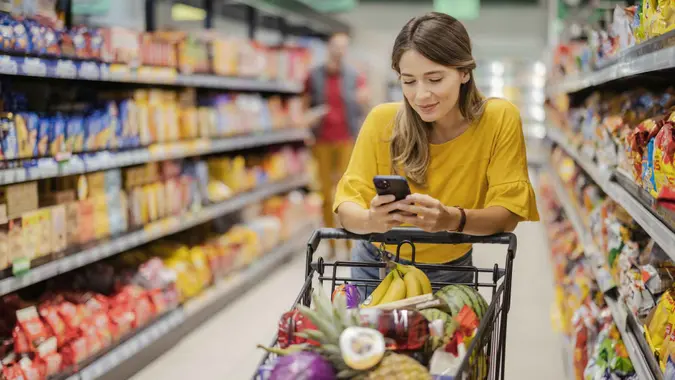 PixelsEffect / Getty Images
You can't use food stamps everywhere, but some of the biggest retailers across the U.S. accept SNAP EBT card payments in stores and for online orders.
More retailers are being added to the list every year. Even delivery services are getting into the mix — Uber Eats recently announced that SNAP recipients can pay for groceries using the Uber Eats app beginning in 2024, as previously reported by GOBankingRates. Instacart also announced in August that it's the first online grocery marketplace to accept SNAP payments in all 50 states and Washington D.C.
According to the National Council on Aging, more than 80% of SNAP benefits are used at larger retailers. Here's where you can use your SNAP benefits in October 2023.
Brick-and-Mortar Retailers Accepting SNAP
Around 248,000 retailers are participating in SNAP nationwide, according to the Center on Budget and Policy Priorities. Most stores that sell grocery items accept SNAP at the register, including supermarkets, farmers markets, convenience stores, pharmacies, gas stations, specialty stores and more.
Here are some of the biggest names accepting SNAP in stores.
7-Eleven.
Albertsons.
Aldi.
BJ's Wholesale Club.
Costco.
CVS.
Dollar General.
Family Dollar.
H-E-B.
Kroger.
Meijer.
Publix.
Safeway.
Sam's Club.
Target.
Walgreens.
Walmart.
Whole Foods.
For a more comprehensive list, check the U.S. Department of Agriculture's SNAP Retailer Locator. Doing so will allow you to locate nearby SNAP-authorized retailers by entering a street address, city, state or zip code.
Make Your Money Work for You
Stores Accepting SNAP Payments Online
All 50 states and the District of Columbia participate in the USDA's SNAP Online Purchasing Pilot, a program that allows SNAP recipients to purchase groceries online for pickup or home delivery. Not every retailer allows shoppers to use their EBT cards online, but you can check with the USDA to see what stores accept online SNAP payments in your state. Also, keep in mind that you'll need another form of payment to pay for items not eligible for SNAP, delivery fees and other associated charges. The following stores and services accept SNAP payments online.
Amazon.
Costco.
Instacart.
Kroger.
Meijer.
Publix.
Safeway.
Sam's Club.
Target.
Uber Eats.
Walmart.
Whole Foods.
Restaurants Accepting SNAP
Some states allow SNAP recipients to use their EBT card at certain restaurants through the Restaurant Meals Program. Currently, only Arizona, California, Illinois, Maryland, Massachusetts, Michigan, Rhode Island and Virginia operate RMP, and not every restaurant accepts SNAP.
Even if you qualify for the program and your state participates, call ahead and ask the restaurant whether they'll accept your EBT card. Here's a list of restaurants that accept SNAP — however, this varies by location.
Arby's.
Burger King.
Carl's Jr.
Dairy Queen.
Jack in the Box.
KFC.
Little Caesar's Pizza.
McDonald's.
Panda Express.
Papa John's.
Popeye's.
Starbucks.
Subway.
Taco Bell.
Wendy's.
More From GOBankingRates
Make Your Money Work for You