Food Stamps: While 'Short-Term Fix' Implemented, SNAP Benefits Largely Unprotected From Theft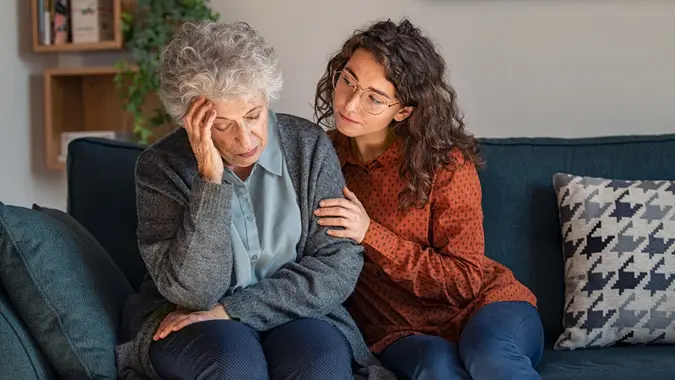 Ridofranz / iStock.com
The $1.7 trillion omnibus spending bill passed by Congress in late December addresses the growing problem of Supplemental Nutrition Assistance Program fraud, but some critics call it a "short-term fix" that doesn't solve the larger problem of SNAP benefits theft.
See: What Is the Highest Income Level for Food Stamps in 2023?
Find: 3 Easy Tips to Turn Your Credit Woes into Wows
One measure in the bill requires states to replace households' SNAP benefits that were stolen through electronic benefits transfer card skimming between Oct. 1, 2022, and September 30, 2024 — up to a maximum of two months of benefits, according to the Just Harvest website.
The bill also requires the U.S. Department of Agriculture to issue guidance and regulations directing state SNAP agencies to adopt security measures to prevent card skimming and other methods of SNAP theft.
SNAP, formerly known as food stamps, is the federal food purchasing assistance program run by the USDA but administered at the state level. It is available to eligible low-income households. Benefits are deposited monthly onto EBT or similar cards.
Make Your Money Work for You
As previously reported by GOBankingRates, fraud and theft involving SNAP have become so widespread that some recipients want to hold government agencies legally responsible when benefits are stolen. Among the complaints is that SNAP doesn't have enough safeguards in place to prevent fraud.
Late last year, a class-action lawsuit was filed against the Massachusetts Department of Transitional Assistance — the agency that oversees the state's food-stamp program — because it wouldn't reimburse fraud victims for stolen benefits. One plaintiff in the case was the victim of "skimming," in which the thief uses a device to steal the card number and PIN off of someone else's electronic benefits payment card.
SNAP advocates point out that other consumers have long enjoyed stronger protections than EBT cardholders if their credit or debit card information was stolen.
"It is never your responsibility to be at a loss for those funds. Your credit card company will reimburse you," Ashley Burnside, a senior policy analyst at the Center for Law and Social Policy, told NBC News. "So it is inequitable and unfair that if you're using a different card solely because you're a recipient of SNAP benefits, that if you fall victim to the exact same thing, that is your fault."
Make Your Money Work for You
The measure in the omnibus spending bill aims to address the problem. U.S. Rep. Jason Crow (D-Colo.), who co-sponsored similar legislation, told Denver7 that the measure is "going to make a big difference."
But others argue that it doesn't go far enough. For one thing, the measure only covers fraud that occurred since Oct. 1, 2022, so victims who were defrauded before that will not have their benefits replaced. For another, the protection only lasts through September 2024.
According to Carmen Mooradian of Hunger Free Colorado, the legislation is only a starting point.
Take Our Poll: Do You Think Student Loan Debt Should Be Forgiven?
Discover: 8 Grocery Stores With the Best Discounts To Help With Rising Food Costs
"Right now, there is a short-term fix that was included in the omnibus, but we do not yet have a long-term solution to this issue," Mooradian told Denver7. "And that is what we are looking for, for these households to feel protected and safe. I want to stress that this is happening to SNAP participants through no fault of their own."
More From GOBankingRates
Make Your Money Work for You