Food Stamps: Local Farmers Are Now Able To Accept SNAP Payments Online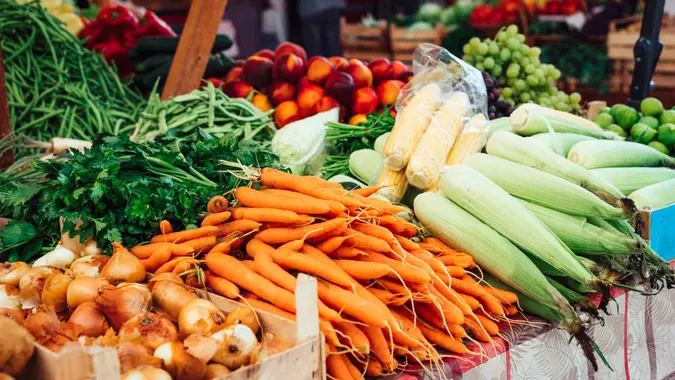 Nikada / Getty Images
With food prices up, more farmers' markets are accepting EBT payments on SNAP-eligible items. Thanks to a recent partnership between the USDA and the National Association of Farmers Market Nutrition Programs (NAFMNP), some are even accepting SNAP payments online for pick-up or delivery.
Many communities nationwide have weekly farmers' markets filled with vendors offering fresh produce and other local products. According to the USDA Food and Nutrition Service (FNS), there have been challenges when connecting SNAP participants with local farmers. Because of modern technology, there are now solutions to bridge the gap. By using online purchasing and mobile payment systems, the FNS says it's creating a "more efficient, inclusive and mutually beneficial relationship between SNAP participants and farmers."
River Queen Greens, a vegetable farm in New Orleans, Louisiana, is the first direct marketing farmer accepting online SNAP payments. "Having the capability for SNAP online payments makes the purchasing process much more seamless," said co-owner Annie Moore, as reported by FNS.
Participants can now purchase produce online from participating local farmers, having it ready for pick-up or delivery. This isn't the only technological advancement in SNAP payments this year.
In June, Alaska became the 50th state to allow online SNAP purchases, and the number of vendors continues to grow, Winsight Grocery Business reported. As of mid-June, the USDA reported that Target, Walmart, Safeway and Amazon were capable of processing online SNAP payments in the state. Instacart also announced that it had expanded online SNAP payment capabilities to all 50 states.
Make Your Money Work for You
Ofek Lavian — co-founder and CEO of Forage, a company certified by the USDA to process online SNAP payments — told Winsight Grocery Business in an interview that many recipients do not have easy access to a grocery store, and one in every five households has a family with a disability. This makes it more difficult to travel to a brick-and-mortar store.
Food deserts are common throughout the U.S., but making SNAP available for online purchases can help SNAP participants access fresh, locally grown foods.
More From GOBankingRates