Eggs and Other Foods That Got Crazy Expensive in 2022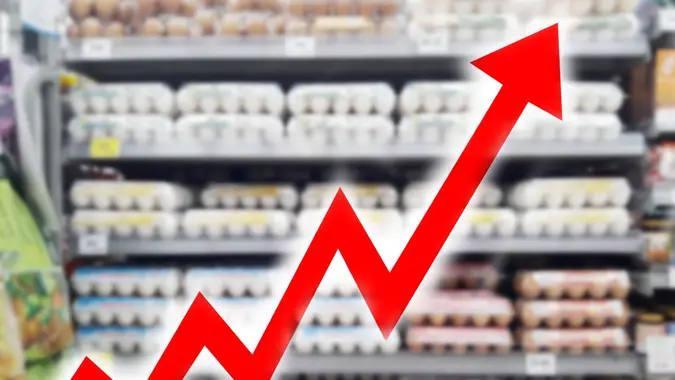 The overall inflation rate has been moving in the right direction for the last few months, but food remains stubbornly expensive. That's because prices rose fastest among primary staples that find their way into all kinds of foods.
When the key ingredients for just about everything see double-digit percentage increases, there are few places for households to hide. Here's a look at the foods that put the biggest strain on family budgets in a very expensive year.
Eggs
November year-over-year increase: 49.1%
Overall, nothing in your fridge was hit harder by inflation this year. The price of eggs jumped by 2.3% from October to November, which was an improvement from more than 10% the month before. According to the St. Louis Fed, a dozen eggs cost $1.72 last November and about $3.60 in November 2022.
One of the worst avian flu outbreaks in U.S. history affected more than 50 million laying hens in 2022, leading to unprecedented supply disruptions.
Butter and Margarine
November year-over-year increase: 34.2%
The price of butter and margarine fell by 2.5% between October and November; but, according to CNBC, shoppers shouldn't expect that trend to continue. Analysts predict that butter prices will remain high, mostly because extreme climate events have pushed up the cost of feed and made dairy cows less productive and more expensive to maintain.
Flour
November year-over-year increase: 24.9%
Flour joins eggs and butter to round out the trifecta that made 2022 a miserable year for bakers. In September, Bloomberg reported that flour inflation was the highest in history, and the root cause is far away. As early as March, news outlets reported that Russia's invasion of Ukraine was disrupting the global supply of grain and pushing the price of flour skyward.
Make Your Money Work for You
Lettuce
November year-over-year increase: 19.8%
If the inflation rate is falling, it's not because of lettuce — the price jumped by 8.9% between October and November alone. 
According to The Packer, which is part of Farm Journal, lettuce prices are at a record high, up to $82 per carton in mid-November from $38 in October and $28 in September. The culprits were a yield-reducing virus in the critical growing region of Salinas, Calif., and limited output from other regions.
Pet Food
November year-over-year increase: 15.7%
It's not just people; pets cost more to feed in 2022 as well. In October, Pet Food Industry reported that pet food inflation had outpaced that of human food. The reasons were familiar: ongoing supply chain disruptions and the war in Ukraine.
Some companies have been accused of price gouging, but Vox points out that pet food is surprisingly complex — one food must satisfy an animal's complete nutritional needs — and is therefore extra sensitive to the effects of inflation.
Milk
November year-over-year increase: 14.7%
The fires, floods, extreme temperatures and frequent storms that defined the climate of 2022 made it much more expensive for dairy farmers to buy and maintain cattle while also pushing up the price of things like corn and soybeans that are used for their feed. Also, the rising cost of farm labor and gas forced producers to increase prices.
Poultry
November year-over-year increase: 13.1%
One of the worst outbreaks of avian flu on record is mostly to blame for the painfully high price of eggs, but actual chicken got more expensive even as the price of other meats fell for different reasons. According to CNN, increased demand, clogged supply chains and underperforming roosters were mostly to blame.
Make Your Money Work for You
Many of those problems have since been corrected, and poultry inflation actually dropped a bit last month for the first time.
Food Away From Home
November year-over-year increase: 8.5%
You might have noticed that the bill was higher when you went out to eat just about anywhere in 2022. Staff shortages were part of the reason for this year's restaurant inflation, as were the increased costs of utilities and rent, but the main driver was the food itself. Things like eggs, chicken, milk, flour, lettuce and butter weren't just more expensive at the grocery store. The suppliers who sell ingredients to restaurants were forced to jack up prices all year, which cafes, diners, pubs and the rest passed onto you.
More From GOBankingRates