Free Food Deals You Can Get This Summer

6 min Read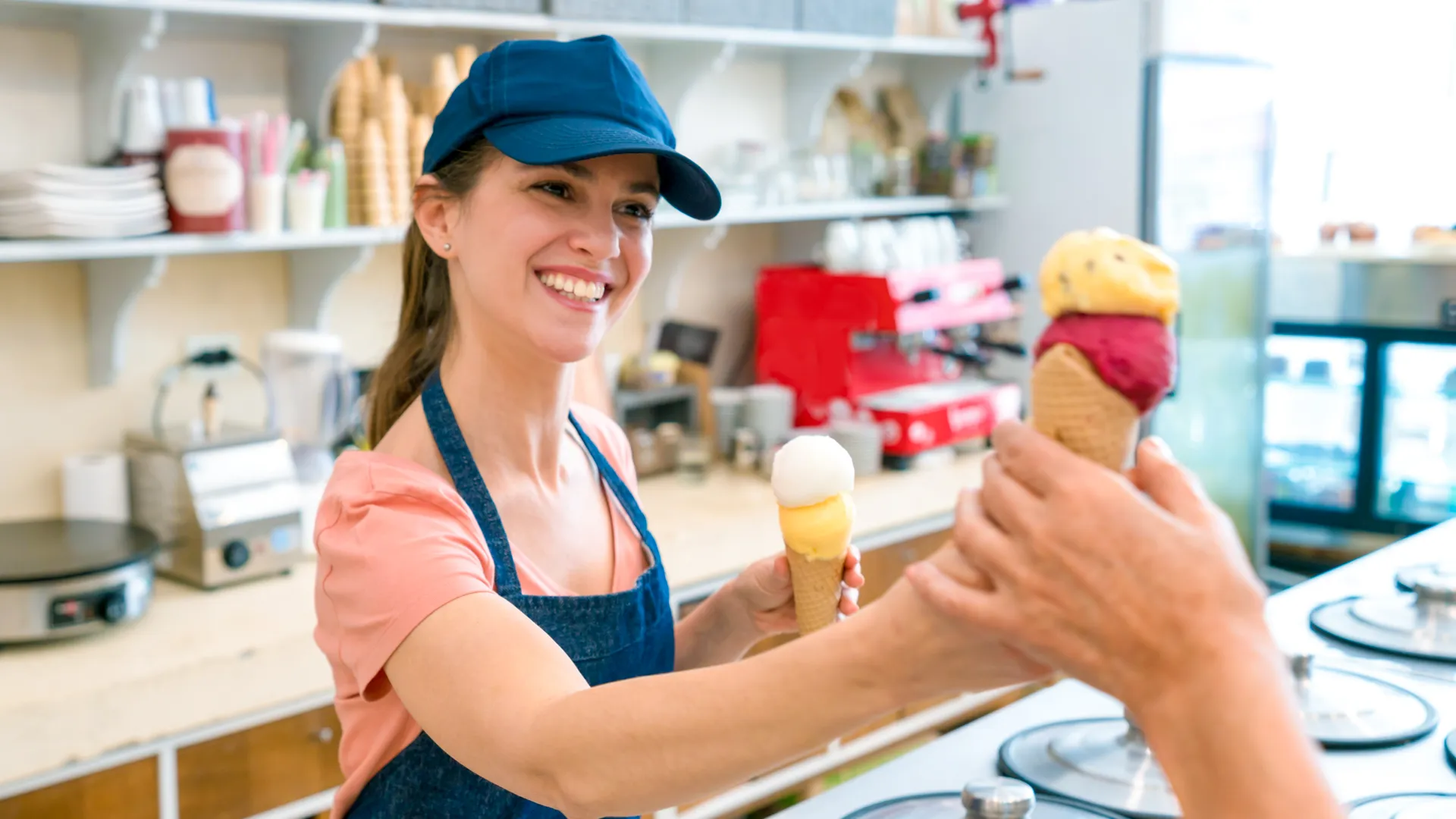 Make Your Money Work for You
Jimmy John's
Sign up for Jimmy John's Freaky Fast Rewards program online or on the App Store or Google Play and receive an 8-inch Favorite, Original or Plain Slim sandwich for free. Plus, every purchase you make will bring your closer to your next reward. You can redeem rewards in the store or by phone by providing the phone number tied to your Freaky Fast Rewards account or by using your Freaky Fast Rewards Pass. When ordering online or in the app, click "Redeem" on the item at checkout or from the Rewards tab.
Gratis Goodies: 75 Birthday Freebies You Can Claim in 2021
Baskin-Robbins
Get a free regular scoop of your favorite flavor ice cream at Baskin-Robbins when you download the app on the App Store or Google Play and sign up for mobile deals. The offer excludes all waffle cone varieties and toppings, and you must pay applicable taxes. Redeem the offer at participating Baskin-Robbins locations.
Check Out: Things You Can Get For Free in Every State
Krispy Kreme
Sign up for Krispy Kreme's rewards program and get one of your favorite iced, glazed, filled, cake or chocolate doughnuts for free. Plus, every purchase you make brings you one step closer to your next single doughnut, dozen, coffee or specialty coffee. Download the app on the App Store or Google Play or sign up online.
Discover: 11 Restaurants Where Kids Eat Free
Buca di Beppo
If you enjoy family-style Italian meals — meaning large portions — you can get a $10 gift when you register for Buca di Beppo's eClub. To get started, sign up online. By signing up for the eClub, you'll receive coupons and special discounts, as well. The restaurant also offers daily meal deals starting at $10 per person. Plus, take advantage of Two for Tuesday: Buy any pasta and get a free Buca small pasta (which can feed three).
Find Out: These States Are Handing Out Free Money – Is Yours One of Them?
Make Your Money Work for You
Panera Bread
If you live or work nearby a Panera Bread, this could be the deal for you. Join MyPanera+ Coffee and get unlimited iced and hot coffee and hot tea — any size and any flavor — free for three months. You can order a new beverage once every two hours and get unlimited refills while in a Panera location. After the first three months, you'll be charged a subscription fee of $8.99 per month, so if you don't think it's worth it, cancel before that date and you'll owe nothing.
Cash In: How To Get Free Money: 12 Easy, Proven Ways To Earn
California Pizza Kitchen
California Pizza Kitchen is well-known for its pizzas, but its menu boasts salads, soups, small plates, pasta, sandwiches, desserts and a variety of vegetarian and gluten-free options. Join CPK rewards and get a free small plate — Crispy Artichoke Salad, Mexican Street Corn or Petite Wedge — when you register. Plus, you'll get a free dessert on your birthday. To get started, sign up online.
Travel Savings: 35 Things Your Hotel Will Give You for Free
Burger King
Closing in on seven decades of service, Burger King is the second-biggest hamburger chain worldwide. Sign up for Burger King's Royal Perks program to get access to free food, such as a free Whopper, a free Original Chicken Sandwich or a free Croissan'wich with a $3 purchase. The best part is that these free offers are also valid on delivery orders.  Sign up here to start earning free food.
Marble Slab Creamery 
Marble Slab Creamery offers a rainbow of ice cream flavors, as well as unlimited mix-ins, signature sundaes, shakes and smoothies. Download the Slab Happy Rewards app on Google Play or the App Store or sign up online to get started. Then, once you make your first purchase, you'll earn a sweet $5 reward to spend on your favorite Marble Slab treat. Plus, you'll get a $5 reward for your birthday. Just make sure to check the expiration dates on your rewards because they will expire.
Check Out: 5 Best Companies for Free Samples
Make Your Money Work for You
Raising Cane's
Join the Caniac Club at Raising Cane's and you'll get a free box combo just for signing up. To join, ask for a Caniac Club card the next time you visit Raising Cane's. Then, register your card online and verify your email address. Within 48 hours, your free box combo will be loaded on your card. By joining, you'll also receive a free drink on your birthday and a BOGO box combo reward on the anniversary of your original signup date.
On the Border
If you're a fan of the Tex-Mex restaurant On the Border, register for Border Rewards online. Within 24 hours of signing up, you'll receive a reward in your inbox that you can exchange for a free Combo 2 or 3. Also, after joining, if you order a bowl of queso and pay a $1 membership fee while dining in the restaurant, you'll get access to the premium tier of Border Rewards, also known as the Queso Club, which will unlock 365 days of free queso.
More From GOBankingRates
About the Author