Expert Breaks Down Grocery Delivery Sustainability — Is It More Energy and Cost-Efficient Than a Supermarket Trip?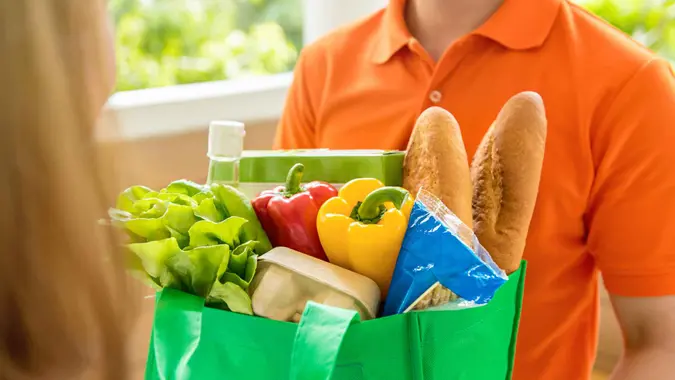 Atstock Productions / Getty Images/iStockphoto
During the last few years, customers have increasingly enjoyed the convenience of getting their groceries delivered. While the ability to cut down on shopping trips and potentially save money on groceries appealed to many, others wondered about the environmental impact associated with using these delivery services. In June 2023, the Carnegie Mellon University (CMU) College of Engineering published a study examining online grocery delivery usage and sustainability. It found that taking a trip to the supermarket actually involved less energy consumption than getting groceries delivered.
The CMU researchers chose Seattle, Washington, for the case study and obtained some government data on local travel characteristics. They used this information to run a series of experiments and determine the optimal routing for deliveries. During the process, they looked at how grocery delivery service usage affected energy use and vehicle emissions as well as the amount of traffic on the roads.
These experiments required considering factors such as the number of deliveries per route, the time of day the deliveries took place and the number of local customers using the service. The researchers also looked at how people usually shopped for their groceries, such as whether they dropped by the store while already out or made separate trips. Additionally, they considered whether customers used delivery services to complement rather than replace in-person shopping trips and how far away from the store they were.
Even while testing scenarios such as delivering more orders on a single route, the researchers found that using these delivery services could still increase energy usage and emissions versus shopping in person. When it came to effects on traffic congestion, they did find a small improvement. However, this was only when customers skipped their in-person shopping trips and instead ordered from a nearby store at a non-peak time.
Make Your Money Work for You
Typical customer shopping behaviors contributed to these results. The study found that it was very common for customers to drop by the grocery store while they were already out and that they often avoided in-person grocery shopping during peak times. Destenie Nock, a CMU assistant professor, explained the following in a CMU news release: "This is good because it doesn't add to congestion on the road ways. Turns out most people already try to optimize their grocery trips."
The study did find ways to make grocery delivery more sustainable and cost-efficient, including increasing the number of electric vehicles used. Customers could also help by placing their orders during non-peak times, not making extra shopping trips, ordering from the closest store and placing bulk orders.
In addition to considering the concerns addressed in the study, customers should make sure using grocery delivery services is cost-efficient for them. Not only do delivery fees often apply, but some services may charge higher prices for items ordered online versus bought in person. This emphasizes the importance of taking advantage of grocery delivery promotions to lower delivery costs and save on items.
More From GOBankingRates
Make Your Money Work for You