See How Much the Average American Spends on Dining Out: How Does Your Spending Compare?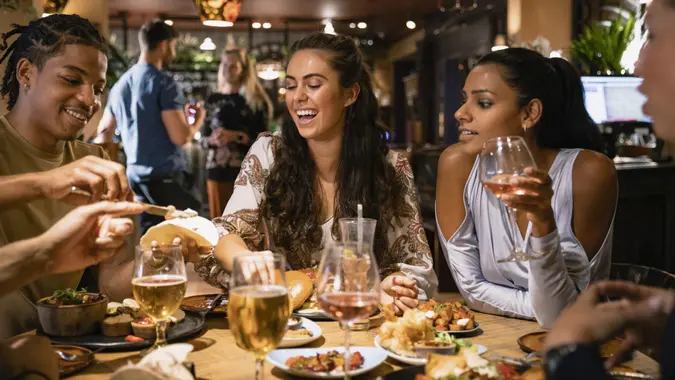 DGLimages / Getty Images/iStockphoto
Going out for a restaurant meal can be a fun way to spend your time and money — but sometimes you can end up spending more than you anticipated.
Adding on appetizers, desserts and drinks can tack on some extra expenses to a treat meal. Still, if it fits within your budget, it could be worth the splurge.
While everyone's budget is different, it's worth knowing how much the average American is spending on dining out to gauge whether you're overspending on restaurant meals. Here's a look at Americans' dining out spending habits.
How Much Americans Spend on Dining Out
A recent US Foods survey of 1,000 Americans found that the average American spends $166 monthly per person on dining out.
Nearly half of Americans (42%) spend between $11 and $20 per person per meal, and 24% spend between $21 and $30. Additionally, 8% spend $10 or less, 11% spend between $31 and $40, 7% spend between $41 and $50, and 8% spend more than $50 per person per meal on average.
The survey also found that men spend 19% more on dining out than women, on average.
How To Save Money on Dining Out
There are a number of ways to save money when dining at restaurants. You can purchase discounted gift cards for your favorite restaurants, make use of coupons, join restaurant reward programs, skip the drinks (or BYOB) or go out for lunch instead of dinner.
Make Your Money Work for You
"One of the best ways to save on dining out is to go out for lunch instead of dinner," said Nicole Thelin, founder of Low Income Relief. "Many restaurants offer discounts on lunch menus and promotions during lunch hours, as it is considered a dead period for them."
How Much Americans Tip at Restaurants
The survey found that the average American tips 18% when dining out. About a quarter (28%) of people tip 15%, and 38% tip 20%. Four percent of Americans admit that they don't tip at all when eating at restaurants.
As for how much you should be tipping, etiquette experts agree that you should generally tip between 18% and 20% when dining out, and lean toward the higher amount if the service is particularly good.
"If you receive exceptional service at a restaurant, tip 20% on your bill," said Joy Weaver, etiquette expert and author of "How to Be Socially Savvy in All Situations." "If you receive bad service at a restaurant, let the manager know why you left a small tip. Remember to tip on the bill before tax."
Nicole Spector contributed to the reporting for this article.
More From GOBankingRates