How One Cool Costco Feature Can Save You Money on Groceries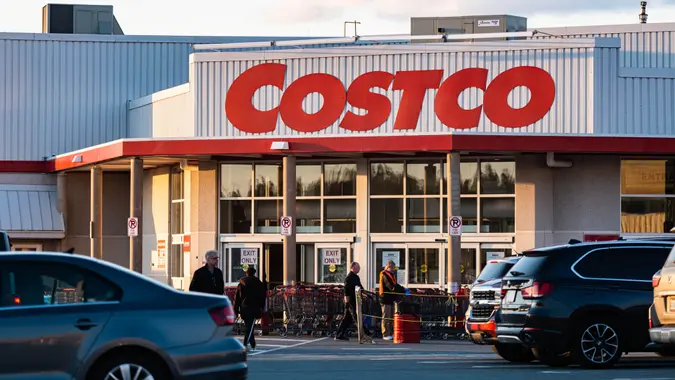 shaunl / Getty Images
If you are a Costco regular, you are aware that the warehouse retailer offers an array of discounts and bulk items at low prices — and that the food court is a must-hit on your way out of the store.
But there's a lot more to Costco, including one feature that could make your weekly grocery buying a whole lot easier. It all comes down to two words: home delivery.
Not using this feature when you shop at Costco? Then you might be making a big mistake. Here are the details.
Costco Delivers
More and more of our lives are being spent at home, either due to working situations that have changed in the past few years or just wanting to spend more time with family. Whatever the case for you, going shopping might be more of an inconvenience than it used to be.
Luckily, Costco has made it possible for your groceries to be delivered using its online feature: CostcoGrocery. All you have to do is create a list of what you want to buy and press the "order" button — and Costco takes care of the rest.
Free Shipping
What if you could get your groceries from Costco delivered for free? Your wish is now a reality when you order online.
Costco's no-cost delivery services let you shop like you were in the warehouse without having to step foot outside your home. This applies to everyday essential pantry items, plus frozen food.
There is a shipping minimum, however, so make sure you are stocking up on everything you need for a week's worth of meals for your family or to make a full spread for that party you are hosting.
Make Your Money Work for You
Bargains Still Apply
A trip to Costco always feels like a trip to save money. With bulk offerings at discounted prices, you never feel the pain of overpaying for the essentials. However, you will spend money on the gas to get you there, plus maybe a little extra on impulse buys if you are tempted by some free samples.
Don't worry: When you use CostcoGrocery, you'll still be able to get same bargains Costco offers in store, sometimes even better ones. No need to fill up the tank or your tummy.
Multiple Delivery Options 
One size doesn't fit all, even if it is family size. Why be limited in delivery options? Other online home grocery services often will charge you a pretty penny to get your shopping bags to your front door, limiting your delivery options to their timetables, not yours.
When you shop online at Costco, you get to be in charge of not just the what and where, but the when. By using CostcoGrocery, you'll be offered a few methods for delivery:
Same-Day Delivery: Depending on which ZIP code you live in, you can order groceries like meats and produce online. Your items will be picked up by an Instacart shopper, then delivered during your selected window. The minimum order is $35.
Two-Day Delivery: For perishable and non-perishable items on your Costco list, this is an identical process to Same-Day Delivery, although you must order $75 or more for the delivery fee to be waived. This option is available everywhere in the United States except Alaska, Hawaii and Puerto Rico.
Cold and Frozen Delivery: Just like the Two-Day Delivery option, spend over $100 on cold or frozen food items for your fridge, including meats, cheeses and beverages.
Make Your Money Work for You
When it comes to grocery shopping, Costco is there to save you money, but the CostcoGrocery feature can save you time as well. By having your groceries delivered to your home, you get to pick not only what you want and when you want it, but how you want it delivered.
No more overspending for pricey groceries online, no more having to waste gas by going back and forth for items that you forgot, and — best of all — no more melting frozen items in your backseat. 
If you haven't already discovered this feature, log into your Costco account today, fill up a list with your favorite grocery items, and try not to drool waiting for the doorbell to ring.
More From GOBankingRates