12 Household Name Brands You Can Buy at Dollar Tree for Cheap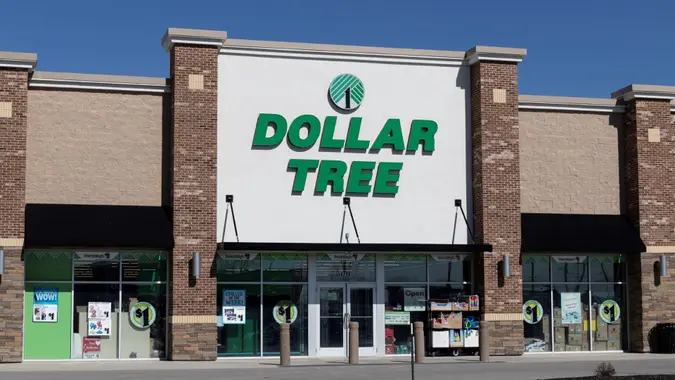 Earlier this year, dollar stores became the fastest-growing segment in grocery retail, taking market share from conventional grocery stores. In rural areas, dollar store food purchases increased by 102.9% between 2008 and 2020, GOBankingRates reported.
Famous name brands are taking notice, with companies that include Kraft Heinz, Dunkin' coffee and Hershey Co. in talks to bring their bestselling products and exclusive seasonal lines into Dollar Tree and Dollar General, Reuters reported.
In the near future, shoppers might be able to look forward to seasonal flavors of Dunkin' coffee and Dot's Pretzels from Hershey. Meanwhile, a quick glimpse at a photo of store shelves at a Dollar Tree in Islandia, New York, shows other popular and classic shelf-stable products, all selling for $1.25.
The list includes:
Kraft Macaroni & Cheese
Suddenly Salad pasta salad mix
French's mustard
Betty Crocker Skillet potatoes
Kraft salad dressing and barbecue sauces
Knorr rice and pasta packages
Other name-brand products on the Dollar Tree website available for shipping, and possibly available in stores, include:
Lay's Stax Chips
Hungry Jack Pancake Mix
Pillsbury Frosting and Cake Mix
Domino Sugar
In addition to name-brand foods, dollar stores are also offering name-brand household goods and cleaners from companies like Proctor & Gamble. These include:
Tide laundry detergent
Bounty paper towels
Clorox cleaners
It's important to check package sizes to see if you are really getting a deal buying from a dollar store. For instance, Pillsbury frosting from Dollar Tree for $1.25 comes in a 10 oz. package, while Walmart sells a 16 oz. container for $1.74. The price per ounce for Walmart's larger package comes out to just under 11 cents per ounce, while Dollar Tree's smaller container costs 12.5 cents per ounce, making Walmart the better value. It's not a big difference, but it's worth being aware of smaller containers you might find at dollar stores.
Make Your Money Work for You
Take Our Poll: Do You Think AI Will Replace Your Job?

If you live closer to Dollar Tree or you are already shopping there you will likely save more than 1.5 cents on gas by avoiding the drive to Walmart. Plus, experts say that by limiting your grocery shopping to one store — and avoiding "store hopping" –Dollar Tree: 12 High-Quality Items To Buy in May you'll save money since you won't be tempted by impulse buys at multiple locations.
More From GOBankingRates