I'm a Personal Finance Expert: Here's How Much I Budget for Groceries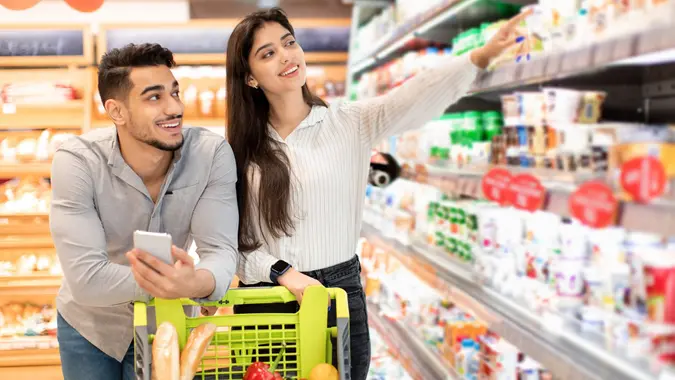 Prostock-Studio / iStock.com
Groceries are something we all buy. Whether we are searching for high-quality and expensive organic food at fancy retailers or stocking up on generic brands at big-box stores, no one can avoid a trip to the grocery store to pick up some items every now and again.
Like most tricks and tips for saving, there's a right way and a wrong way to budget for groceries. You might be asking yourself how much do you need to budget for grocery shopping on a weekly or monthly basis? How exactly do you determine the final dollar amount? Even more importantly: How can you put that budget into action and stick to it, no matter what catches your eyes on the shelves?
GOBankingRates contacted some personal finance experts who shared how much they budget for groceries and tips for what you can do to stretch a tight budget on essential food and home items you are currently buying.
Grocery Budget: $600 per month
Quigley said that his weekly budget, or as he refers to it the "Sweet Spot," is a personalized combination of dietary preferences in addition to "a comprehensive assessment of my monthly income, after setting aside funds for fixed expenses such as mortgage payments and utilities."
According to Quigley, the best way to stay within the boundaries of your budget is to strategize before you even get to the grocery store. 
Make Your Money Work for You
"Avoiding budget overshoot requires a mix of discipline and savvy shopping," Quigley said. "I often shop with a list to curtail impulse buys, and always keep an eye out for deals and discounts."
"Moreover, understanding the seasonality of produce can lead to significant savings," he said. "For instance, buying strawberries in summer rather than winter can make a noticeable difference in the total bill."
Grocery Budget: $400 per month
Rodda said that his monthly $400 budget is based on prior spending trends, as well as any nutritional needs. 
"Staying within budget is easier when you leverage bulk buying and seasonal produce," Rodda said. "It's a calculated part of our operational expenses that ensures the family is fueled and productive." 
When it comes to any tips for shoppers who are on limited funds when it comes to buying groceries, Rodda has a mixture of advice: "Don't wing it; always shop with a list. Use cashback and coupon apps, and don't underestimate the value of store-brand items for cost-effective quality."
Lisa Shelby, Senior Editor at The Pricer
Grocery Budget: $150 per week
"Personally, I've set a $150 weekly grocery budget," Shelby said. 
The breakdown of her typical budget looks like this: fresh vegetables ($40), proteins like chicken and fish ($30), grains and pasta ($20), dairy and alternatives ($25), and $35 for snacks, fruits and other essentials. 
"This budget is not arbitrary," Shelby said, "It is based on historical spending and nutritional needs. I always emphasize the importance of a categorized shopping list; it's a game-changer. It not only helps in prioritizing essentials but also in sidestepping those impulse buys."
Make Your Money Work for You
When it comes to budgeting at the grocery store, Shelby had these tips to share: "[B]uy in-season produce, as it's cheaper and fresher; embrace store-brand products, often they're just as good as name brands and never underestimate the power of loyalty cards and cash-back apps."
"Lastly," Shelby said, "a periodic pantry audit ensures nothing goes to waste and a detailed list, combined with strategic shopping days helps you buy what's truly needed."
Grocery Budget: $650 per month
Boccardi has a family of four to feed, meaning that staying on a grocery budget is essential for her household's long-term finances. How does she make this happen?
"We determined this number by tracking our grocery receipts every time we went grocery shopping. We would write it down on a shared Excel sheet. After a few months, we were able to determine the general amount we spent on groceries each month."
Boccardi said that amount has changed over the years since she and her husband had kids, but that they are able to keep the current number under $700 each month. The secret to staying on budget? It's a meaty answer.
"We stay on budget by only buying the meat on sale. We never buy any expensive meat like steak, duck, lamb, etc.," Boccardi said, adding that her family's meals are planned around the meat of the day including "chicken and occasionally pork because it's usually the cheapest meat."
Other carnivorous saving tips Boccardi shared for grocery budgeting included buying meat in bulk and freezing it for later use and staying away from purchasing expensive cuts of meat.
If you have fallen on hard times and need some extra assistance with food, Boccardi recommends using a food bank in your neighborhood or city. 
"Food banks are for people who are on a tight budget and need some help," Boccardi said. "There's no shame in using one."
More From GOBankingRates