SNAP Benefits May Come Early to Florida As Hurricane Idalia Hits Land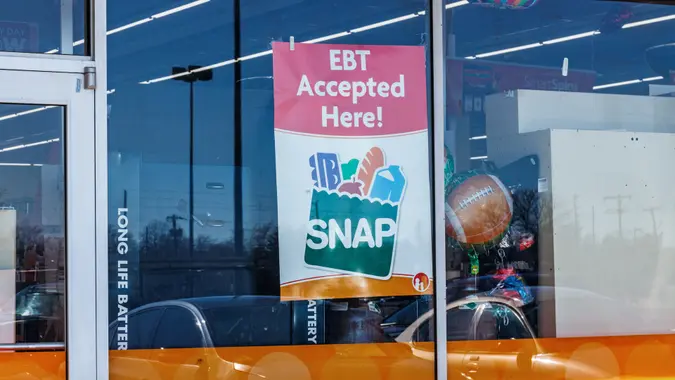 jetcityimage / Getty Images
Idalia just became a hurricane and the life-threatening storm system is expected to "rapidly intensify" before it makes landfall in Florida, the National Hurrican Center said. Florida Gov. Ron DeSantis declared a state of emergency and the state is making preparations, including the early release of Supplemental Nutrition Assistance Program (SNAP) benefits.
There's been no announcement regarding the early release of SNAP benefits, but the Naples Daily News reported that the Flordia Department of Children and Families (DCF), the agency responsible for administering SNAP to Floridians, will request the early release of benefits depending on the severity of the storm.
Florida's SNAP benefits typically go out between the 1st and the 28th of the month, based on the 9th and 8th digits of your case number, as previously reported by GOBankingRates using data from the U.S. Department of Agriculture. 
Last year, SNAP helped 13% of Florida households, per data from the Center on Budget and Policy Priorities. The average payment per household member per month is $180 for fiscal year 2023, or $5.93 per day. Early SNAP benefits could provide much-needed relief to Florida's SNAP households before Idalia makes landfall. Households can use these funds to prepare for the storm and stock necessary foods and other necessities.
Food stamps in Florida can be used to purchase groceries, such as breads, cereals, fruits and vegetables, meats and fish, dairy and plants and seeds to grow food, according to the USDA. These funds cannot be used to buy alcoholic beverages, tobacco, prepared foods or pet food.
Make Your Money Work for You
Naples News Daily reported that Floridians are encouraged to monitor weather conditions and listen to orders from local officials. Residents should also review disaster preparedness plans and stock their disaster supply kits.
"This is going to be a major hurricane," DeSantis said at a Monday news conference, reported CNN. With the potential to hit land as a Category 3 storm, it could be the first hurricane in 172 years to impact Apalachee Bay in the Big Bend region. Heavy rain could produce flash flooding Tuesday into Wednesday along parts of Florida's west coast and panhandle. Four to 8 inches of rain could fall from Tuesday to Thursday with flooding streets.
More From GOBankingRates