SNAP Schedule 2023: When July Payments Are Coming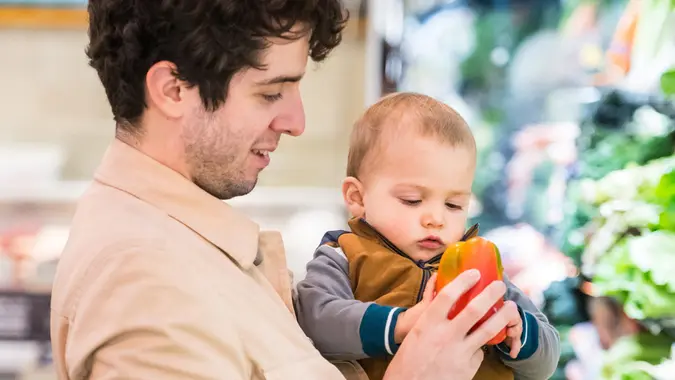 Juanmonino / iStock.com
The Supplemental Nutrition Assistance Program (SNAP) is the nation's most important anti-hunger program. SNAP is a federally administered program that provides financial assistance to low-income individuals and families to purchase food. 
The federal government pays the cost of the program, but each individual state — plus the District of Columbia, the U.S. Virgin Islands and Guam — administers SNAP and shares the administrative costs. Because of this, each gets to set its own payment and distribution schedule.
The U.S. Department of Agriculture keeps a list of the monthly payout schedules of SNAP benefits for each state and territory. In most cases, payments are staggered throughout the month based on different coding options, such as your SNAP case number, Social Security number or even your last name. For the most part, the payment schedule remains the same every month, with the exception of the five boroughs of New York City. Benefits in New York City are spread out over 13 different days over the first two weeks of the month, excluding Sundays or holidays. The rest of the state remains on a standard schedule.
To qualify for SNAP benefits, you must meet certain asset and income levels determined by the federal government. Generally, the gross income limit is 130% of the poverty level (by household size), while the net income level is right at the poverty line. Asset limits range from $2,750 to $4,250 or less. If you don't have any dependents, you may be required to meet work requirements.
You can apply for benefits through your state's SNAP agency. Most states have their applications available online, but you can also print it out or pick up a paper copy at a local office to fill out and either mail, fax or bring in. State SNAP agencies must make a decision within 30 days. The agency will decide within seven days if your application qualifies for expedited SNAP. Once approved, you'll receive your electronic benefits transfer (EBT) card in the mail with your monthly benefit amount.
Make Your Money Work for You
Here are the maximum and average monthly SNAP benefits by household size for 2023:
| | | |
| --- | --- | --- |
| Household Size | Maximum Monthly Benefit | Estimated Average Monthly Benefit |
| 1 | $281 | $195 |
| 2 | $516 | $359 |
| 3 | $740 | $577 |
| 4 | $939 | $684 |
| 5 | $1,116 | $818 |
| 6 | $1,339 | $1,011 |
| 7 | $1,480 | $1,048 |
| 8 | $1,691 | $1,150 |
| Each additional person | $211 | |
Below you'll find the July 2023 SNAP payout schedule for all 50 states and the District of Columbia, Guam and the U.S. Virgin Islands:
Alabama (July 4th-23rd)
Alaska (July 1st)
Arizona (July 1st-13th)
Arkansas (July 4th-13th)
California (July 1st-10th)
Colorado (July 1st-10th)
Connecticut (July 1st-3rd)
Delaware (July 2nd-23rd)
The District of Columbia (July 1st-10th)
Florida (July 1st-28th)
Georgia (July 5th-23rd)
Guam (July 1st-10th)
Hawaii (July 3rd-5th)
Idaho (July 1st-10th)
Illinois (July 1st-10th and older cases July 1st-20th)
Indiana (July 5th-23rd)
Iowa (July 1st-10th)
Kansas (July 1st-10th)
Kentucky (July 1st-19th)
Louisiana (July st-23rd)
Maine (July 10th-14th)
Maryland (July 4th-23rd)
Massachusetts (July 1st-14th)
Michigan (July 3rd-21st)
Minnesota (July 4th-13th)
Mississippi (July 4th-21st)
Missouri (July 1st-22nd)
Montana (July 2nd-6th)
Nebraska (July 1st-5th)
Nevada (July 1st-10th)
New Hampshire (July 5th)
New Jersey (July 1st-5th)
New Mexico (July 1st-20th)
New York (July 1st-9th)
North Carolina (July 3rd-21st)
North Dakota (July 1st)
Ohio (July 2nd-20th)
Oklahoma (July 1st-10th)
Oregon (July 1st-9th)
Pennsylvania (July 3rd-14th)
Rhode Island (July 1st)
South Carolina (July 1st-10th)
South Dakota (July 10th)
Tennessee (July 1st-20th)
Texas (July 1st-28th)
Utah (July 5th, 11th and 15th)
Vermont (July 1st)
Virgin Islands (July 1st)
Virginia (July 1st-7th)
Washington (July 1st-20th)
West Virginia (July 1st-9th)
Wisconsin (July 1st-15th)
Wyoming (July 1st-4th)
More From GOBankingRates