6 Underrated Costco Grocery Items That Are Actually Worth It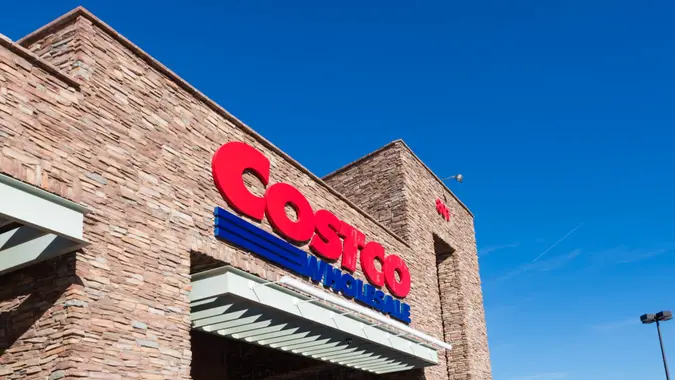 LPETTET / iStock.com
By now you might already know that Costco is the go-to destination for droves of household essential items; everything from allergy pills to trash bags can be found there for a good price. While you may not immediately think of the mega warehouse club as a must stop spot for grocery items, there's actually several underrated Costco grocery items that are actually worth it. (Hint, hint: Kirkland rules!) 
Let's have a look. 
Pre-Cooked Kirkland Bacon 
The price for Kirkland Signature Fully-Cooked Bacon, Hickory Wood Smoked, one pound isn't listed publicly on the site unless you're a member, but meat lovers back this brand.
"There's different textures of bacon in the pack and some pieces of bacon have both textures," wrote Natalie on Costcuisine. You get 48 to 50 slices in this package — so definitely make room in your freezer for it. 
Kirkland Signature Maple Syrup 
This breakfast staple comes in a 33.8-ounce flip-top bottle and contains no added sugar or artificial ingredients – which is a definite plus. On top of that, it's organic. The jug goes for $14.99. Reviewers seem impressed.
"The maple syrup from Costco by Kirkland Signature is quite delicious," wrote Natalie on Costcuisine. "It has a slight hint of molasses flavor and hints of vanilla and caramel. The syrup is not overly woody tasting and tastes like genuine pure maple syrup. It's super smooth with a bold maple flavor."
Make Your Money Work for You
Beef Meatloaf with Cheddar Mashed Potatoes 
It's an American staple, and though you'll probably save the most if you make this dish from scratch, that takes an awful lot of time and ingredients. Best just get it readymade from Costco. 
"The meatloaf is seasoned well, moist and quite firm," wrote Natalie on Costcuisine. "It tastes like it's made from lean ground beef and isn't super greasy or oily. The meat seemed to be good quality; we both didn't find any gross bits. The mashed potatoes were really flavorful, rich, creamy, soft and fluffy." 
According to Nutritionix, a 6.5-ounce portion of Costco meatloaf contains 331 calories. 
Kirkland Vodka 
If you're heading to the liquor store to buy vodka, turn around and head to Costco. You can get a bottle of Kirkland vodka – reportedly comparable to Absolut – for a steal: 1.75 L for $17.99. There's been some debate over whether this vodka is sourced from the same company that makes Grey Goose. Turns out this is not true, but it's still a good buy – especially when considering that the same sized jug of Absolut goes for several bucks more.  
Kirkland Olive Oil 
It seems no matter what you're making for dinner (or breakfast or lunch), cooking oils are called for. It's wise to stock up on these at Costco. For example, a two-liter jug of Kirkland Olive Oil costs $18.99. This item is kosher, cold pressed, of Italian origin and produced from Italian-grown olives. It's also cheaper than what you may find at, say, Target. 
Rao's Marinara Sauce
Speaking of Italy, have you ever tried Rao's Marinara Sauce? Insofar as jarred pasta sauces go, it's not cheap, but boy is it tasty. And it's really reasonably priced at Costco — $11.89 for 2 (28-ounce) jars. 
Make Your Money Work for You
"Probably the most delicious and flavorful jarred marinara sauce I've tired," wrote Natalie on CostCuisine. "This sauce has no added sugar so it's not sweet like other marinara sauces and has tons of flavor from the garlic and herbs in the sauce. It's hearty, salty and tastes really fresh. I would definitely say this tastes very close if not the same as a homemade marinara sauce!"
More From GOBankingRates