Walmart Expands Free Grocery Delivery — Is It Time to Ditch Amazon Prime?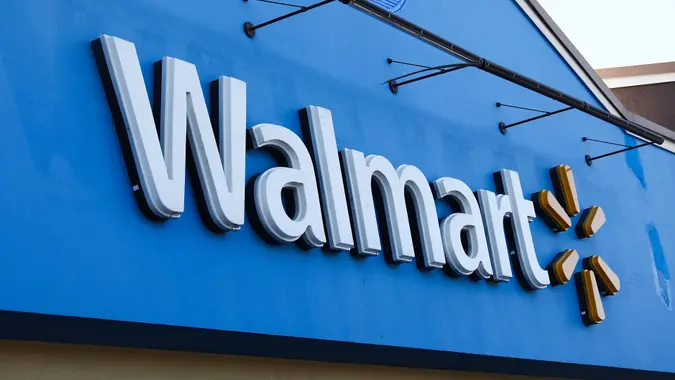 Jakub Porzycki/NurPhoto/Shutterstock / Shutterstock.com
Over the last few years, online grocery shopping has exploded. With just a few taps, you can order groceries and have them delivered right to your doorstep. Amazon has been one of the biggest leaders in the digital grocery business, but new data shows that Amazon Prime members are more likely to buy groceries online through Walmart.
Coresight Research surveyed Amazon Prime members in April, and about 60% of respondents said they purchased groceries online from Walmart at least once in the past 12 months, Business Insider reported. Fifty-five percent said they ordered groceries online from Amazon Fresh or through Amazon's website, while under 14% said they ordered from Whole Foods at least once, an Amazon-owned supermarket chain.
Sujeet Naik, an analyst at Coresight, says Walmart's growth in popularity among Prime members comes as the retailer expands its online grocery offerings. Naik told Business Insider that the retailer is opening new fulfillment centers and offers free grocery delivery for members of its subscription program, Walmart+.
Earlier this year, Amazon began charging delivery fees for Fresh grocery orders under $150, GOBankingRates reported at the time. Previously, Prime shoppers enjoyed free delivery if they ordered at least $35 worth of items. Walmart+ subscribers still receive free delivery on groceries of at least $35.
CNBC Select compared Amazon Prime and Walmart+ and found that while both offer a 30-day free trial, Amazon's monthly cost is $14.99 versus $12.95 per month for Walmart+. Choosing an annual plan for either subscription can help save you money — Amazon Prime is $139 while Walmart+ costs $98 — but the annual savings are much greater with Walmart+.
Make Your Money Work for You
Despite Walmart expanding its services, Coresight found that Prime members are still more likely than non-Prime shoppers to order from Amazon-owned grocers. Only 7% of non-Prime members said they ordered groceries online from Whole Foods in the last year, but 32% of non-Prime shoppers bought groceries online through Amazon Fresh or Amazon.com.
More From GOBankingRates