Is Costco Optical Cheaper Than LensCrafters?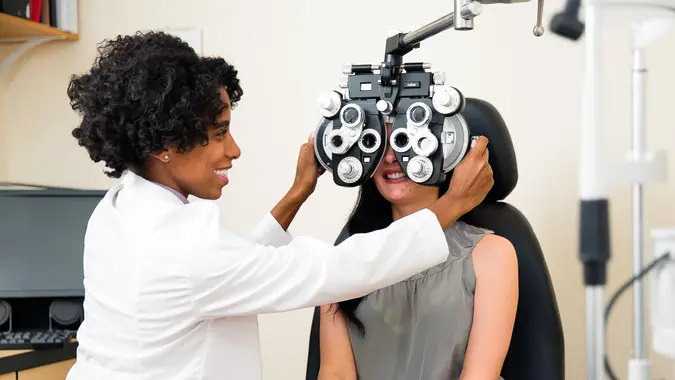 AMR Image / Getty Images/iStockphoto
Though it must be nice just to be able to see for free, if you are one of the many who need contacts or glasses just to bring your day into focus, it is good to know where to go for the clearest deal to save some money. Whether you are searching for contact lenses, prescription eyeglass frames, eye exams or just a new eye doctor, it is time to get a good look at what vision center or eyeglass department is best for you. 
Costco Optical vs. LensCrafters: Pricing Overview
When you're buying eyeglasses, comparing Costco Optical to LensCrafters is essentially comparing price to quality — the best option depends on what you are looking for in the optical department. You don't need to have your eyes examined to see what is the best retailer for you.
Generally, Costco Optical will offer you a better price than LensCrafters when you buy glasses or contact lenses. However, depending on what your vision insurance plan covers, you may be less satisfied overall with the quality of the product. Where Costco locations tend to have fewer brands and feature its staple, Kirkland Signature, LensCrafters has a variety of designer brands for frames and lens types, such as Duralens, Totallens and Oakley Authentic Lenses. 
Make Your Money Work for You
Costco Optical vs. LensCrafters: Pricing Quick Take
Neither Costco Optical nor LensCrafters includes the price of an eye exam in the price for their eyeglasses or contacts, so keep in mind that you'll be paying for both the exam and the vision aids.
| | Costco Optical | LensCrafters |
| --- | --- | --- |
| Price for eyeglasses | $185 | $194.95 to $2,360 |
| Price for contacts | $70.98 to $154.99 | $58.99 to $205.99 per box |
| Price for eye exam | $70 | $73 |
Consider Quality
While Costco is generally less expensive than LensCrafters, consider that higher pricing often accompanies higher quality. If you're at a stage in your life when your prescription is still changing, you might lean toward a cheaper pair of frames — you'll just have to replace them in a year, anyway.
But if your prescription has stabilized and you're planning to use the same pair of eyeglasses for a few years, it might be worth paying a little extra for a sturdier pair that will last longer.
Costco Optical Pros and Cons
Not everything needs to be bought in bulk, even with your Costco membership, as you can just get an eye exam at Costco. No need to squint or consult Consumer Reports — here are the pros and cons of Costco Optical.
Make Your Money Work for You
Pros
Independent doctor of optometry at each Costco location
Many convenience stores and locations
Don't need to be a Costco member to get an eye appointment
Accepts most vision insurance plans
Cons
Must be a Costco member to buy glasses or contacts
Must call to see if your plan covers your eyecare at that location
Website and app aren't user-friendly
LensCrafters Costs Pros and Cons
Seeing double is never a good thing, especially when it comes to a pricetag. That being said, if you get what you pay for in both quality and customer service, it may be worth paying a bit more. Here are some pros and cons of LensCrafters.
Pros 
Quality customer service
Large selection of brands and designers for frames and lenses
Environmentally conscious and offers free green shipping
Cons
Higher price points than many leading competitors
Can be delays in getting your prescription glasses or inaccurate shipping information
Final Take To GO
Yes, in an ideal world, vision would be free and you wouldn't be charged to see. However, most people at some point in their lives will need help correcting their eyesight with eyeglasses or contact lenses. As it is one of life's inevitable fees, make sure you do some research on which eyecare system will work best for you by adjusting your bifocals and reading the fine print.
Make Your Money Work for You
FAQ
Here are the answers to some frequently asked questions about Costco Optical and LensCrafters.
Is Costco Optical cheaper than LensCrafters?

Yes – strictly speaking, you will spend less money on a pair of eyeglasses or box of contact lenses with Costco Optical. This proves even more true if you go with store's brand, Kirkland. The average price for a pair of glasses at Costco is around $185, while the average price for a pair of glasses from LensCrafters is closer to $500. This price will vary greatly, depending on what type of lenses you need.
However, many reviewers prefer the quality of glasses overall found at LensCrafters and therefore didn't mind the extra cost.

What is the cheapest place to get an eye exam?

There are many places besides an optometrist's office where you can get an eye exam cheaply. Here are some popular options:

– Costco Optical
– Sam's Club
– LensCrafters
– Walmart
– EyeCare America
– New Eyes
– Sight for Students

Which one is cheapest for you will depend on your vision insurance – if you have it – and what you need from the exam.

Can you get an eye exam at Walmart?

Yes, you can an eye exam at Walmart Visions Centers. Walmart has independent doctors of optometry that can give you routine eye exams, which can be used to update your prescription.
However, not every Walmart location has a Walmart Vison Center, so make sure you check with your local store before heading in.
Information is accurate as of April 3, 2023, and is subject to change.
Editorial Note: This content is not provided by any entity covered in this article. Any opinions, analyses, reviews, ratings or recommendations expressed in this article are those of the author alone and have not been reviewed, approved or otherwise endorsed by any entity named in this article.
Make Your Money Work for You