How Much Does Assisted Living Cost in 2023?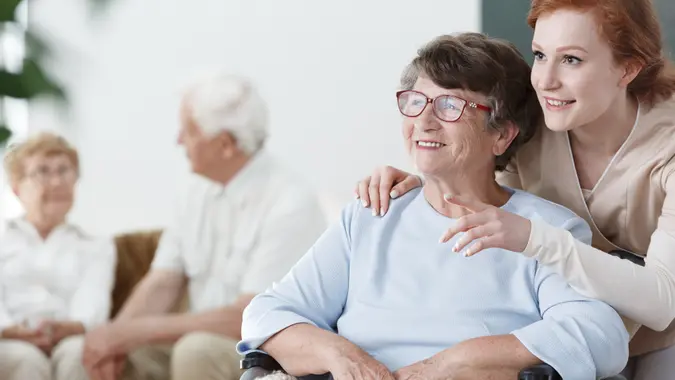 Photographee.eu / Shutterstock.com
Assisted living is in the future of many seniors. Research shows that those turning 65 today have nearly a 70% chance of needing a form of long-term care services.
On average, men will use 2.2 years of long-term care, and women 3.7 years, according to Jay Zigmont, founder of Childfree Wealth. That extra care comes with a cost, though. Read on to see what assisted living costs in 2023, and what that money covers.
In-Home Care
One option for those seeking assisted living is to receive care in the residence they already live in. Nurses, aides or therapists might visit a patient in their home and provide short-term or long-term care.
This care might be provided by a medical professional living with someone, taking shifts with multiple professionals, or scheduling regular visits to a home. What type of in-home care a person receives depends on their needs. This type of care costs $5,148 on average in the U.S.
Make Your Money Work for You
Assisted Living Facility 
If a senior needs help with routine tasks like eating, bathing, and mobility (also know as activities of daily living, or ADL), they can choose to live in an assisted living facility. "Consider this an intermediate step between home care and a nursing home," Zigmont says.
Nationally, the average cost of an assisted living facility is $4,500 a month.
Take Our Poll: Would You Move for a Job That Paid You a $10,000 Signing Bonus?
Nursing Home Facility 
This type of living means a person not only has access to help with daily activities, but can also receive medical care. The national average for a semi-private room (meaning, a shared room) is $7,908. A private room costs $9,034 on average.
Though you might think getting a private room is better, Danielle Miura, founder of Spark Financials, says a shared room has its perks. "Instead of getting a private room for your loved one, get a shared room with roommates. Sharing a room can prevent loneliness and can create a support system," Miura says. Shared rooms are also going to be the best choice of couples. 
The type of medical care needed will affect the cost, as well. "Assisted living can range from a rehab facility for a broken hip to 24-hour, locked care for Alzheimer's or other cognitive decline. The more support you need, the higher the cost," Zigmont says.
Make Your Money Work for You
Take Where You Live Into Account
These figures are the average across the U.S. but they might be quite different than the going rate in your state. "Where you live matters. The average price for a private room in a skilled nursing facility per month goes from $5,931 in Missouri to $31,512 in Alaska," Zigmont says.
Nationally, the average yearly cost is highest in Alaska at $81,960 a year. The lowest is in South Dakota, at $40,200 a year.
How To Plan for Assisted Living Costs 
Obviously, these costs can really add up. Zigmont says starting to plan in your 40s is a wise idea. "That plan may include setting aside money or getting long-term care insurance," Zigmont says.
Long-term care insurance typically has to be bought before the person who wants to use it turns 60. It usually takes effect when a person over 60 cannot perform two activities covered in ADLs. Just like other insurance policies, there are monthly premiums associated with long-term care insurance.
Another option is using a home as leverage. If the person seeking assistance moves out of the home they own, they can rent out the home or sell it to cover the cost of assisted living. There's also the choice to use home equity to pay for care by getting something like a reverse mortgage. With a reverse mortgage, a person can stay in their home and get a loan using their house as security.
Make Your Money Work for You
Medicare is also an option, but it doesn't always cover the full cost of assisted living. It usually only covers the medical services a senior might need, but not the cost of living in a facility. One thing to remember is that assisted living falls under deductible medical expenses, so it can be written off.
Veterans and their spouses might be eligible to pay for assisted living through the Department of Veterans Affairs. You can check their website to say how to apply for financial aid.
More From GOBankingRates
Make Your Money Work for You