What Is The Average Cost of Braces?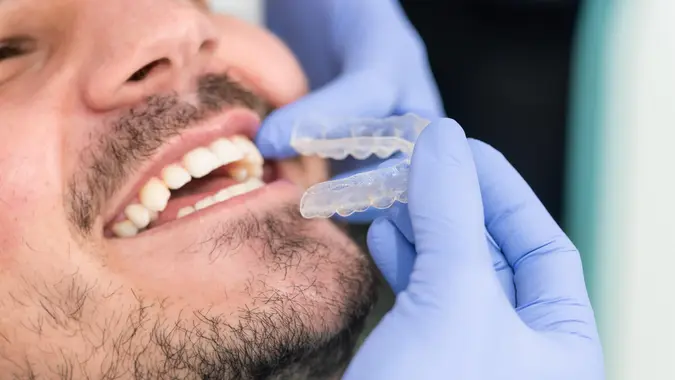 microgen / iStock.com
There is an old piece of advice which informs you to be true to your teeth or they will be false to you. This can go above and beyond cleaning and flossing, for your teeth alignment can be more than just a cosmetic adjustment but a full-blown medical necessity that requires braces. Depending on the type of braces you go with the cost can be quite steep no matter if you have insurance coverage or if it will be an out-of-pocket expense. 
Read: How To Get Cash Back on Your Everyday Purchases
How Much Do Braces Cost?
In order to better understand how much you'll pay for braces for adults or children it is a good idea to know what different types there are and whether or not there are payment plans or if your insurance company will cover braces with your insurance plan. The total cost can vary greatly but here are some types of braces to consider and the estimated cost: 
Traditional metal braces
Ceramic braces
Lingual braces
Invisalign
1. Traditional Metal Braces 
Average cost with insurance: $1,638 to $4,933
Average cost without insurance: $2,750 to $7,000
Metal braces are the classic or traditional style of wires and metal brackets attached to your teeth to realign them. Though this style has evolved over the years, it is what most people envision when they think of braces. This style, on average, is often the most affordable and is more regularly covered by your dental insurance provider. 
2. Ceramic Braces 
Average cost with insurance: $1,817 to $4,450
Average cost without insurance: $3,000 to $6,500
Similar to the design of metal braces, ceramic braces consist of brackets and wires, except these are clear or more tooth-colored as they are meant to blend in more with your smile. Be aware that though the designs are similar, ceramic braces are often more expensive than metal braces and can stain easily if you don't follow the care instructions. 
Make Your Money Work for You
3. Lingual Braces 
Average cost with insurance: Often not covered by insurance
Average cost without insurance: $6,500 to $11,500
Lingual braces are the same as metal braces as they have the same metal wires and brackets, however, these are attached to the back of your teeth instead of the front. Having the braces inside your teeth can make the braces unnoticeable but are often more expensive, harder to clean and less comfortable. Make sure to consult your dentist or orthodontist before requesting lingual braces as they may not be appropriate for severe cases. 
4. Invisalign
Average cost with insurance: Often not covered by insurance
Average cost without insurance: $3,250 to $8,250
Consisting of a series of custom-made aligners, Invisalign looks like mouthguards and you change them out every two weeks. Invisalign does have the benefit of being practically invisible and there are fewer food and drink restrictions than with regular braces. Be aware though that this form of braces is not available for children and can be a more expensive option and longer duration for teeth alignment. 
Final Take To GO
No matter your reason for wearing braces, when you need them it is great to know the average cost of braces and where you can save money. whether your insurance will cover the cost for specific styles of braces or treatment plans. There also be a discrepancy in cost depending on if you are paying for adult braces or to get them for your child. Make sure to do your research as to what each style of braces will cost you with or without insurance, as certain types of braces are considered elective procedures.
FAQ
Here are some answers to frequently asked questions about the cost of braces.
What is the average price of braces in the U.S.?

Depending on what type of braces you get the cost can vary, and some types are considered elective and won't be covered by insurance. Though the American Dental Association estimates that the average price for braces overall is around $5,991, here are some more specific average estimates for the price of braces:

Traditional metal braces: $2,750 to $7,000
Ceramic braces: $3,000 to $6,500
Lingual braces: $6,500 to $11,500
Invisalign: $3,250 to $8,250

What type of braces are the cheapest?

For braces, prices will vary depending on your dental provider or what kind of coverage get versus out-of-pocket payments you'll have to make. However, generally, traditional metal braces will run cheaper than other styles of braces.

How can I get braces for free?

There are many programs that can help you get your braces for free or partially covered. For example, though eligibility will vary by state many Low-income families who qualify for Medicaid, Children's Health Insurance Plan, or a state-sponsored low-income insurance program may provide free braces care for children.

What is the best age for braces?

You can get braces at any age, however, it is typically recommended that you get braces between the ages of 9 and 14 as that is before puberty and can make the resetting easier as after puberty it is harder to realign the jaw or teeth already set as an adult.
Make Your Money Work for You
Our in-house research team and on-site financial experts work together to create content that's accurate, impartial, and up to date. We fact-check every single statistic, quote and fact using trusted primary resources to make sure the information we provide is correct. You can learn more about GOBankingRates' processes and standards in our editorial policy.