11 Creative Money Themes for Pumpkin Carving Day
At GOBankingRates, we've always got finances on the brain — even when it comes to holiday festivities. With the National Retail Federation projecting that Americans will spend $7.4 billion on Halloween this year, we can't be the only ones.
So when we looked for inspiration for this year's Halloween pumpkin carvings, we stuck to what we know: the world of finance. If you're planning to do some Halloween pumpkin carving this year, check out our collection of the best money-themed jack-o-lanterns.
Chances are, they'll be the scariest thing you've seen since the last time your checking account balance dipped too close to $0 for comfort — but, luckily, you won't have to dip into your savings account to create these 11 designs.
1. Classic Dollar Sign Pumpkin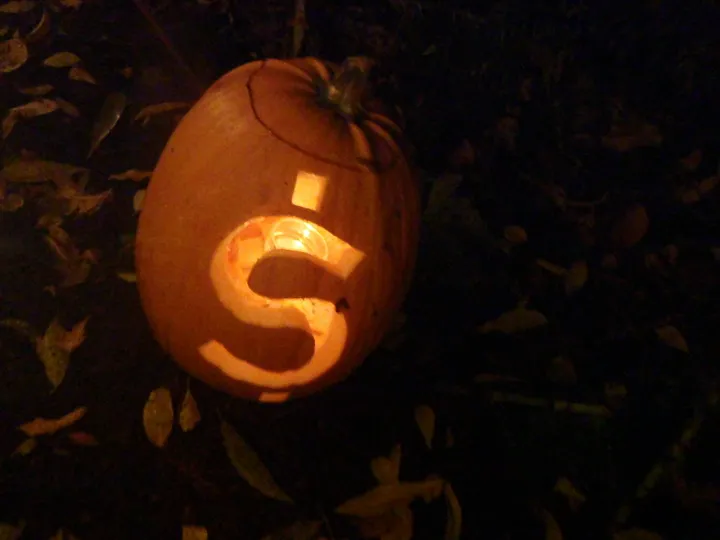 The American dollar sign has become the ultimate symbol of prosperity, wealth — and even greed. Just ask any cartoon character with dollar signs in his eyes, or pop star with a golden "$" around his neck.
Make Your Money Work for You
Photo credit: HolidayHaven.com
2. Currency Caricature Pumpkins
We've come to love seeing these familiar faces on our bills (especially you, Mr. Franklin!) — but it's a fun change of pace to see their likenesses rendered in squash. Plus, recreating your favorite currency through pumpkin carving is unlikely to land you in jail for counterfeiting.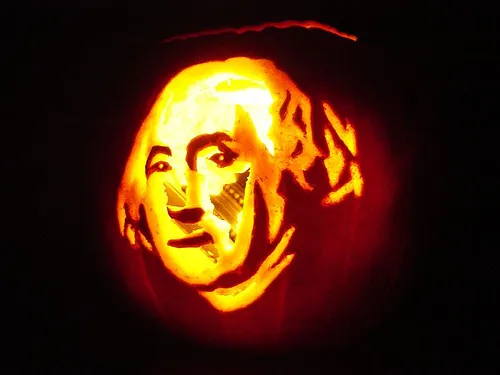 President George Washington, $1 bill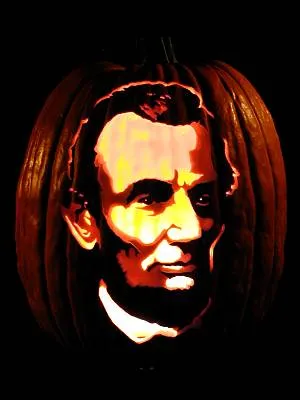 President Abraham Lincoln, penny and $5 bill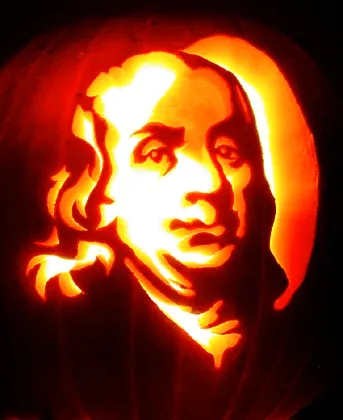 American founding father, philosopher and incorrigible philanderer, Benjamin Franklin of the $100 bill
Photo credits, in order: Washivore, MasterpiecePumpkins.com, GeniusBeauty.com
3. Gold Pumpkin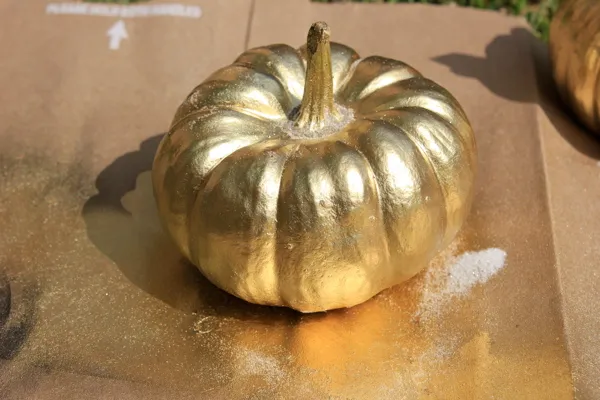 With a bit of gold spray paint, you can have the appearance of a 14-karat solid gold pumpkin at a (miniscule) fraction of the cost. And if this version gets smashed by hooligan pranksters, you won't be nearly as heartbroken.
Photo credit: Apples & Onions
4. Diamond Pumpkin
Want your Halloween decorations to shine like a diamond? Try carving an actual diamond into a pumpkin and then lighting it up.
Make Your Money Work for You
Photo credit: DesignSponge.com
5. Piggy Bank Pumpkin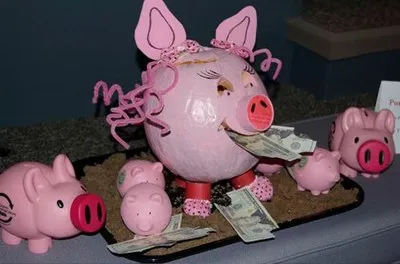 This painted pumpkin is a great reminder to keep saving money and working toward your financial goals. Just don't actually store any cash inside it, unless you want to end up with mold on your money. Try a high-yield savings account instead.
Photo credit: Playsational
6. Stock Ticker Pumpkin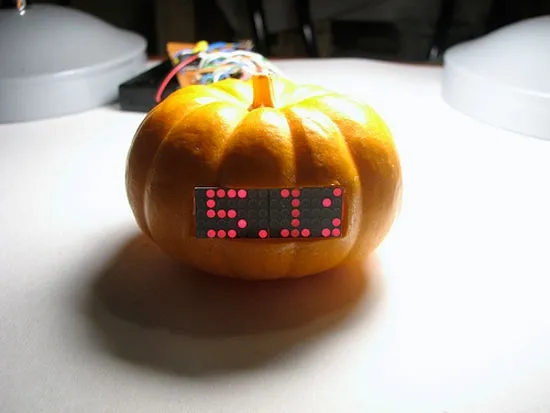 For the investor at heart, this pumpkin features a built-in stock ticker that displays current updates from Wall Street. It might take some technical know-how to set this one up, but the final result is pretty awesome. Let's just hope it doesn't have anything too scary to say about your stock holdings!
Photo credit: Dvice.com
7. Slot Machine Pumpkin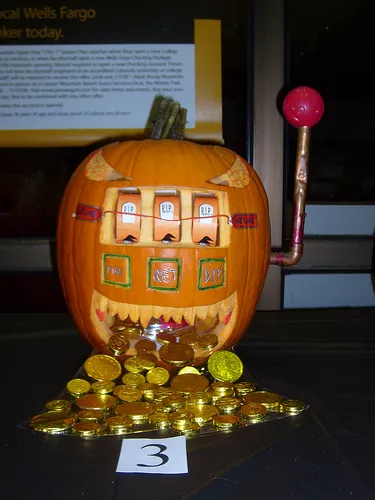 This pumpkin hits the jackpot. If only it actually dispensed money instead of slimy pumpkin seeds.
Photo credit: Angineer
8. Wells Fargo Pumpkin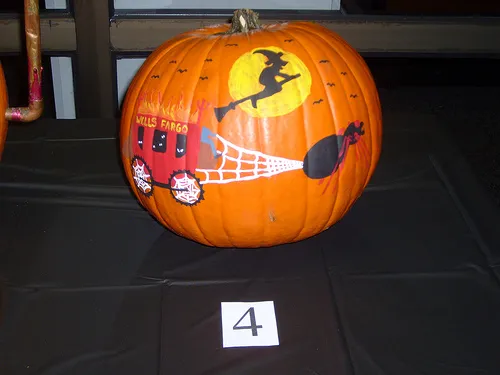 If you feel as passionately about the banking industry as we do, why not express your enthusiasm with squash? This pumpkin replaces the horses of the Wells Fargo wagon with a giant spider (shudder).
Make Your Money Work for You
To make this work for you, try carving the logo of your first-choice bank or credit union into a pumpkin. Add some bats, cobwebs or overdraft fees to make it exra spooky.
Photo credit: Angineer
9. Rich Uncle Pennybags Pumpkin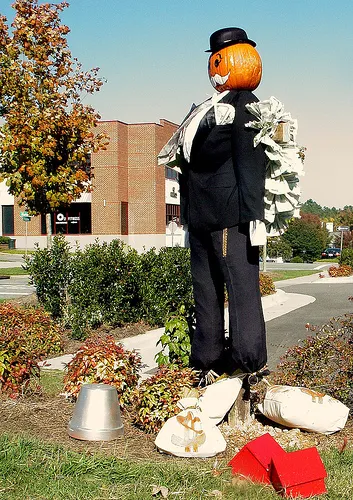 As the filthy rich mascot of the game Monopoly, Rich Uncle Pennybags (or Mr. Monopoly) is an icon for the American dream of owning everything and making a gazillion dollars off of it. This Pennybags rendition goes all out with the scarecrow body and cash-stuffed arms.
Photo credit: Oberazzi
10. Evil Warren Buffett Pumpkin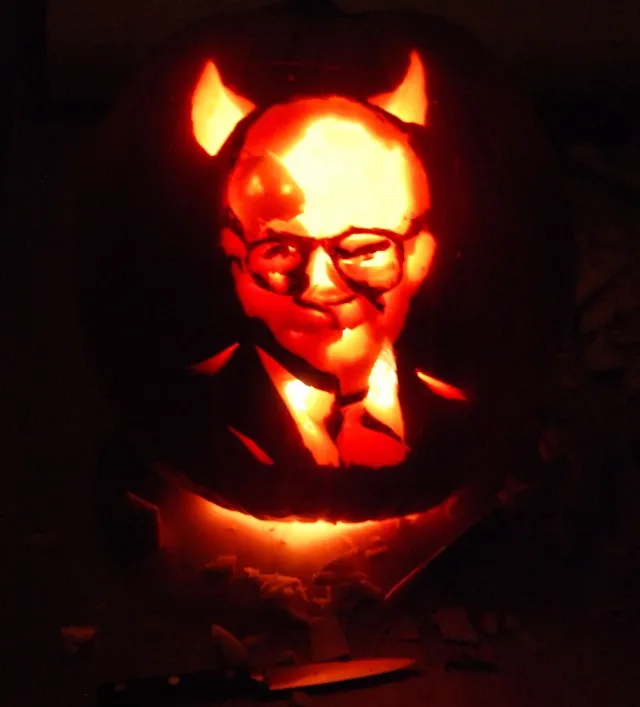 Love him or hate him, Warren Buffett knows how to handle money. Let's just hope he doesn't start using his financial superpowers for evil!
Photo credit: Warren Family Blog
11. Student Loans Pumpkin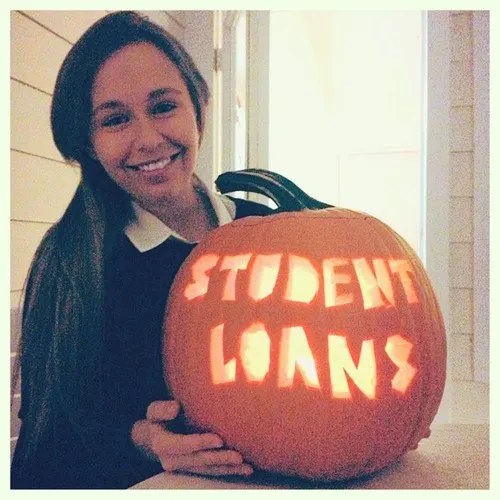 Saving the scariest for last, we have this carving of student loans. With the average college graduate leaving school with $29,400 in student loan debt in 2012, it's no surprise this Halloween reveler knows exactly what 20-somethings' nightmares are made of.
Photo credit: Disordinary.Tumblr