Best After-Christmas Electronics Sales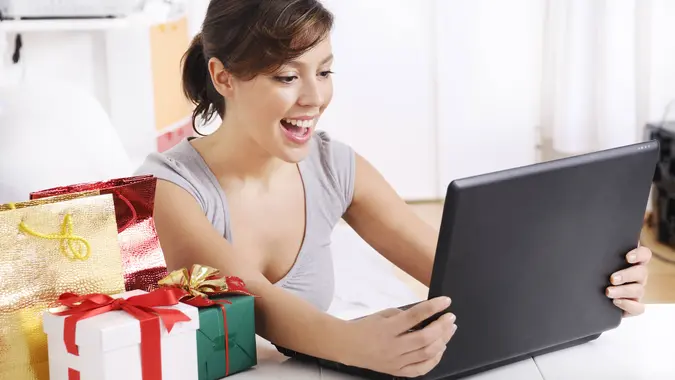 marcstock / Shutterstock.com
Just because Christmas is over doesn't mean you have to miss out on great holiday electronics deals. Big-box stores and electronics powerhouses are offering post-Christmas sales at retail locations and online.
Many retailers offer deep discounts and clearance prices, along with extended store hours. Read on for some of the items to look for this year during these after-Christmas sales.
Amazon.com
Each year, Amazon promises the greatest post-holiday sales on a range of products, including electronics. During this year-end event you'll find holiday clearance, overstocks, markdowns, and tech deals. Some of the items to look out for during after-Christmas sales online include:
Surfing for Savings: 14 Online Shopping Hacks That Will Save You Money
Make Your Money Work for You
Sponsors of
Target
Target is a constant favorite for gift card givers during the holiday season — and a good place to go for a day-after-Christmas sale. Pick up what you didn't receive under the Christmas tree at great prices — a more budget-friendly alternative to the holiday rush. Some of the items to consider this year include:
Make Your Money Work for You
Stay on Target: Here's How You Can Shop at Target … Without Buying the Whole Store
Walmart
From stocking-stuffer electronics accessories to laptops and DVD players, Walmart will offer after Christmas deals for any budget. Some items to keep an eye out for include:
Best Buy
Known for Cyber Week savings and hot deals on electronics, computers and appliances, you can get free shipping and fast store pickup at the Best Buy near you. Some of the best after-Christmas sales 2017 include:
Make Your Money Work for You
Make Your Money Work for You
Sponsors of
Fry's Electronics
Visit Fry's Electronics website or one of the 34 US electronics superstores for after-Christmas deals such as:
Newegg
Newegg offers great deals on electronics, from hardware to entertainment. Check the site for after-Christmas deals at Black Friday prices on more than 10.5 million products.
After-Christmas sales offer extra discounts, last-chance savings and blowout prices, no matter what tech deals you are looking for. Give yourself the gift of a great deal by shopping at the best after-Christmas sale near you.
Up Next: Don't Buy These 15 Things on Boxing Day (The Day After Christmas)