Dave Ramsey: How To Plan a Frugal Holiday Dinner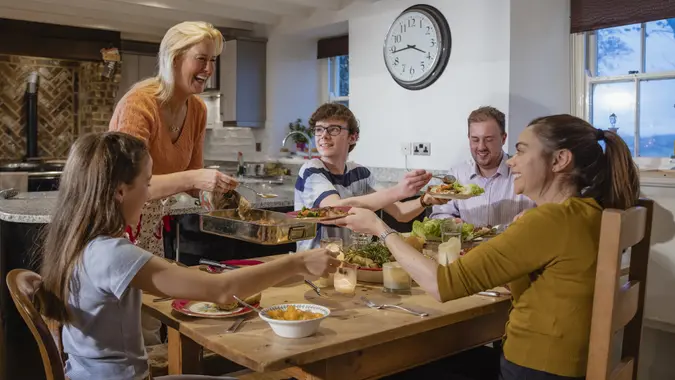 SolStock / iStock.com
There's some good news for households on a lean budget celebrating the holidays this year. It is possible to make a delicious Christmas dinner everyone will love without overspending on the feast.
In a post on Ramsey Solutions, money expert Dave Ramsey shared tips for planning and prepping a big Christmas dinner on a small budget. The next time you're hosting for the occasion, use these simple tips for extra savings.
Plan Your Menu Early
You don't want to wait until the week before Christmas to start thinking about the holiday dinner. The sooner you can start planning the menu, the more you'll find yourself in a position to save money.
Start by figuring out what you want to serve. Your menu should include the main course, any side dishes and appetizers, sauces, dessert and beverages. Once you have this decided, Ramsey Solutions recommends delegating some of the dishes. If you have family members or friends coming over as guests, ask if they would be interested in making one of the side dishes or desserts on the menu. By delegating, you're able to get guests involved in the Christmas dinner and save money.
Create a Detailed Shopping List
Once guests have agreed to make certain dishes or desserts, you can create a detailed shopping list of the remaining ingredients and items you still need for the Christmas dinner. Don't keep the list focused on food alone. The Ramsey Solutions post recommends including any paper goods, like paper plates or napkins, and festive decorations, too.
Make Your Money Work for You
After you draft this list, start watching your local grocery stores closely for sales and buy the items on your list when they're on sale. According to Ramsey Solutions, shoppers want to keep an eye out for sale items that are 40% off the regular price to save as much money as possible.
Clip Coupons
In addition to watching grocers for sales, shoppers planning a frugal Christmas dinner also want to clip and save relevant coupons for bigger savings. 
As a shopping pro tip, the Ramsey Solutions post reads that the months of November and December tend to have great baking and food coupons. If you find coupons for key ingredients you need, clip them out and coupon stack them with store sales, especially those 40% off sale items. 
Take Advantage of Store Promotions
This final tip applies to your holiday dinner entrée, which may be a turkey, ham or another type of meat. If you're planning to make this main course on your own, you'll want to offset the cost with as many discounts as possible. 
The best way to do this is to explore promotions offered by your local grocery store. Check ads and circulators and see which grocers offer price-matching for turkey or ham prices or if it's possible to utilize rewards programs for additional savings. You might find stores with promotions that offer shoppers discounts on turkeys or ham when you spend a certain amount of money, or slashed prices on frozen turkeys.
Make Your Money Work for You
More From GOBankingRates