How Much Money Easter Brings In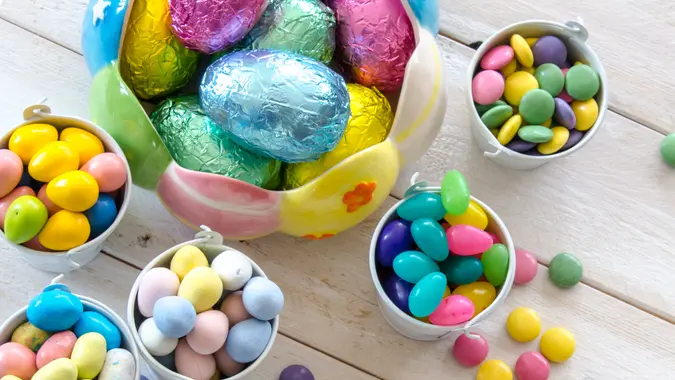 Lost Mountain Studio / Shutterstock.com
The costs of Easter baskets, egg hunts and Sunday brunches can really add up — Americans are expected to spend $21.6 billion on Easter in 2021, according to the National Retail Federation. That breaks down to an average of $179.70 per person. So, where exactly is that money going? And how does that spending compare to previous years? Hop ahead to find out.
Find Out: How Well Do Stocks Perform Around Easter?
Easter Spending Has Been Up During the Pandemic
2021 marks the second (and hopefully last!) Easter to fall during the coronavirus pandemic — and while that's kind of depressing, it's been good for the economy. Perhaps because people are more eager to have things to celebrate, Easter spending has been up in recent years. In 2019, Americans were expected to spend $18.1 billion on Easter — that jumped to $21.7 billion last year. And even though that number has dipped slightly in 2021 to $21.6 billion, that's still a big jump from 2019.
2021 Small Business Spotlight: Nominate Your Favorite Small Business and Share With Your Community
Although the total expected spend has decreased from 2020 to 2021 due to a dip in the percent of Americans celebrating (81% vs. 79%), the average anticipated spend per person this Easter has increased. In 2020, the average person anticipated spending $178.85 on Easter, and in 2021, that's bumped up to $179.70. In 2019, the average person expected to spend $151.25.
Americans Spend $3 Billion on Candy — But They Spend More on Food
While it's definitely possible to spend your entire Easter budget on candy alone, Americans spend the most money on food for Easter. In 2021, Americans anticipate spending $6.32 billion on Easter food — down from $6.4 billion the previous year. While that includes traditional main courses like ham and lamb, the biggest food purchase — whether for eating, hiding or decorating — is eggs. According to Insider, a whopping 180 million eggs are purchased for Easter every year.
Make Your Money Work for You
Be Prepared: The Items That You Should Continue To Stock Up On
Clothing has historically been the second-largest spending category, but for 2021, gifts have surpassed it (maybe more people will be staying in sweats). Americans are expected to spend $3.61 billion on new outfits to look their Easter best and $3.74 billion on gifts.
Candy spending will be at an all-time high in 2021 with anticipated spending of $3.04 billion — that's a lot of chocolate bunnies and eggs! To put that in perspective, in 2020, candy spending was anticipated to reach $2.88 billion.
Other popular categories for Easter spending include flowers ($1.5 billion), decorations ($1.43 billion) and greeting cards ($1.08 billion).
Watch Out: Supply Shortages That May Happen Again
Easter Is the Second-Biggest Holiday for Candy Sales
While Halloween is typically the biggest holiday in terms of candy spending, Easter is usually a very close second, Good Housekeeping reported. Halloween accounts for about $4.6 billion in candy sales annually, according to the National Confectioners Association, which is higher than this year's anticipated Easter candy sales of $3.04 billion. However, Easter candy sales have been greater than Halloween candy sales in past years, CNBC reported.
Make Your Money Work for You
Americans consume an average of 91 million chocolate bunnies, 16 billion jelly beans and 1.5 billion Peeps each year for Easter, Insider reported.
See: The Chocolate Industry by the Numbers
Walmart Is the Most Popular Place To Shop for Easter Basket Supplies
A 2018 survey conducted by TopCashBack.com found that most Americans shop for Easter basket and egg hunt supplies at Walmart — 63% of Americans do their Easter shopping at the big-box retailer. Forty percent buy Easter supplies at the dollar store and 39% go to Target, the survey found.
Easter Continues To Bring In Money Post-Holiday
The National Retail Federation survey found that even people who don't celebrate Easter plan to shop after-Easter sales. Of the 21% who will not be celebrating Easter in 2021, 52% said they will be shopping Easter-related sales, with an average anticipated spend of $21. Unsurprisingly, candy is the most popular thing to buy during these sales, with 37% saying they will purchase Easter candy when it gets discounted.
What Inspires People To Spend on Easter?
A 2019 survey by Statista asked consumers what motivates them to spend on Easter, and the majority — 65% — cited tradition. The next most-popular answers were that it's a social activity to do with friends and family (31% — though this might be less in 2021 as some people remain socially distanced from loved ones) and sales (31%). Other motivating factors were store displays and decorations (22%), exclusive or seasonal products (21%), and retailer or brand events (11%).
Make Your Money Work for You
More From GOBankingRates
Last updated: April 1, 2021
Make Your Money Work for You