Scam Alert: Why You Should Think Twice Before Grabbing That Last-Minute Gift Card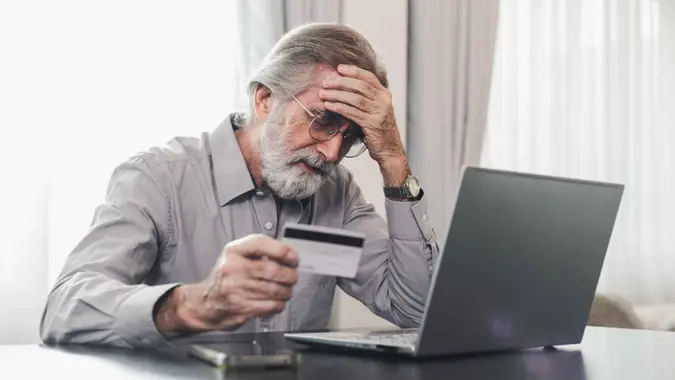 Butsaya / Getty Images/iStockphoto
There is always an increased risk of getting scammed during the holiday season. Thieves often take advantage of the festive atmosphere, increased online shopping and the typical generosity that comes with the holiday spirit. With the rise in online shopping, fake websites and charities, and package theft becoming much more commonplace during the holidays, unfortunately, it's a 'tis the season for these scammers and thieves to exploit people both online and at their homes.
According to Visa's Holiday Edition Threats Report, Americans are not only vulnerable to more potential fraud this year due to the expected increase in spending, but may be even more so when doing last minute shopping or buying convenient gift cards.
"Procrastination is, quite frankly, one of the keys to success for crooks," said Paul Fabara, chief risk officer at Visa. "They assume that you're going to fall for that last-minute offer that guarantees delivery of the product within 24 hours, or even the same day, at a discounted price."
Gift cards are a goldmine for criminals. They are so popular with scammers because they're easy for people to find and buy and they have fewer protections for buyers compared to some other payment options. They're like cash — once the card is used, the money on it is gone.
Experts are warning that cards might be compromised by criminals on retail racks before they're taken off the shelf, then drained of their value as soon as the cards are activated.
Make Your Money Work for You
Aside from artificial intelligence scams, which are certain to increase as the technology associated with it advance by the day, criminals are also becoming more adept at convincing their targets that their gift cards are legal tender for any manner of financial obligation.
Gift card payment scams are expected to rise this year, according to CNBC. As the Better Business Bureau (BBB) warns, holiday shoppers have to be extra vigilant when dealing with companies using card as payment. Legitimate organizations and authorities typically do not request payment in gift cards.
This is especially important when putting off shopping until the last minute or searching desperately for a hot gift or toy. As Melanie McGovern, spokeswoman for the International Association of Better Business Bureaus, cautions, getting notices and pop-ups of in-demand products available at cheap prices are a red flag.
As always, question the incredible deal and be wary of websites that offer them. In addition to gift card scams, Visa has recognized five general types of scams to look out for over the next couple of months.
Digital Skimming: Where credit or payment card information is stolen from online stores.
Phishing and Social Engineering: Using AI to impersonate retailers and present seemingly legitimate phishing schemes and advertising that are deceitful in real life.  
ATM and Point-of-Sale Skimming: Schemes that steal personal identification numbers or other data.
One-Time-Passcode (OTP) Bypass and Provisioning Fraud: These scams involve sending false OTP prompts to try to access the accounts of people trying to buy certain items.
Physical Theft: Stealing at stores, malls, parking lots and homes.
Make Your Money Work for You
More From GOBankingRates