8 Things Most Americans Don't Know About Holiday Spending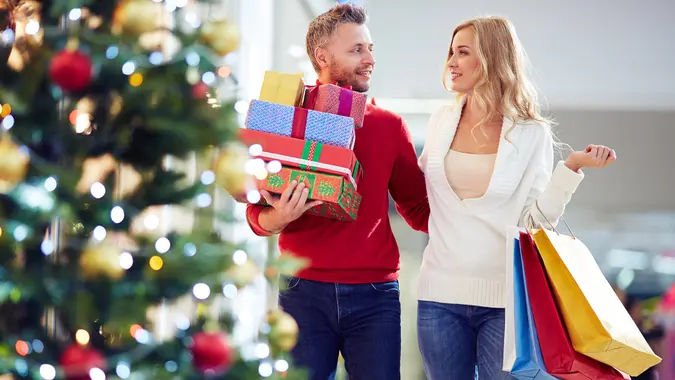 Pressmaster / Shutterstock.com
Shopping for the holidays can be acutely stressful, and most of us don't have the time to go around hunting for intel on consumer trends and all the other stuff that makes the holiday retail world go round. But, as the saying goes, knowledge is power, and before you shell out money to make the season as merry as can be, it's helpful to have an idea of the big picture at hand and to nab some answers to big-ticket questions. For instance: What behavior are retailers banking on this year? How many consumers will risk going into debt over Christmas? Where and how are people shopping? How are the pandemic and inflation playing a role here? 
See: 6 Holidays Purchases That You Should Only Make at Costco
Check Out: 4 Costco Items That Have Remained Cheap for Years
GOBankingRates did the research for you to learn eight facts about holiday spending in 2022 that most Americans don't know. 
Free Holiday Returns Might Be Fazed Out
Holiday return amounts in the U.S. have been steadily climbing, with this year expected to reach $158 billion. Some stores just can't afford it due to inflation, and so they're offering a limited return window or restocking fee. Stores such as Gap, Old Navy, Banana Republic and J. Crew have shortened their regular return windows to within a month. Anthropologie, REI and LL Bean all now have around a $6 fee for mail-in returns. 
Make Your Money Work for You
Holiday Shopping Started Earlier Than Usual This Year
"In fall 2021, 40% of consumers had already started their holiday shopping, and a third shopped even earlier in the year," said Dave Fisch, general manager of Shopkick. The season for shopping kicked off even earlier this year due to fears of inflating holiday prices. In fact, 56% of consumers have already started shopping in October instead of waiting until later in the season.
Only 26% of Consumers Shop at the Last Minute 
A Drive Research survey found 26% of people won't finish their holiday shopping until the week leading up to Christmas. More respondents (47%) said they won't finish buying holiday gifts until early-to-mid December. One of the main reasons for not putting off holiday shopping is crowding. Not liking large crowds is the reason 58% of shoppers won't shop during Cyber Week 2022.
Take Our Poll: Do You Think Student Loan Debt Should Be Forgiven?
Small Businesses Are Offering More Discounts This Year
Due to inflation, many small businesses are worried they won't be seeing the same amount of sales they usually do this year, so they've ordered their inventory earlier than normal and are discounting items to attract more sellers. 
Cyber Monday Is Predicted To Be the Biggest Shopping Day of the Year
Even though shoppers are out earlier this year, the biggest projections are still for Cyber Monday. Reports say consumers will spend $11.2 billion on Cyber Monday this year, which falls on Nov. 28. Black Friday is said to bring in $9 billion, and Thanksgiving sales are said to bring in $5.1 billion.
Make Your Money Work for You
Usage of Buy Now Pay Later Will Be Down This Year
In 2021, 66% of consumers were predicted to use "buy now, pay later" to cover the cost of gifts and other holiday essentials. However, only 4 in 10 are relying on that service this year for gifts. The most popular demographic using BNPL was Gen Z, followed by millennials.
Curbside Pickup Is Still Popular 
Though curbside pickup became more commonplace during the height of the pandemic, the service is still a preference for a lot of consumers. From Dec. 22-23, it's predicted that 35% of orders will be picked up curbside. Experts say the main reason is to save on shipping costs.
In-Store Shopping Is Said to Increase
Though online shopping is still the primary choice for shoppers, experts predict more people will be seen in stores this year. In-store sales are expected to increase 7.9% this holiday season compared to 2021 due to promotions that aren't available online. Like small businesses, larger stores will be offering more deals this year to get more people shopping despite inflation. 
Make Your Money Work for You
More From GOBankingRates
  Nicole Spector contributed to this article.
Make Your Money Work for You