10 Tips for a Budget-Friendly Holiday Season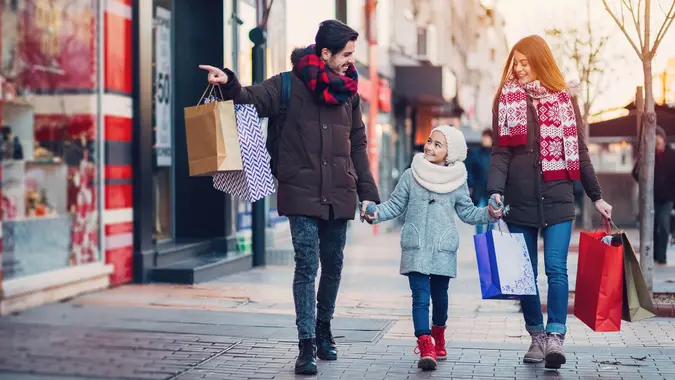 Martin Dimitrov / Getty Images
The happiest time of the year is upon us, but for many, it is also the most expensive. If you're concerned about paying for holiday gifts, décor, food and other items this year, you're certainly not alone.
In 2021, consumers planned to spend an average of $998 on holiday gifts and other items, according to the National Retail Federation (NRF). This included $648 on gifts, $231 on holiday items such as food and décor and $118 on non-gift purchases for themselves or family members.
This might sound like a lot; but, due to inflation, this year's projected cost will be higher. Holiday sales for 2022 are expected to increase between 6% and 8% over 2021, according to the NRF. The Consumer Price Index for all items had increased 8.2% in October 2022 (before seasonal adjustment), according to the Bureau of Labor Statistics.
Thankfully, there are plenty of ways to enjoy a budget-friendly holiday season without sacrificing anything on your list. Here are seven tips from money-saving experts that can help you stay on budget through the end of the year.
Make Your Money Work for You
Start By Paying the Bills
"First take care of your essentials — rent, utilities, groceries — and then you know what you have to spend on everything else," said Keith Sultemeier, CEO of Kinecta Federal Credit Union.
Additionally, if you have variable rate debt, he suggested trying to consolidate it with fixed-rate personal loans. Depending on your situation, this could allow you to reduce your monthly payments or pay your debt(s) off faster.
Set a Gift Shopping Budget and Track Purchases
"Going into the holidays without a shopping game plan or budget is a quick way to overspend and take on debt," said Andrea Woroch, a nationally recognized consumer finance expert. "Spend time now ahead of the holidays reviewing your finances to see what you can afford and make a gifting strategy in which you determine who you're buying for and how much to spend per person."
She suggested using an app like The Gift List or Santa's Bag to create a shopping plan and manage your budget in one place, so you don't go overboard.
Use Rewards To Stretch Your Shopping Budget
"Take advantage of free loyalty programs to earn cash back as well as exclusive savings on various holiday purchases," Woroch said.
She suggested using Fetch Rewards to earn points toward free Amazon, Target and Walmart gift cards.
Make Your Money Work for You
"You can then use these gift cards to pay for presents or give out as actual gifts, without tapping into your bank account," she said.
Additionally, if you're paying for purchases with a credit card, she recommended being savvy about which card you're using, to maximize rewards.
Find Money in Your Budget
"Spend time scrutinizing your bills to see if you can cancel extra services you don't need or use," Woroch said, "or compare rates with competitors to see if you can save on your bill by switching."
For example, she recommended using an insurance comparison site like The Zebra to find ways to lower your car insurance.
Watch for Sales on Everyday Purchases
Saving money during the holiday season isn't just about finding deals on gifts, décor and other items specific to the season. Shelley Hunter, a consumer gift card expert at Giftcards.com, said the more you're able to save on everyday items, the more you'll have for holiday purchases.
"For example, layer your purchases with deals and promotions — particularly those that provide you with a reward," she said. "For example, many people who buy gift cards can do so as part of promotions that reward shoppers after the initial purchase with another gift card they can use to treat themselves, buy something they need, re-gift or even donate."
Make Your Money Work for You
Diversify How You Shop
If you're like most people, you probably have a preferred mode of shopping, but Hunter said a willingness to switch things up can allow you to save.
"Shop online, in store and even in app," she said, "since retailers may offer different promotions via different shopping channels."
Getting out of your shopping comfort zone might open your eyes to a whole new preferred way to shop; but, either way, you won't regret the savings realized.
Spread Out Your Shopping and Start Early
Getting a head start on your shopping and checking off items on your list at a steady pace can help you feel productive while racking up savings.
"Retailers will be offering deals throughout the holiday season, and some promotions may trump others," Hunter said. "Shopping on Black Friday, Cyber Monday and throughout the season will help you not only spread out your budget, but it will also help you get the most bang for your buck for the products and services you end up buying."
Make Your Money Work for You
Don't Forget About Hidden Costs
"While most of us think about our budget for gifts, it's easy to overlook the cost of traveling to see family, buying ingredients to host that perfect holiday dinner or purchasing that perfect outfit for New Year's Eve," said Michelle Riiska, ChFC, financial planning services consultant at eMoney Advisor. "Make sure to leave wiggle room for these expenses in your overall budget."
Budgeting for overlooked expenses will both lower your stress level and allow you to avoid going over budget this year.
Get Creative
It might sound cliché, but the best gifts truly do come from the heart.
"Showing others you care about them doesn't require expensive gifts," Riiska said. "Thoughtful cards, homemade gifts or shared experiences can be extremely meaningful, without breaking the bank."
Start Early on Travel
"If you know you will be traveling around the holidays, planning ahead can pay off with lower plane ticket and hotel prices," Riiska said. "Within the United States, the cheapest days to fly are usually Tuesday or Wednesday."
Make Your Money Work for You
Not only can this help you save money, it also can ensure you're able to get your first-choice travel dates and accommodations.
Hopefully, these tips will help you save enough money to get everything you need — and more — this holiday season. In fact, you might even be able to incorporate some of these ideas into your everyday life to save money throughout the year.
More From GOBankingRates