Will You Be Able To Afford a Turkey This Thanksgiving? Here's the Cost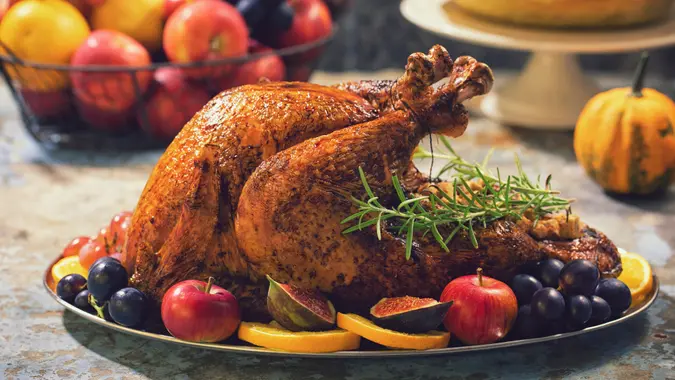 kajakiki / Getty Images
Here's some good news you'll want to gobble up — turkeys are more affordable this year than last year. The average retail price for a fresh whole turkey is now $1.37 per pound, down 16% or $0.26 per pound from 2022, according to a recent Wells Fargo report.
Here's a look at what's behind the lower turkey prices, plus, tips for saving on your Thanksgiving entrée.
Retail Prices Are Down — but Wholesale Prices Are Down Even More
Consumers will get to enjoy lower prices for turkeys this year thanks to the lower wholesale prices of turkeys. According to the Wells Fargo report, the wholesale price of turkeys (what supermarkets pay) dropped from $1.91 a pound to $1.36 per pound, down 29% or $0.55 per pound from 2022. So why have retail prices only dropped 16%?
"Given that the original wholesale-to-retail spread started from such an elevated point, it's unlikely the consumer will see the complete benefit of the drop in wholesale turkey prices," the Wells Fargo report stated.
The report is based on turkey prices as of Nov. 6, so there is a chance that turkey prices could drop further for those who purchase their birds closer to Thanksgiving Day.
"The supermarket sector is incredibly competitive," the report states. "With most food manufacturers operating at full speed based on employment growth and automation, there will be intense pressure on retailers to pass along savings to consumers in the bid for consumer shopping dollars. The only real question is whether turkey prices will fall fast enough — before consumers buy that special part of the big family meal."
Make Your Money Work for You
How To Save on Your Thanksgiving Turkey
Even though turkey prices are lower than last year, they can still get pretty pricey, depending on the size you buy. Here are a few tips for cutting down on costs.
Comparison Shop
It's worth the effort to check the prices of turkeys at a few places before committing to a bird. Check the weekly ads of a few grocery retailers near you to see if any have special promotions.
Don't Buy More Turkey Than You Need
Since turkeys are priced per pound, buying more than you need will cost you.
"We recommend 1.5 pounds of turkey per person for a generous serving and leftovers," said Nicole Johnson, director of the Butterball Turkey Talk-Line. "And don't forget to protect those leftovers by refrigerating within two hours after serving."
Make a Plan for Leftovers
If you do have leftovers, plan ahead for how you can use the extra turkey so that it doesn't end up being wasted. Look up recipes for easy meals like turkey enchiladas, turkey soup and turkey wraps, and have the ingredients on hand so you're ready to go in the days after Thanksgiving.
Nicole Spector contributed to the reporting for this article.
More From GOBankingRates
Make Your Money Work for You