11 Cheap Home Renovations You Can Do with Dollar Tree Finds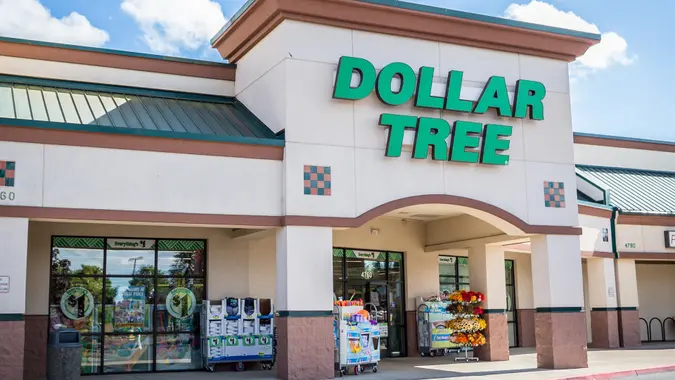 SweetBabeeJay / istockphoto.com
Sprucing up your home doesn't have to be an expensive undertaking. With some creativity, a little elbow grease, and finds from your local Dollar Tree, you can add a fresh, stylish touch to your living space without breaking the bank. Here are 11 budget-friendly home renovations that you can do using items from Dollar Tree.
Related: 5 Expensive Renovations Homeowners Always RegretMore: Find the Upside to Every Purchase
Stylish Storage
Plastic bins, baskets, and buckets from Dollar Tree can be easily transformed into chic storage solutions. Add a coat of spray paint in a trendy color, and use them to declutter your kitchen, bathroom, or workspace.
Framed Mirror Gallery
Dollar Tree often sells small decorative mirrors. Buy several and paint the frames to match your decor. Hang them together for an eye-catching mirror gallery wall that creates a sense of depth and light in your room.
Dollar Tree Vase Makeover
Purchase glass or ceramic vases and customize them with paint, stencils, or even adhesive gems. This is a fun and creative way to add a personal touch to your décor.
DIY Candle Holder
Glass candle holders, with some glitter glue or frosted spray paint, can turn into elegant, custom pieces that add warmth and ambiance to any room.
Personalized Picture Frames
Transform simple Dollar Tree picture frames into personalized decor with a little paint and embellishments. You can even create themed frames for holidays or special events.
Customized Serving Tray
With some chalkboard paint, a metal serving tray can become a customized piece for entertaining. It's perfect for labeling cheese at a wine and cheese party or leaving a cute message for breakfast in bed.
Make Your Money Work for You
Fridge Magnet Organizers
Magnetic containers often sold for lockers can make for great fridge organizers. They're perfect for storing pens, notepads, and coupons where they're easy to find but out of the way.
Decorative Wall Art
Dollar Tree often carries a variety of wall art, decals, and stickers. Use these as is, or customize them to create the perfect piece to match your home.
Fabric-Covered Boxes
With some fabric and mod podge, transform plain cardboard boxes into decorative storage. Choose a fabric that matches your décor for a designer look without the designer price tag.
Elegant Table Centerpieces
Combine various Dollar Tree items like candle holders, faux flowers, vases, and marbles to create elegant table centerpieces. Perfect for dinner parties or simply sprucing up your dining room table.
Fancy Soap Dispenser
Take a standard soap dispenser, add some adhesive gems or use etching cream to add a monogram or design, and voila! You've got a fancy soap dispenser that adds a touch of class to your bathroom or kitchen sink.
I Worked at Dollar Tree: Here Are 5 Insider Secrets You Should KnowLearn: 8 Essentials You'll Be Shocked You Can Buy at Dollar Tree
With these creative projects, you can give your home a fresh, new look that's not only affordable but also uniquely you. Remember, a beautiful space isn't about how much you spend. It's about how you use what you have to create a place that feels like home.
Make Your Money Work for You
The article above was produced via automated technology and then fine-tuned and verified for accuracy by a member of GOBankingRates' editorial team.
More From GOBankingRates