7 Best Home Items To Buy at Dollar Tree in January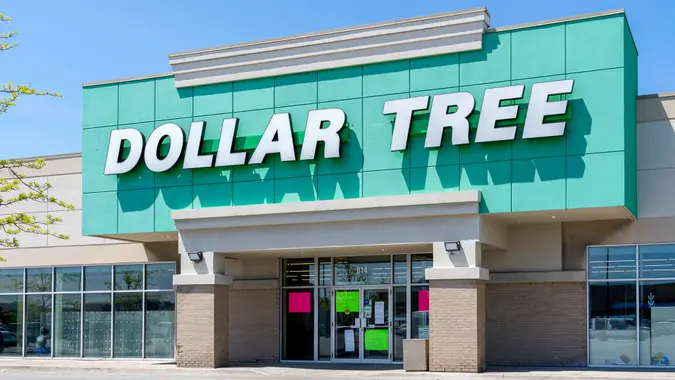 JHVEPhoto / Shutterstock.com
Need a few home essentials to refresh your living space? Stop by Dollar Tree anytime in January to find everything you need!
See the List: GOBankingRates' Best Banks of 2023
Also: 3 Ways Smart People Save Money When Filing Their Taxes
Related: 10 Best New Items Coming to Dollar Tree in 2023
From storage bins to kitchen textiles, you may find yourself leaving with more items than you set out to get — but at a wildly affordable price. These are the best home items to buy at Dollar Tree this January.
Large Storage Tote With Lid
Priced at just $1.25 each, these large storage totes with lids offer plenty of space for packing up items and handles for carrying the containers. If you need to pack up holiday decorations for the season or need a new spot to store winter items like blankets or throws, these clear totes make it easy to store everything and know exactly what is inside.
Make Your Money Work for You
Tapered Glass Champagne Flutes
Did your holiday festivities end with a few broken champagne glasses? It happens — but the great news is you don't need to worry about spending too much money on replacements. Pick up these champagne flutes for $1.25 each at Dollar Tree and enjoy a striking addition to any event you're celebrating in 2023.
Motivational Stone Coasters
Is one of your resolutions for 2023 to stop leaving rings from glasses and cups all over countertops or tables? Invest in these motivational stone coasters from Dollar Tree to fulfill it! Priced at just $1.25 each, these stone coasters come with motivational messages for everyone to read and reflect upon.
Take Our Poll: How Big of a Sign-Up Bonus Would It Take for You To Change Banks?
McCormick Melamine Kitchen Tools
For everyone who wants to make 2023 their year of cooking, the McCormick Melamine kitchen tools are a chef's best friend. At just $1.25, you will receive an assortment of spatulas and spoons ideal for cooking breakfast, lunch and dinner.
Pine-Sol Multi-Surface Cleaner
Deep clean without paying a steep price. Pick up a Pine-Sol multi-surface cleaner for $1.25 at Dollar Tree this January and use this cleaner to disinfect, clean and deodorize your home while enjoying a fresh pine scent.
Make Your Money Work for You
Scrub Buddies Heavy-Duty Scrub Sponges
Dollar Tree has all of your cleaning supplies in one place. Grab Scrub Buddies scrub sponges for $1.25 each. Or pick other Scrub Buddies brand cleaning supplies including squeegees, latex gloves and toilet bowl brushes.
Downy Unstoppables In-Wash Odor Defense
Keep freshly cleaned clothes smelling fantastic for hours. Pick up this Downy Unstoppables In-Wash Odor Defense in an April Fresh scent for $1.25 each. And don't forget to explore all of Dollar Tree's outstanding laundry care products, where you can find everything from detergent to stain removers.
More From GOBankingRates
Make Your Money Work for You