Shopping Regrets: Don't Buy These 6 Furniture Items Online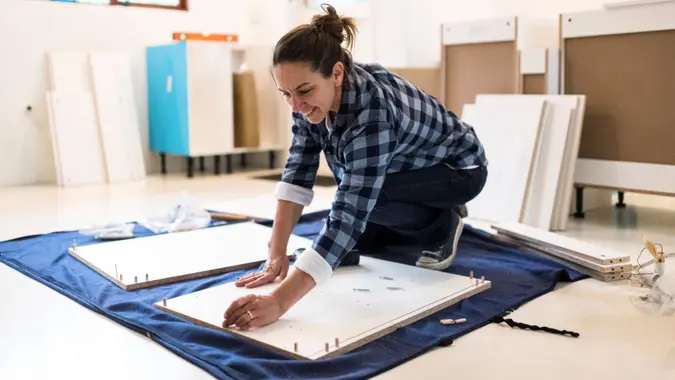 PixelCatchers / Getty Images
In a time when purchasing online is more or less the norm, it's all too easy to be tempted to buy big ticket items such as furniture sight unseen — save for the few pictures you'll find in the product description. Taking this route may not seem like that major a problem, as with most mega retailers, it's simple to buy and often free to return things. But assembling furniture — or buying a subpar pre-assembled piece — only to return it is a gigantic hassle.
If you want to avoid the headache, steer clear of buying these 6 furniture items online and take the in-store purchase route instead. We'll also touch on how to best buy pieces online, if that's your only option.
Fast Furniture
As with apparel, there is plenty of "fast furniture" on the market. These options tend to be cheaper than alternatives, but they're also generally not built to last. What's more, they're bad for the planet.
"These items are generally made from low-quality materials that contribute to deforestation," said Fern Berg, founder at Tree Vitalize. "Instead, shop locally for repurposed furniture and locally crafted items using sustainably harvested wood."
Mass-Produced Furniture
Similar to fast furniture, mass produced furniture may use low-quality materials that might not be FSC-certified (Forest Stewardship Council), "and therefore also contribute to deforestation," Berg said. "Additionally, they lack uniqueness and quality, which means they may end up as landfill long before a similar item made from high-quality, sustainably sourced wood."
Make Your Money Work for You
Pre-assembled Wooden Furniture
Who doesn't love pre-assembled furniture? It saves you time and, often, frustration, but you should be wary when buying wood furniture online. It can be costly, damaging and, in the end, unhealthy for the environment.
"Large furniture pieces made from wood are prone to damage during the shipping process," Berg said. "They may also cost a lot to ship. Consider purchasing large items from a local craftsman to reduce the risk of damages and avoid expensive shipping costs. Local craftsmen will often also use reclaimed or recycled wood, further reducing environmental impacts."
Large Sofas and Sectionals
Large sofas and sectionals are typically expensive, and it's important to buy these in person in order to best assess the comfort, size and fabric quality.
"Always measure your space and access paths," said Chris Kinlaw, a luxury furniture designer, interior designer and founder of MIXMA. "If buying sight unseen, it is better to work with a custom furniture manufacturer that can help you ensure the viability or modify dimensions of any specific furniture design to fit your space."
Also, if buying sight unseen, you may be buying low-quality materials without even knowing it.
"Many online retailers use plywood or other flimsy materials for the internal structure of their sofas or lounge chairs," Kinlaw said. "The frames may start to lose rigidity and fall apart within a year or two. Upholstery pieces with solid hardwood internal frames can last 100 years or more. Having the ability to re-upholster and re-use a well-made sofa or lounge chair frame over time is also more sustainable."
Make Your Money Work for You
Complicated Assembly Items
We've all been there: you order a furniture or other big ticket item from an online retailer and it comes disassembled, with a million screws and a confusing set of instructions. These items can suck hours out of your life and there's always the risk of assembling it wrong and having to start all over.
Artem Kropovinsky, an interior design expert and founder of Arsight, cautions against buying such items online — especially if the instructions look complicated or incomplete.
Handcrafted or Antique Items
Handcrafted or antique pieces need examination that is best done in person.
"Online images might not capture the intricate detailing, age or the unique textures that make these items so valuable," Kropovinsky said.
How To Buy Furniture Online
If you need to buy furniture online due to accessibility issues, etc., here's how to go about it wisely.
Investigate Production and Unethical Labor Practices
Many big online furniture companies mass-produce their furniture overseas in an attempt to keep costs down, and some also use low quality materials and unethical labor practices.
It can be best to buy pieces made in the U.S. Looking at sites like Etsy that feature local artisans is a great start.
Pay Attention to Materials
If you're shopping online for furniture, look in the product description and identify what materials the piece is made of — this is especially important if you're buying from a retailer like Amazon, which boasts tons of products made in China. Cheap materials that don't stand the test of time should be avoided, as they'll only end up dumped in a few years' time.
Make Your Money Work for You
Consider Heirloom Pieces
Though you'll generally want to inspect antique furniture in person, you can also do this online. Again, pay attention to the materials used and consider whether the piece is beautiful and valuable enough to be passed down to your heirs.
More From GOBankingRates