What To Stock Up on for a Heat Wave While Saving Energy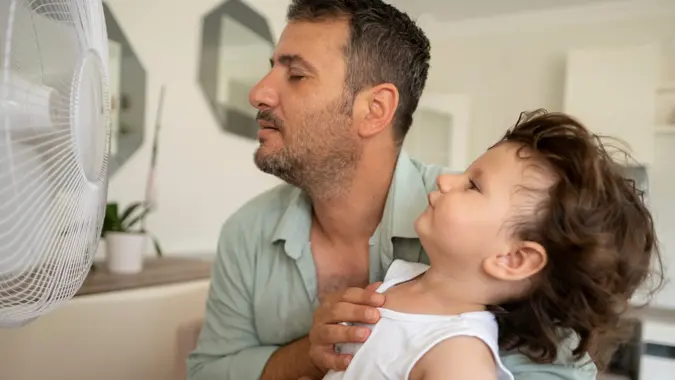 ridvan_celik / Getty Images
Summer has arrived with a bang in many places, bringing record heat that may not be cooling down any time soon. According to The New York Times, most of the U.S. can expect "above-normal temperatures" for the summer months of June through August this year.
Small Business Spotlight 2022: Nominate Your Favorite Small Biz by July 25
Read More: 9 Bills You Should Never Put on Autopay
Instead of a single heat wave, it might just be one very long, extremely hot summer. Extended heat is annoying at best and dangerous at worst, leading to the potential for medical conditions, such as heat stroke, and expensive energy use.
Here, experts recommend what to stock up on for a heat wave, while also keeping energy costs down.
LED Bulbs
LED lighting is not only 25 to 80 percent more efficient than a standard incandescent bulb, but it also doesn't produce heat, said Adam Wood, co-founder of RevenueGeeks. That can be a real boon during a heat wave.
Make Your Money Work for You
If you must leave lights on, be sure they're LED bulbs. "In contrast to conventional filament bulbs, LEDs do not produce heat," Wood said. "Turn off the lights if you will not be present in the room. If you have ornamental lighting in your kitchens, such as string lights or colored lights, turn them off in the afternoon when the temperature is at its peak and energy use is at its peak. If you have LEDs, it is more efficient to leave them on if you will be out of the room for less than 15 minutes, but in all other cases, they should be turned off."
Fans
While it's tempting to turn on the AC during a heatwave, if you can survive by sitting in front of a fan, you'll save a lot on energy costs. According to JustEnergy.com, you could run some fans on high all day and all night for about $5 per month. Add an ice pack, or a tub of ice in front of the fan directly upon you, and you might not even need your AC.
Generator and Fuel
With heat waves often come power outages, as everyone in town runs their air conditioners and fans at the same time. In the off chance you lose power, a generator can bring much-needed power to fans, refrigerators and other necessary items, according to Crisis Equipped.
Make Your Money Work for You
Water
First and foremost, you'll need to have plenty of water on hand, said Alan Duncan, an expert in green energy and renewable energies, as well as founder of Solar Panels Network USA.
"The CDC recommends that everyone drinks at least eight glasses of water per day, but during a heatwave, you'll need even more than that. Make sure to fill up your bathtubs and sinks with fresh water, and stock up on bottled water as well. You should also have sports drinks or electrolyte-rich beverages on hand, as they can help replace the salt and minerals that your body loses when you sweat."
Food That Won't Spoil
Next, you'll want to stock up on food that won't spoil in the heat, Duncan added, especially if you do have a power outage.
"Stock up on non-perishable items like canned fruits and vegetables, peanut butter, crackers, and cereals. If you have a grill, you can also stock up on frozen meats that you can cook quickly. And don't forget the snacks. Heat waves can make you feel sluggish, so having some quick and easy snacks on hand will help keep your energy levels up."
Make Your Money Work for You
Live Updates: Financial Trends, Money News and More
Cool Packs
Duncan also recommends having cool packs in your fridge during a heat wave. "This will help you stay cool when the sun burns down upon you. You should have enough supply to last for at least two weeks."
He added, "If the heat is really severe, you may want to consider going to a cooling center in your area. Most importantly, dress for the weather. Wear loose, light-colored clothing, and avoid being outside during the hottest hours of the day."
First-Aid Supplies
In case of heat exhaustion or heat stroke, it is important to have first aid supplies readily available, said Oberon Copeland, owner and CEO of Veryinformed.com. "Make sure you have thermometers, ice packs, and plenty of cool water."
More Helpful Tips
Get a Smart Thermostat
To control the temperature of your house, use a smart thermostat, said Samantha Odo, chief operating officer and sales representative at Precondo.
"They have the ability to set the temperature on a timetable or in front of a heat wave. Experts advise maintaining the interior temperature at 78 degrees to maximize energy conservation." For each degree below that, Odo said, three to five percent more energy is required. "Using a smart thermostat to automate your home's temperature saves you from paying high energy costs."
Avoid Using the Oven
Odo also said to turn off your oven during heat waves. "Ovens need a lot of energy to heat up and then increase the temperature in your home. Stocking up on picnic foods is an excellent idea. Use an alternative cooking method instead, such as the microwave, toaster oven, air fryer, slow cooker, or instant pot, as they all use less energy and generate less heat."
Use Your AC Wisely
Sarah Jameson, marketing director of Green Building Elements, suggested that one way to also keep energy use low during a heat wave is to modulate how you use your AC unit.
"One sure way to bring down the energy bill is to be practical with AC usage — use one AC at a time, instead of turning on all units to avoid creating a big peak in electricity. It would also be more energy-efficient to use your AC as a way to pre-cool the room instead of using it all the way. Try allowing a two-hour cooling time before turning it off for at least four 4 hours before turning it on again."
Utilize the Cross Breeze Method 
Another way to cool your house is to be strategic by positioning the fan from across a window to get the hot air out of the room and invite cool air in, Jameson said. "If you have an extra plug-in fan, you can oscillate that so airflow is more boisterous. Also, if you have ceiling fans, run them counter-clockwise so hot air can rise to bring down the cool air."
Heat waves are inevitable, but being prepared means you don't necessarily have to suffer.
More From GOBankingRates
Make Your Money Work for You