Home Renovation Costs: What Experts Expect in 2023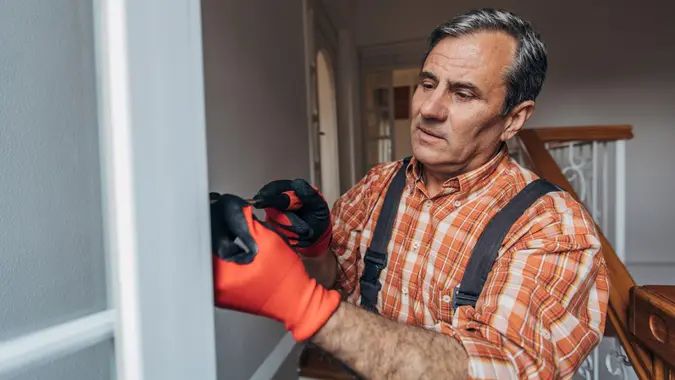 Nes / iStock.com
Perhaps you're thinking about completing a few home renovation projects this year, but you're afraid you might not be able to afford them. Between inflation and supply shortages, prices for these upgrades might surge.
In 2022, homeowners spent an average of $8,484 on home improvement projects, according to Angi. Despite rising interest rates, 50% of people expect to spend the same amount in 2023 — with 28% planning to spend less and 22% expecting to spend more.
To help with your planning process, GOBankingRates spoke with several experts to find out what they expect from renovation costs in 2023.
Higher Interest Rates, Reduced Demand
"Rising interest rates will weigh heavily on the housing market in 2023 and will create challenging conditions for construction broadly," said Ben Johnston, chief operating officer at Kapitus. "Higher interest rates will depress home sales and will make financing new construction considerably more expensive."
Consequently, he said, there likely will be a reduced demand for new housing.
"But we do expect continued demand for home renovations as housing purchases decline, as consumers with fixed low interest rate mortgages look to improve what they own versus trading up," he said. "We expect the overall cost of home renovations to stabilize during 2023, as the economy slows and inflation moderates."
Johnston said less new home construction will lower the prices for building supplies and free up construction crews, reducing the number of backlog jobs that currently exist.
"To date, the employment rate has remained solid, despite higher interest rates, and high earners have not shown a meaningful decline in purchasing power," he said. "In 2023, we expect high earners to continue investing in residential real estate and for contractors to remain in demand."
Make Your Money Work for You
Impact of Inflation Reduction Act
Additionally, Johnston said the Inflation Reduction Act might entice homeowners to embark on renovation projects.
"The Act offers a wide range of tax credits for homeowners who install solar panels and other energy-efficient products such as windows, water heaters, HVAC systems and heat pumps in their homes," he said. "The Act also provides tax credits for energy-efficient residential property purchases, as well as credits for the construction of new energy-efficient homes."
Johnston said most incentives for homeowners will be in the form of tax credits gained by purchasing qualified products.
"This means that homeowners will need to first invest the money before getting it back in the form of lower taxes," he said. "Homeowners will need to make sure contractors are using qualified products so that they qualify for the rebate, and homeowners applying for rebates will need to provide product identification numbers associated with their property in order to qualify."
3 Main Factors That Affect Home Renovations
Every home renovation is composed of several elements, including supply chains, material costs and labor costs, said Shaun Martin, owner and CEO at The Home Buying Company.
Supply Chains
"The cost of materials used for home renovations is affected by the supply chain, including the availability and price of raw materials, transportation costs and the cost of labor," Martin said. "With the global pandemic continuing to disrupt international supply chains, there is an increased demand for certain products, which could impact pricing due to shortages."
If you're purchasing materials from other countries, he said, you'll also need to consider any tariffs or taxes that could be levied.
Make Your Money Work for You
Material Costs
Since the cost of materials for home renovations can fluctuate due to supply chain issues, it's important to keep an eye on prices.
"There are also certain areas where material costs are more expensive, such as in cities or where materials are scarce due to high demand," Martin said. "To save on costs, it may be worth exploring alternative materials or shopping around for discounts."
Labor Costs
"With the current state of the economy, there is an increased demand for skilled tradespeople which can impact the cost of labor," he said. "It is important to compare quotes from different contractors, as well as considering any additional costs such as travel or equipment rental fees."
Additionally, for complex projects, Martin said it might be more cost-effective in the long run to hire an experienced architect or designer to lead the renovation.
Ultimately, conducting research and taking time to really cover all the bases can help you save money.
"To keep costs down," he said, "it is essential to stay informed on current prices and travel expenses as well as comparing quotes from different contractors."
Jeff Kutas, founder and CEO of MB Sentinel, also emphasized the impact of material, transportation and labor costs on overall renovation expenses. Generally speaking, he said, it looks like they'll continue on an upward trajectory for 2023, with a few key exceptions.
"High cement prices aren't likely to abate, in part thanks to increased sand prices and, regionally, droughts causing low water levels on the Mississippi River impacting transportation," he said. "On the other hand, steel and lumber are already beginning to see some downward action, which should continue with lower demand in the near term."
If you're concerned about finding materials needed for your renovation, his supply chain prediction likely will help ease some of your fears.
"Even though prices are still going to remain high compared to pre-pandemic levels," Kutas said, "it looks like the supply chain is beginning to see some light at the end of the tunnel, which means that lead times should start to wane at some point in 2023.
"Parts and materials which require semiconductors as part of their supply chain are going to buck this trend though, given the ongoing chip shortage."
While there's no sure way to know what 2023 has in store for the cost of home renovations, planning head and leaving extra room in your budget will help ensure you get the job done.
More From GOBankingRates