7 Household Bills That Will Always Be Expensive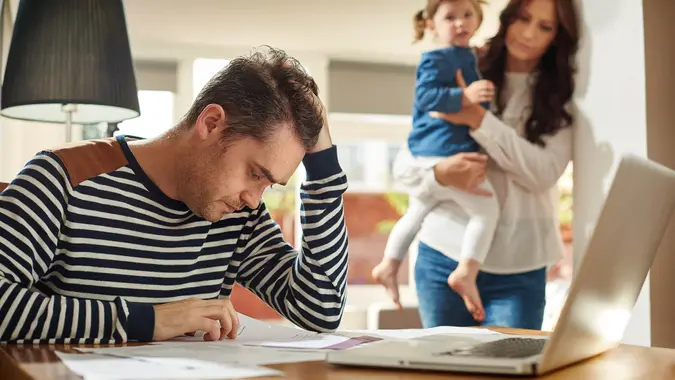 sturti / Getty Images/iStockphoto
Each month it may feel like a little more is being drained from your paycheck on household bills. Unfortunately, you aren't imagining things. Household bills are getting more expensive. Depending on where you are located, the increased cost of living can be exponential.
Do You Have a Money Question? Ask an Expert
Find Out: 3 Signs You're Serious About Raising Your Credit Score
A recent doxoINSIGHTS report shows that Americans pay around $3.12 trillion on common household bills each year. The average household in the United States spends around $2,000 per month on bills or around 22% of their monthly income. 
Residents of states like Hawaii, California and New Jersey pay 30% or more compared to the national average. In Hawaii, for example, residents spend around $2,900 per month on household bills, equalling approximately 44% of their monthly income. While there is some hope on the horizon, like lower electricity bills with the increased access to solar technology, other bills probably won't be going down any time soon. 
Make Your Money Work for You
Here are seven household bills that will always be expensive. 
Mortgage or Rent
The largest single expense for most households is their mortgage or rent. According to the State-by-State Bill Pay study, U.S. households spend approximately $853 billion on mortgages and $616 billion on rent. Americans spend an average of $1,368 per month on their mortgage and $1,129 per month on rent. 
While some people were granted some reprieve during COVID-19, there aren't a lot of indications that living expenses will come down significantly in the coming years. For homebuyers, interest rates are high, and for renters, many of the COVID-era protections have been lifted. Mortgage and rent are on pace to continue to be the largest expense for U.S. households.
Take Our Poll: How Much Salary Would Buy You Happiness?
Cable and Internet
While a "cut the cord" movement may have removed cable from some people's monthly bill list, it definitely didn't drop the price. Cable and internet are still expensive with no relief in sight. The internet has become a necessity in most U.S. households, making it easier for companies to charge exorbitant rates. While many providers offer enticing promotional offers to get new customers in the door, few reward the loyalty of longtime customers.
Make Your Money Work for You
Auto Insurance
U.S. News & World Report notes that the average cost of car insurance is $1,553. However, the rates can vary drastically depending on a number of factors including location, age, driving history and more. While some insurers offer discounts or sign-up promotions, the cost to insure your vehicle is still pretty high. Doxo notes that 82% of households in the United States have an auto insurance bill and pay around $196 per month for the coverage.
Groceries
The price of food can fluctuate year-to-year depending on weather conditions, illness, supply and more, but perishables rarely get cheaper. The cost of eating doesn't look to be going down any time soon and some things are becoming unaffordable for families throughout the country.
Cellphone Bill
Twenty years ago few people considered a cellphone a must-have, but today 94% of U.S. households have the expense. On average people pay $113 per month for the luxury. Depending on the size of your family, your cellphone bill could be astronomical. With technology becoming outdated after two to three years, a price decrease probably isn't in the near future.
Make Your Money Work for You
Healthcare
The government has tried for decades to make healthcare more affordable. And while more people are covered with health insurance, it is still a hefty expense for most households. Health insurance, on average, costs Americans $1,122 per year. Add on copays, specialist visits and other out-of-pocket expenses and healthcare becomes a fairly heavy financial burden. 
Credit Card Bills
Millions of Americans carry thousands of dollars worth of credit card debt. During economic downturns, more people turn to credit cards to help get them from paycheck to paycheck. That debt is now more expensive than ever due to climbing interest rates. While the interest rates may go down in the future, debt holders will still have a hefty bill to pay each month. 
Getting out of debt can be challenging, making it hard to establish financial stability. The cycle is vicious and unforgiving, making it one of the costliest household bills a family can have.
More From GOBankingRates
Make Your Money Work for You