7 Steps To Renting an Apartment With Bad Credit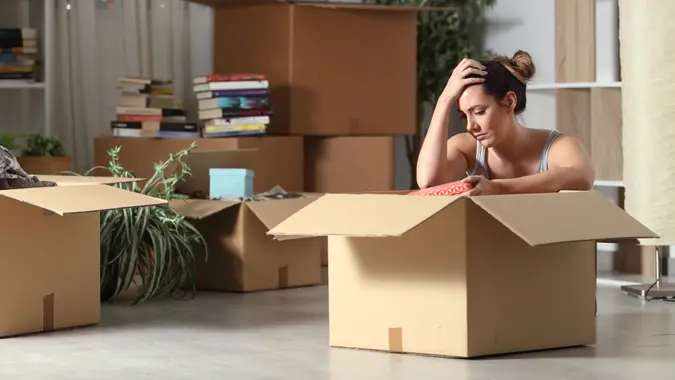 AntonioGuillem / Getty Images/iStockphoto
A bad credit history can hold you back from having an apartment rental application approved. Even if you have enough money in your bank account to afford the rent, an individual landlord might reject your application. This might be because you don't meet their minimum credit standards or are not considered to have a good credit score. So how do you rent an apartment with bad credit? Keep reading to find out.
How To Rent an Apartment With Bad Credit
Figuring out how to rent an apartment with bad credit can be a frustrating process. Sometimes it doesn't matter if you are a responsible tenant. If the property management company is just deciding who will get the apartment based on credit, it can be an uphill battle. 
These workarounds can help you get approved to rent an apartment even if you're experiencing problems with your credit or have a bad credit score. 
Step 1: Find "no credit check" apartment listings
Step 2: Get letters of recommendation 
Step 3: Find a cosigner
Step 4: Prepay rent
Step 5: Prove you can afford rent
Step 6: Find a roommate
Step 7: Be willing to settle for less
What Credit Score Do You Need To Rent an Apartment?

There's no set minimum credit score to rent an apartment, but you'll have the best luck with a score approaching 670. This score is considered "good" according to FICO scoring models. A score lower than 620 could make renting more difficult.
1. Find 'No Credit Check' Apartment Listings
Look in your local classifieds or on media platforms for apartments that are listed for rent with no credit check required.
Make Your Money Work for You
2. Get Letters of Recommendation
A good tenant is one who has paid rent on time, taken good care of the property and maintained a positive relationship with landlords. If this sounds like you, you can ask for written recommendations. A prospective landlord might take these positive recommendations into account and overlook your bad credit.
3. Find a Cosigner
Ask a family member or close friend with good credit to sign the lease with you. A landlord might approve your rental if you have a co-signer or guarantor with good credit.
Keep in mind that your cosigner is accepting a legal liability to pay your rent in case you don't pay it, so think it through. As a last resort, consider using a lease guarantor service.
4. Prepay Rent
Offering to pay rent in advance demonstrates to the landlord that you are serious about committing to stay and pay. This is especially true if you prepay the last month's rent instead of the first month's.
If, for example, you prepay the first three months of a 12-month lease, you could default in the fourth month with no serious consequence beyond having to move. If you prepay the last three months' rent instead, you'll forfeit that money if you default at any time during the first nine months. That provides a better incentive for you to honor the lease, and it guarantees the landlord at least four rent payments.
5. Prove You Can Afford the Rent
A landlord's chief concern is that you can pay rent. They might be more willing to rent to you if you include pay stubs, electronic deposit records or other written evidence of income for the past two years that shows your ability to pay. Here are some of the best documents to prove you are financially stable:
Letters of recommendation
Paystubs
Utility bills
Make Your Money Work for You
6. Find a Roommate
Another option is to find a roommate. Look for someone who is already renting an apartment and needs a roommate. You can even look for someone with good credit who is interested in renting an apartment with you and splitting the expenses.
7. Be Willing To Settle For Less
If you have bad credit, you might have to settle for a less desirable area and/or a smaller apartment with fewer amenities than you'd prefer. You could also look into commuting from a more affordable neighborhood. 
What Do Landlords Look For in a Credit Report?

Even if you take the other steps to convince a landlord that you are worthy of renting an apartment, you may also have to agree to a credit check. Here's what a landlord may look for on your credit report:

Rental history: Few landlords report rent payments to credit bureaus, but your credit report will show judgments for eviction or civil suits for unpaid rent.
Payment history: If you've made a habit of making other payments late, your potential landlord will likely be very concerned.
How much debt you have: High debt payments make rent less affordable.
How To Work on Your Credit Before Renting an Apartment
If you have bad credit and you don't have to rent an apartment right away, it could benefit you to work on your credit first. Improving credit takes time but the benefits are well worth it.
Fix Errors on Your Credit Reports
First, get your reports from the three major credit bureaus: Experian, TransUnion and Equifax. You can get one free copy from each of the bureaus annually at AnnualCreditReport.com, and since the COVID-19 pandemic, free reports have been available weekly.
The reports include instructions for disputing errors. Be sure to fix your reports well before you begin an apartment search because it might take some time. 
Make Your Money Work for You
Address any remaining negative items on your reports with your prospective landlord. For instance, explain that you had emergency medical bills or went through a layoff.
Pay All of Your Bills When Due
Your payment history counts for over one-third of your overall credit score and also indicates if you are responsible for paying on time. Creditors report your payment history regularly, so make sure you pay all of your bills by the due date.
Work Toward Paying Down Debts
A heavy debt load can not only reduce your credit score, but also can make you look riskier to a potential landlord. Pay extra toward credit card debts and student loans to reduce their balances. 
Final Take To GO
If you are looking to rent an apartment with bad credit, you should try to locate a suitable apartment that doesn't run a credit check. If that is not a possibility, try to take the time to clean up your credit as much as possible before applying. You should also be prepared to submit proof of income, letters of recommendation and prepaid rent to increase your chances of being approved.
FAQ
Here are some quick answers to common questions about renting an apartment with a low credit score.
What is the lowest credit score to rent an apartment?

There is no hard line, although if your prospective landlord checks your credit score, they'll likely be most comfortable renting to you if your credit score is at least 670.
However, there are ways to successfully rent an apartment even if your credit score is lower, like prepaying some of the rent or providing other proof that you'll be able to pay.

How can I fix my credit fast for an apartment?

There is no overnight fix for your credit score, but a good place to start is checking your credit report for errors and fixing anything you find. Then, work on paying off your debts and decreasing your credit utilization.

Is a 500 credit score bad for an apartment?

Yes, though technically there is no minimum credit score for getting an apartment, landlords or property managers tend to look for renters with a credit score well over 620.

Can I get an apartment with a credit score of 0?

Renting with a credit score less than 620 can be difficult, however, if you have a bad credit score here are seven things you can try to get an apartment:

Find "no credit check" apartment listings
Get letters of recommendation
Find a cosigner
Prepay rent
Prove you can afford rent
Find a roommate
Be willing to settle for less
Make Your Money Work for You
David Navarro, Caitlyn Moorhead and Daria Uhlig contributed to the reporting for this article.
Our in-house research team and on-site financial experts work together to create content that's accurate, impartial, and up to date. We fact-check every single statistic, quote and fact using trusted primary resources to make sure the information we provide is correct. You can learn more about GOBankingRates' processes and standards in our editorial policy.