How To Save Money on Yard Upgrades This Spring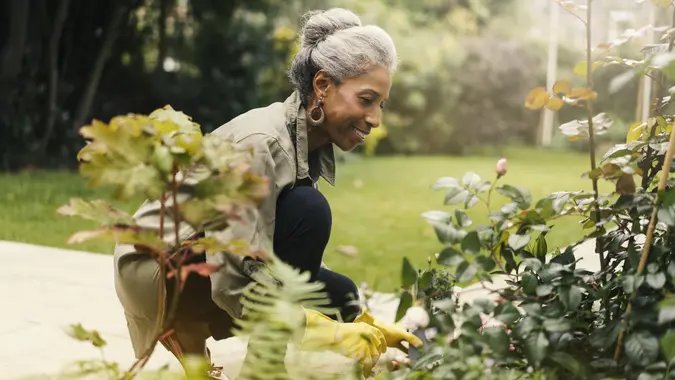 Stígur Már Karlsson /Heimsmyndir / iStock.com
Spring is here which means warmer weather and more time outside. Unfortunately, after months of neglect, your yard may need an upgrade or two. Landscaping, however, can be quite costly. People pay an average of $8,150 to revamp their property's landscaping, according to Forbes.
If you aren't ready to shell out thousands of dollars on yard improvements, then you may want to look at ways you can cut costs without sacrificing your vision. We searched high and low for innovative landscaping ideas that won't break the bank. Here are seven less expensive ways to boost your yard game this spring.
Consider DIY
Hiring a landscaping company is pricey. On the low end, you can expect to pay $2,600 to give your yard a much-needed makeover, according to Forbes. On the high end, you could be looking at over $10,000. If you haven't budgeted that much for a lawn redo, then you should consider doing as much of it yourself as you can. 
Start by getting a visual of your dream yard. Several companies offer free apps to help you plan your garden. Landscaping apps are great tools that can help you see how certain plants will look together and where you should put your outdoor furniture.
In addition to DIY planning, you can also test your green thumb by doing the clearing and planting. The more you do yourself, the more you will save in the long run. 
Make Your Money Work for You
Choose Seeds
Planting seeds is considerably less expensive compared to planting actual plants. It can also be more rewarding, but it does require work. You also need a bit of patience. Seeds take longer to come to fruition. Forgetting to water and nurture them may mean that you never see the fruits of your labor.
Plants or flowers are quite pricey and may be harder to transfer. Many novice gardeners are dismayed when their nursery-purchased plants fail to thrive. If you do go the cheaper route of seeds, just make sure you have plenty of room for the flowers to grow. 
Think Big Picture
When planning your yard rehab, you'll want to think long term. What can you do that will make the biggest difference and will last for years to come? Stay away from anything too trendy as you'll probably pay top dollar only for it to be out of style a few years later. 
Shop Sales
Whether you are shopping for furniture or buying trees to line your property line, you can always take advantage of seasonal sales. Take advantage of huge discounts around major holidays and never be afraid to ask when a store will be having its next big sale. 
Search For Sustainable
Sustainability is key for a successful landscape. When planning your yard upgrades, take into account your local environment. Do you have regular water restrictions? Is there enough sunlight? Plant things that will last for a longer period of time like perennials over annuals or biennials. Or maybe you should consider drought-resistant landscaping like succulents. The more research you do ahead of time, the better off you will be down the road. 
Make Your Money Work for You
Manage Maintenance
Lawn and yard maintenance can be an extraordinary monthly expense if you are not careful. From tree trimming to mowing the grass, taking care of your yard can put a dent in your bank account. Home services site Angi notes that homeowners pay an average of $124 per visit to have their lawns mowed. 
If this spring you want to spruce up your backyard, you'll need to take into consideration maintenance costs. If you are averse to mowing your lawn yourself but don't want to have to pay a gardener, you could look into things like artificial turf. You could also look into planting a moss bed, creeping thyme or other lawn alternatives. 
Repurpose and Reuse
Finally, one of the biggest ways to save on your yard this spring is by repurposing and reusing things you already have. Think outside the box like turning old pots and pans into planters or transforming old furniture into structural focal points in your backyard. Just remember, whatever you put in your yard needs to be weather-resistant and durable. Depending on where you live, anything left outside year-round may be subjected to harsh conditions. 
More From GOBankingRates
Make Your Money Work for You