I'm a Professional Money Coach: Here Are 3 Things You Probably Bought for Your First House That You Don't Need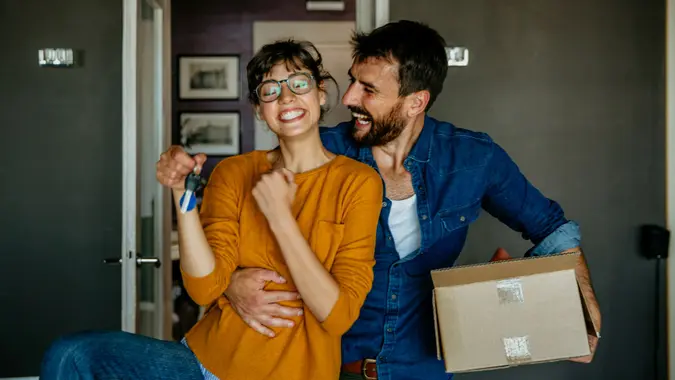 Studio4 / Getty Images
Purchasing your first home is an exciting experience — after saving up for years and hunting for the perfect place, you have finally found a property you can call home. As you move in, you realize the expenses are creeping up from all angles. According to financial experts, there are various purchases first-time homeowners should avoid so that they don't get stuck in debt.
If you're a first-time home buyer, here are things you probably have purchased or are thinking about purchasing that you don't need.
Furnishing Every Single Room
"People often feel the need to furnish their first home with all new furniture that is specific to the new home and its layout, which can be costly," according to financial coaches Haley and Justin at Price of Avocado Toast. Many new homeowners will feel the pressure to do everything at once regarding home upgrades, as they see a blank canvas.
Make Your Money Work for You
Alyssa Davies, the founder of Mixed Up Money, echoed a similar sentiment: "You don't need to furnish your entire house in one day, week or month."
When you get the keys to your first place, you'll immediately think about how you can work on the entire home, as you finally have something to call yours. However, spending too much upfront could put you in a financial hole as a first-time home buyer.
What Happens When You Try To Furnish Every Room at Once?
Most new homeowners will likely save money for the downpayment, the closing costs and the moving expenses. The problem is that you may need more funds to furnish and complete the entire home fully. Here are a few ways that new homeowners will spend money that they likely shouldn't:
Making basement upgrades right away
Furnishing the guest room
Trying to make every room in your new home perfect
Spending money on furniture and accessories that they didn't budget for
Trying to purchase all new furniture for the new setup.
Make Your Money Work for You
What Can You Do To Avoid This?
"It's okay to take time, save up for purchases that you genuinely love and make a plan so that you don't go over budget designing a home that you thought you'd love, but that comes with a giant bill and boatload of stress," Davies said.
It may be tempting to furnish every room simultaneously, but this could add to your debt. Your best bet would be to create a financial plan and budget to ensure you have the funds ready for the upgrades you want to make to your new home. From there, you can work on saving up for every modification you want.
Haley and Justin also suggested trying to do the best with what you already have available. "We can typically make do with what we already have, but it might require a bit of creativity. Try buying one piece of furniture at a time and giving yourself an adjustment period for everything else. For example, if you want a new couch and dining room table, grab the table first and give yourself six months to see if the couch you already have will work in your new space. This waiting period removes the urge to buy everything all at once and helps you focus on what you genuinely need or want."
Make Your Money Work for You
There's no need to rush to upgrade your entire home at once. If you apply the advice from the financial experts, you can get your dream home ready without going into debt. You may also realize that you already have enough furniture to get you through the first few years of homeownership.
Setting Up a Home Gym
"In speaking with professional organizers and from my own experience, people often overdo it with exercise equipment," according to Andy Hill, the financial expert from Marriage Kids And Money. Hill said, "These take up a lot of space and eventually make their way to the basement or garage." There's that classic Jerry Seinfeld quote that applies here: "No object has ever made it out of the garage and back into the house."
Many new homeowners will get excited about turning the empty space into a gym or something else. You may not want to let any space go to waste.
What Can You Do Instead? 
It's important to live in this home for a bit and to build up certain routines slowly. For example, it may be motivating to think you need an entire home gym, but you may not even enjoy working out from home. You can start by testing the waters to see if you want to work out from home.
Make Your Money Work for You
Cooking Gadgets
Another home purchase that the experts agreed on that hurt first-time home buyers was cooking gadgets. "Cooking gadgets are marketed to make our lives easier, but what many of them do is clutter our space and make us feel guilty if we aren't using it to maximize the cost," remarked Haley and Justin.
You may feel that you need a new grill for the patio, brand-new appliances in your kitchen and other gadgets to help make the cooking process better, but consider if you really need them right away.
How Can You Save Money?
GOBankingRates asked Haley and Justin what they would suggest to clients who feel the need to purchase cooking gadgets. Here's what they advised:
"Try to find comfort in getting used to prepping your food to be cooked on the stovetop and in the oven before you buy the air fryer, the instant pot, the food processor and all the other kitchen helpers. Some of the best dishes use simple techniques that have been around for years."
Make Your Money Work for You
It's important to remember that you can focus on the basics of cooking to get a feel for your new kitchen and any routines you may want to create in your new environment.
Closing Thoughts
"With homeownership, it's important to start with a minimalistic approach. If you're not careful, your stuff can really start to steal your time," Hill stated. Sometimes, the best option with your new home is to ease your way in. You don't have to purchase everything at once, especially when you realize how many hidden expenses are involved with home ownership.
More From GOBankingRates